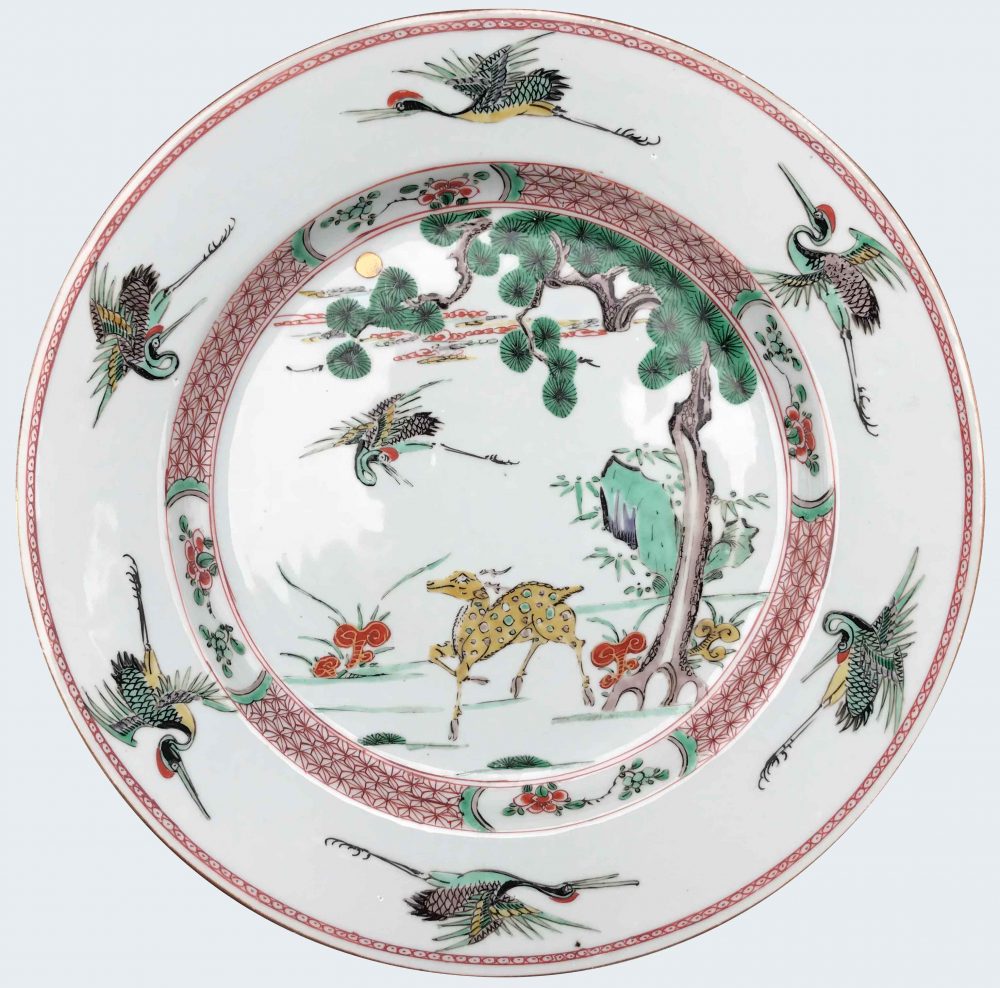 A large Chinese famille verte dish decorated with a deer. Kangxi period.
Decorated in famille verte translucent enamels, with six cranes bordered on the rim by a fish-roe band, peony branches reserved in cartouches at the well on a star-diaper border, central scene of a yellow spotted deer amongst lingzhi, bamboo shoots, and rocks beneath a pine tree, the sun, clouds, and a crane in flight above, floral sprays on the reverse.
Country:

China

Period :

Kangxi (1662-1772)

Material:

Porcelain

Dimension:

12.59 in. (32 cm)

Reference :

C140

Status:

sold
Related works
A plate is illustrated by Thomas V. Litzenburg in Chinese Export Porcelain in the Reeves Center Collection at Washington and Lee University  (2003, p. 55, no. 37).
One plate is illustrated by D. S. Howard in The Choice of the Private Trader, The Private Market in Chinese Export Porcelain illustrated from the Hodroff Collection (1994, p. 49, no. 18), and in Later Chinese Porcelain (Soame Jenyns, 1971, pl. XXX, no. 2).
Notice
There is a consistency about the painting of the known examples of this design which suggests that they were painted over a short period. With this depiction of a stag and a pine tree together with rocks, bamboo, cranes, and lingzhi (sacred fungus), this finely painted design incorporates some of the most common chinese emblems for longevity and immortality. It is unlikely that this was specially ordered in Europe, for all elements of the design are Chinese. Althought the symbolism was probably of little interest to the Western traders, the superior workmanship of the chinese enamellers was highly valued. Plates with this design and the Johanneum inventory marks, were in the the « Dresden Collection » of Augustus the Strong, Elector of Saxony and King of Poland.