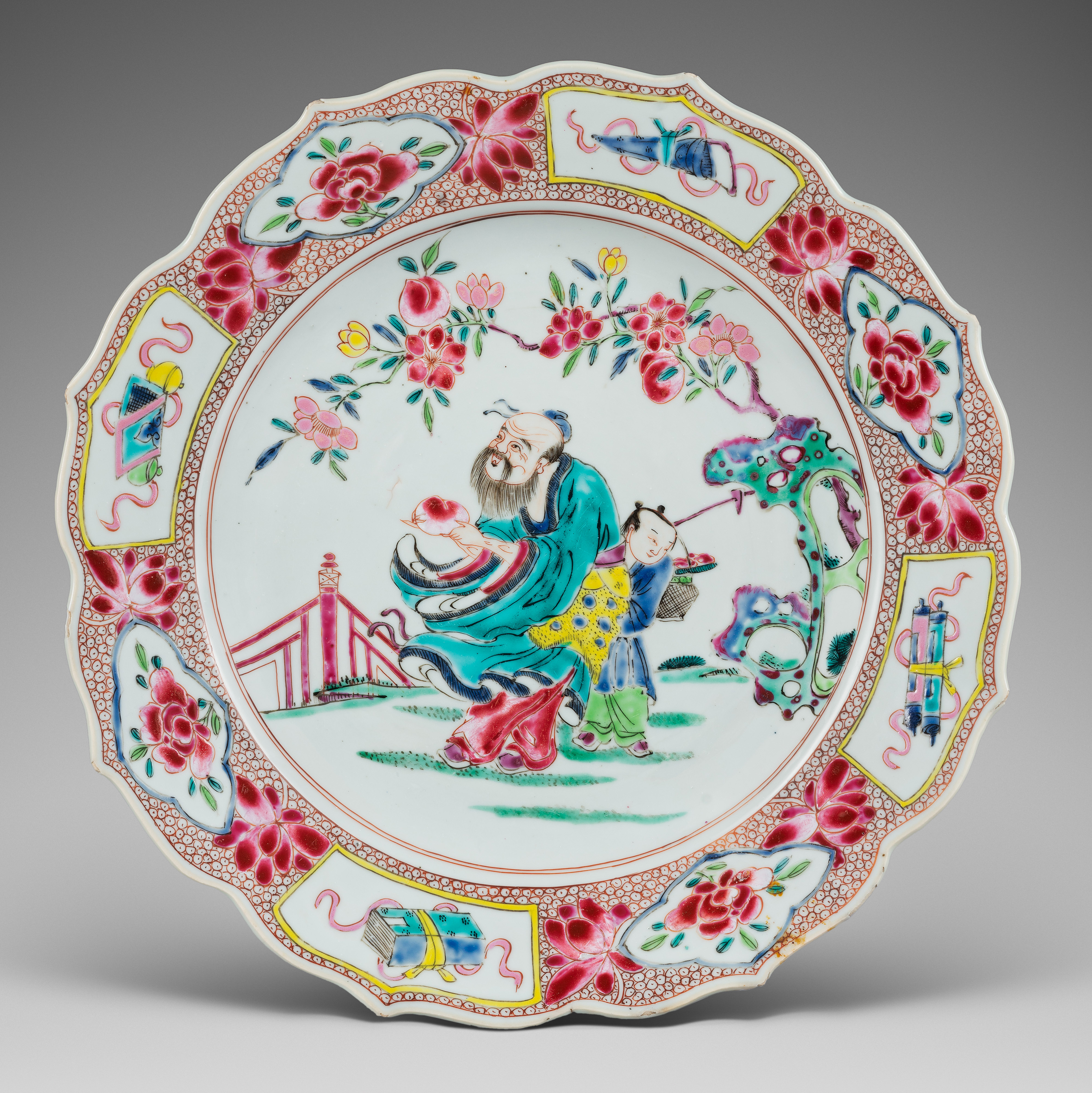 A large Chinese famille rose dish with Shoulao. Yongzheng
The center painted in vibrant rose enamels with a figure of the smiling bearded sage, Shoulao, holding a large peach in outstretched hands with his able youthful assistant right behind with a basket of blossoms slung over a hoe on his shoulder, all set on a fenced garden terrace with rockwork to one side issuing a peach spray with fruit and blossoms that hang above the figures, the shaped border with shaped cartouches of alternate flowers and ribboned objects on a ground of dot-circlets and lotus blossoms.
Country:

China

Period :

Yongzheng (1723-1735), ca. 1735

Material:

Porcelain

Dimension:

10,82 in. (27,5 cm)

Reference :

D652

Price:

upon request

Status:

available
Related works
For a pair of smaller dishes, see Cohen & Cohen, Think Pink!, 2017, p. 46, no. 34.
Notice
Shoulao is one of the three Star Gods (Fu, Lu and Shou: happiness, affluence and longevity), though he is much the oldest, having been worshipped by China's first emperor in the third century BC. The other two are not recorded until the Ming dynasty. Shoulao is the God of Health and Longevity and the symbols here are connected: the peaches are from the Garden of Immortality, and eating one will give eternal life. The peach on the tree in this image suggests that it may actually be in the Garden of Immortality.
Shoulao is a popular and revered God, enjoying respect from the Jade Emperor and the Queen Mother of the West, Xi Wang Mu. He was widely worshipped in the Tang dynasty; Emperor Xuanzong set up a special altar to him in the capital, Chang'an (modern Xi'an). He is also known as the Old Immortal of the South Pole, linked with the constellation of Ursa Minor.
Photography : Jérémie Beylard / Agence PHAR