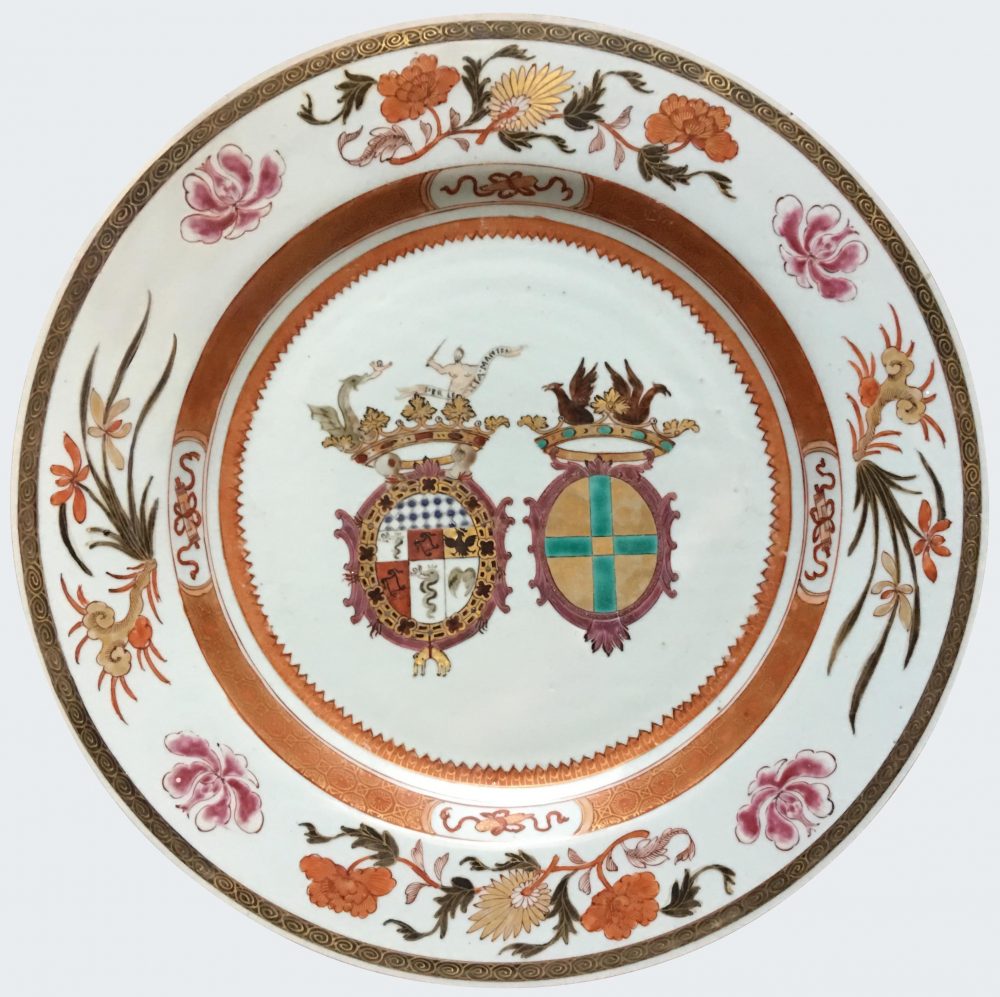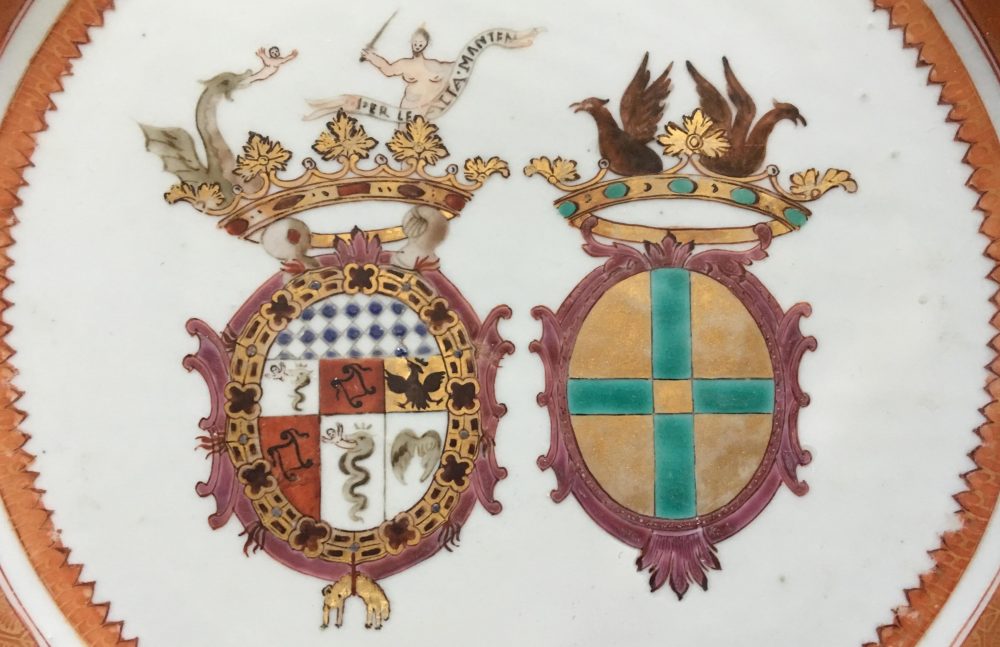 A large Chinese famille rose armorial dish for the italian market. Yongzheng period.
Painted in the center with the magnificent arms of Visconti and Cusani, both of Milan, within a demi-ruyi-head border around the well and a cell diaper border around the cavetto, the rim with two sprays of fans and peonies and two sprays of iris and fungi, all alternating with four shaded rose hibiscus blossoms within a brown and gilt whorl band on the edge.
Country:

China

Period :

Yongzheng (1723-1735), vers 1722

Material:

Porcelain

Dimension:

12.20 in. (31,5 cm)

Reference :

B243

Status:

sold
Related works
Severals pieces from this service, from famous Chinese Export porcelain collections are repertoried.
A plate, illustrated by Howard and Ayers in Chinese Armorial Porcelain (1978, T. II, p. 452, pl. 458), was in the collection of Mr. and Mrs. Rafi Y. Mottahedeh (sold at Sotheby's NYC, january 30, 1985, lot 272).
A piece from this service is in the collection of the Fondation Gulbenkian in Lisboa.
An identical dish, describe with "Visconti-Borromeo-Arese" arms, is in the collection of The Bowes Museum (U.K.).
A large dish of the dimension of our, from the F. Gordon Morill Collection, was sold by Doyle in New-York (16 september 2003, lot 20).
A pair of large dishes from this service, from the Khalil Rizk collection, was sold at Sotheby's NYC (April 25, 2008, lot 15).
A large dish, from the collection of Elinor Gordon, was sold at Sotheby's NYC (23 janvier 2010, lot 186).
Notice
The arms are those of Giulio Visconti (Milan), who was created a Knight of the Golden Fleece (1721) and that of his second wife, Teresa Cusani. This service may have been commisioned for the wedding of the Milanese couple, when Giulio was living in the Low Countries (he spent seven years in the Low Countries at this time).