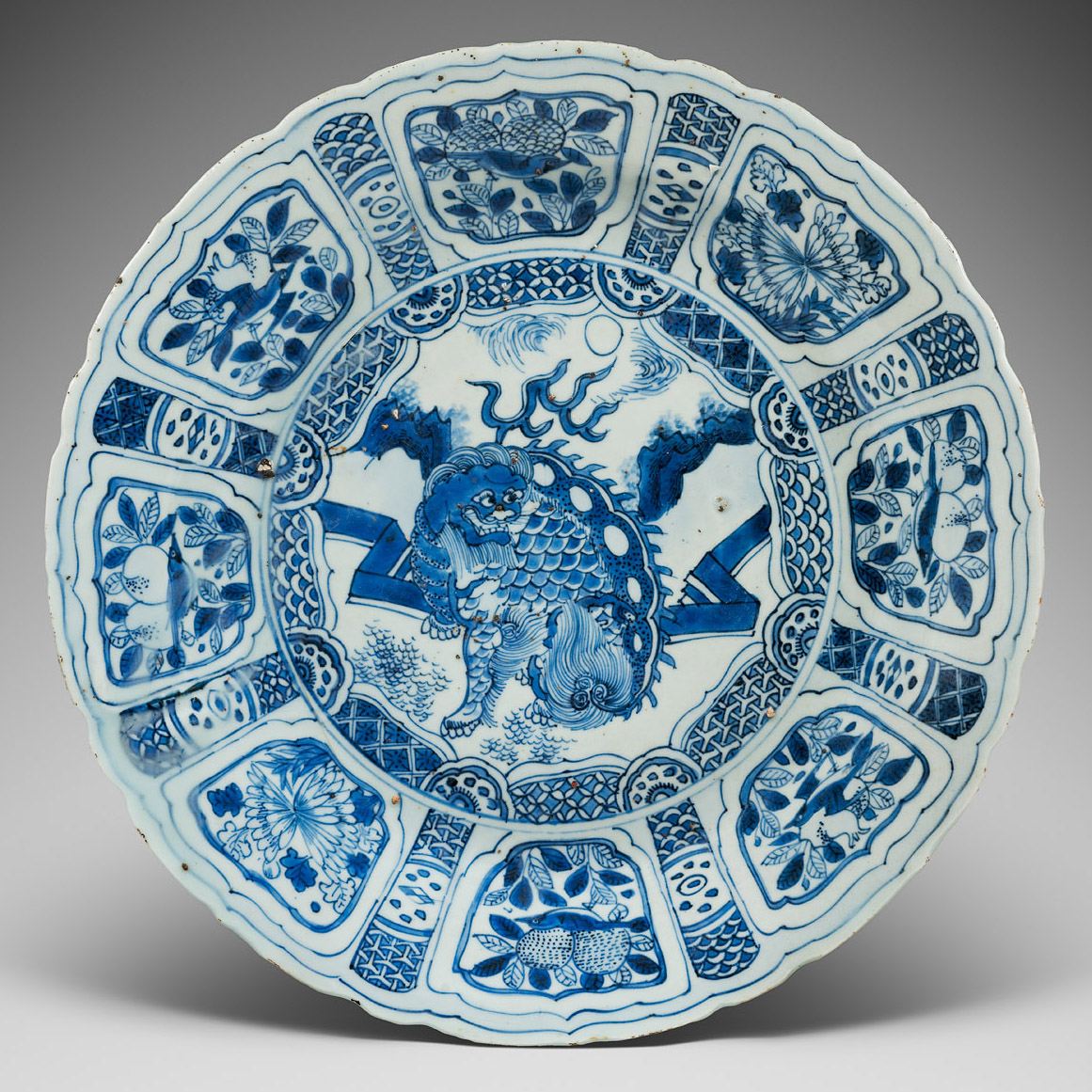 A Kraak porcelain "Mythical beast and the Moon" dish. Ming
This dish is decorated in the center with a mythical Chinese creature, seated below a full moon in front of a garden wall. The central sce- ne is enclosed by radiating lappets with fruits and floral groupings, including pomegranates and tree peonies below the bracket-lobed rim. The reverse is decorated with stylized lappets.
Country:

China

Period :

Late Ming dynasty (1368-1644), ca 1610-1630

Material:

Porcelain

Dimension:

(35,5 cm)

Reference :

D325

Status:

sold
Provenance
A French private collection
Related works
For instance, please refer to the Transitional period blue and white jar with three mythical beasts from the Quek Kiok Lee collection (Christie's HK, 9th october 2019, lot 18).
Compare also a similar dish with different central décor illustrated by Julia B. Curtis, "Transitionware Made Plain: A Wreck in the South China Sea," Oriental Art, Volume XXXI, No. 2, Summer, 1985, p. 172, fig. 23.
Photography : Jérémie Beylard / Agence PHAR
Notice
The question of exactly which mythical Chinese animal is portrayed here is an interesting one and not easy to answer. We contend that our beast here is in fact a Xiezhi, although it does lack the single horn in this representation, but otherwise does have all the expected attributes.
The closest image we could find is the Korean version of a Xiezhi known as the Haetae. According to Korean records, the haetae has a muscular leonine body covered with sharp scales and lives in the frontier areas of Manchuria.
With regards to other possible mythical beast contenders, the following points were all raised during the research into ours:
–  It lacks the horns and hooves that would be associated with a Qilin typically.
–  It lacks the wings that you'd expect to see on a Pixiu.
–  It lacks the all over fur you'd expect to see on a "Lion or Foo dog"and instead has scales as well as a flaming back.
–  It lacks the all over black colour of a Tiangou and additionally has a mane and scales which the former does not.That being said, there is an argument to be made that this depiction probably finds its origins in the Chinese chéngyǔ (idiom) of four cha- racters 麒麟望月 (qilin wangyue), "a Qilin looks at the moon".

This particular chéngyǔ symbolizes the hope of auspiciousness and a period of peace, thus expressing the desire of the ancient Chinese for a better life.

It appears often on Transitional Period Chinese ceramics and not only those with a single Qilin, but also with multiple Mythical Creature. Therefore, it is not hard to consider that maybe the Chinese painters took this chéngyǔ a step further and applied it all types of similar mythical creatures? Given that the Transitional period encompassed a decades long conflict between the emerging Qing dynasty, and the incumbent Ming dynasty, during which the imperial kilns were also burned down. Scholars have speculated that this led many imperial artists to find employment in the Private kilns that were servicing the Export trade.