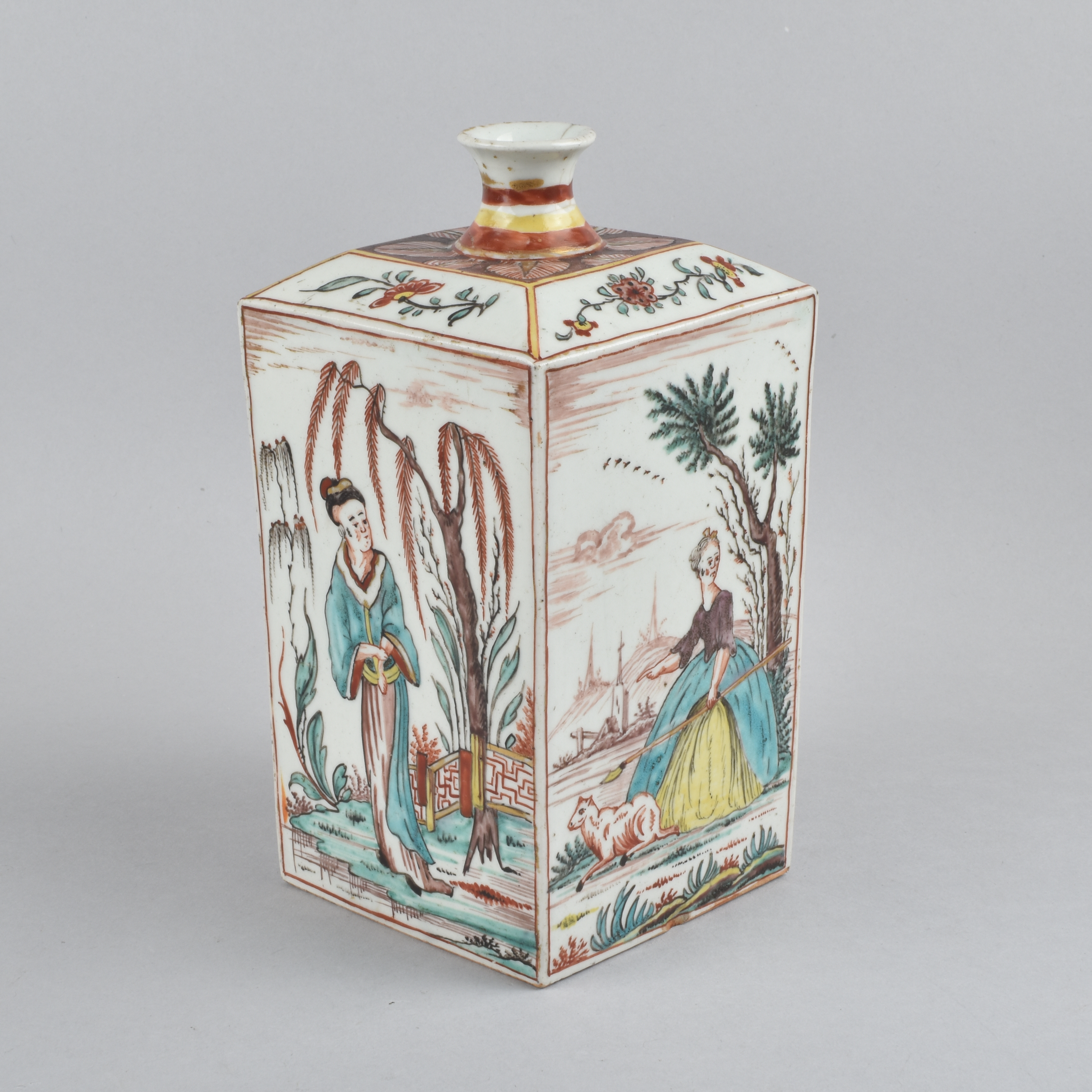 A Japanese Dutch-decorated tokkuri bottle decorated with Chinoiserie and Pastorale. Circa 1725
The bottle modeled of square form, and decorated with overglaze enamels by Delft enamelers, with two sides with a Chinese lady in a garden, and two others sides with scenes of pastorales including a lady near tree and next to a sheep.
Country:

Japan & Netherlands

Period :

XVIIIe century, circa 1725

Material:

Porcelain

Dimension:

6.69 in. (17 cm)

Reference :

D557

Status:

sold
Related works
For a related example, see Helen Espir, European Decorated on oriental porcelain, 1700-1830, Jorge Welsh, 2005, p. p. 108, no. 42.
A further pair of bottles, with a scene of pastorale (tea party) is illustrated by Jorge Welsh in European Scene on Chinese Art, pp. 235/237, 2005, no. 65.
A tokkuri bottle, decorated with scenes of Passion of the Christ is in the Musée des Arts Décoratifs (Paris).
Notice
Around 1720, pink and opaque white and yellow enamels were introduced by the Chinese which were to transform the appearance of their enameled porcelain. Opinion has been divided as to the source of these new enamels, whether introduced by Jesuit missionaries from Europe or developed from Chinese cloisonné technology. The Dutch Decoration coincided exactly with the arrival of the famille rose enamels in Europe.
From the early 1700s, the enhancement of oriental porcelain in Japanese styles was the basis of the over-decorating trade. In holland, with access to the markets supplying the courts of Europe, copying the kakiemon style would have been more profitable, while the practice of adding Imari colors to ordinary Chinese blue and white porcelain was widespread in Holland and England. There appears to have been little demand for imitations of Chinese famille verte style, but the famille rose style was popular throughout Europe resulting in distinct Dutch and English over-decorating styles. The exotic and inventive chinoiseries that developed through both incomprehension of oriental design and symbolism and a desire to portray the European idea of China and Japan still charm and amuse in the twenty first century.