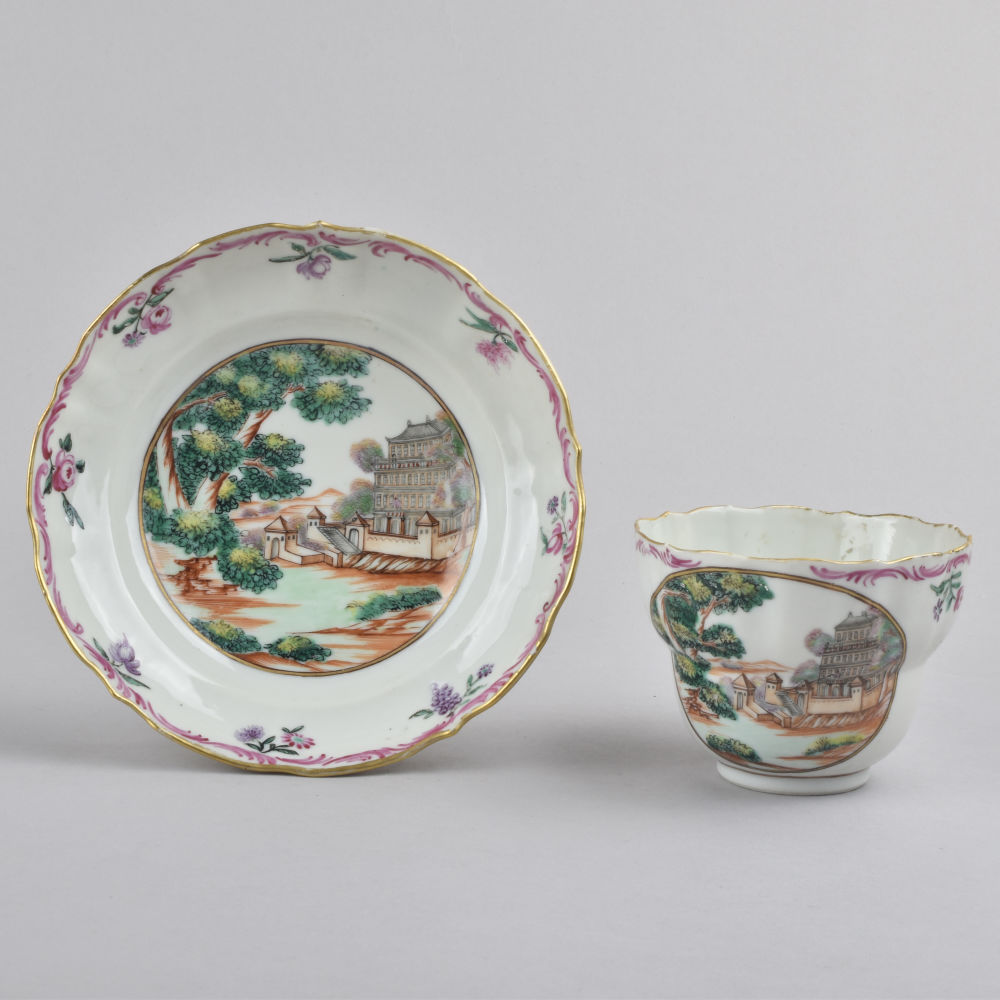 A famille rose topographical tea cup and saucer. Qianlong
Decorated in the famille rose palette and gold, with narrow band, scrolling vine, pendant blossoms, and bunches of grapes at the rim, central scene of a four-story walled building with raised drawbridge, gatehouses, and a moat in a landscape of overarching trees.
Country:

China

Period :

Qianlong period (1736-1795), ca. 1780

Material:

Porcelain

Dimension:

5.90 in. (15 cm)

Reference :

D256

Status:

available
Related works
A tea bowl is illustrated by Thomas V. Litzenburg Jr. in Chinese Export Porcelain in the Reeves Center Collection at Washington and Lee University, 2006, p. 154, no. 146
For a large tea set, see The Chinese Porcelain Company, Important Chinese Porcelain, 1995, p. 80, no. 61.
A coffee pot was in the Tibor Collection (Christie's NYC, The Tibor Collection: A Noble Eye for Chinese Export, 10 april 2019, lot 11).
Notice
Replete with hip and gable roof and a balustrade atop its third story, the imposing building in this finely painted scene probably copies a European print. It is noteworthy, however, that the tiered effect of its stories, the upward-curving roof lines, and the surrounding wall are reminiscent of the Five-Story Watch Tower in Canton (Guangzhou). Whatever the original source, the scene is remarkable for its close attention to detail, including the carefully drawn figure of an attendant adjusting the drawbridge cables from a portico.