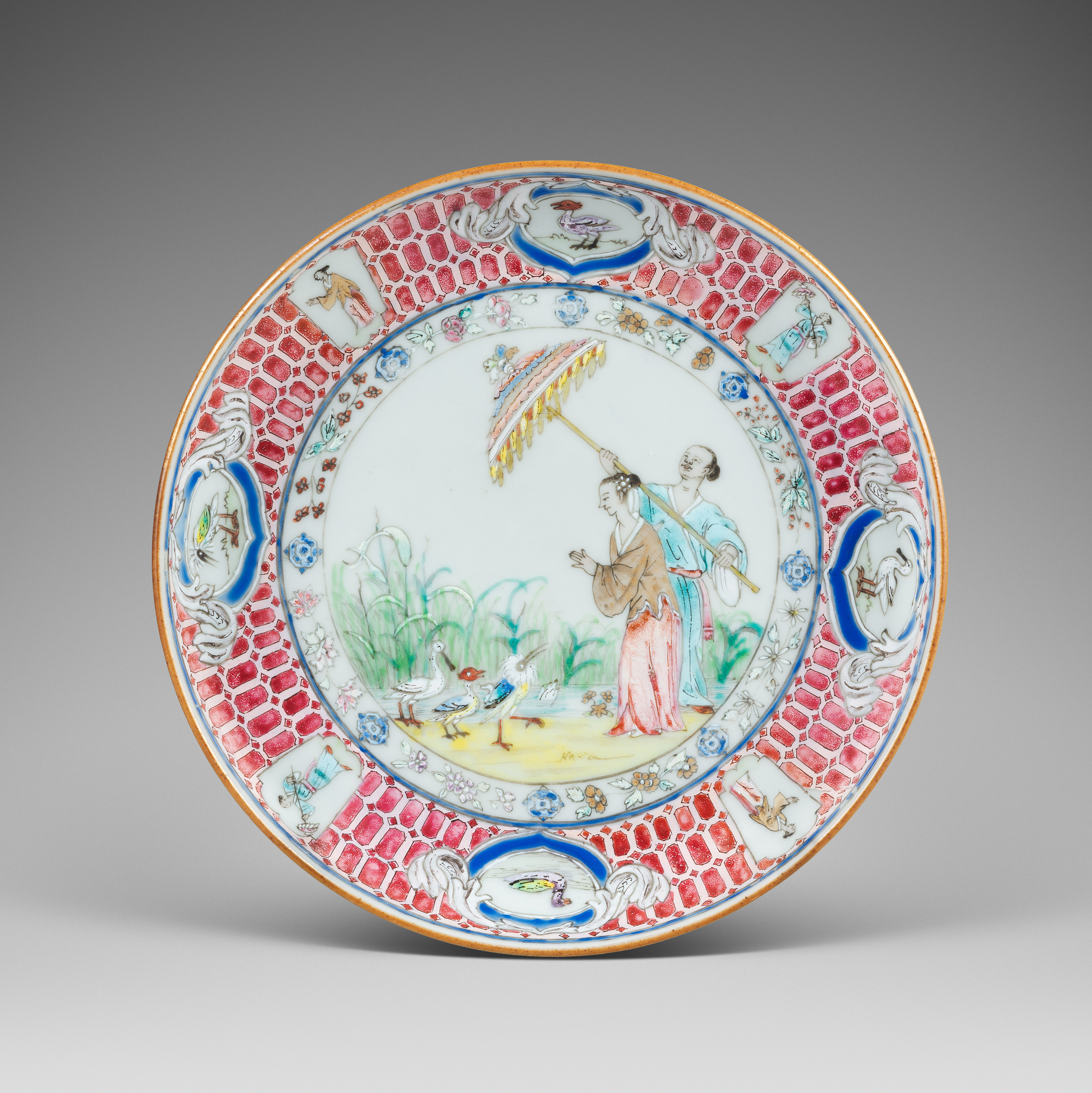 A famille rose 'Pronk Dame au Parasol' dish. Qianlong
Painted in bright enamels with a an elegant lady standing under a parasol held by an attendant, the lady holding out a hand to four separate species of marsh birds, three walking on the bank before them, and a fourth, partially submerged with only tail feathers visible, feeding in the marsh behind, the four species mirrored in cartouches at the rim, as are the lady and the 'parasol' attendant, all on a cell ground in shades of primarily pink and blue, the well with a band of composite flower groups, the reverse side with eight equally-spaced penciled iron-red insects.
Country:

China

Period :

Qianlong (1736-1795), circa 1738

Material:

Porcelain

Dimension:

6.10 in. (15,5 cm )

Reference :

D653

Status:

sold
Provenance
A French private collection
Related works
The pattern first appeared in underglaze blue, then Chinese Imari, and finally in opaque enamels. This version in the famille rose palette is the much the rarest. The VOC archives indicate three famille rose services being ordered, but they were very expensive to produce and only one is known, which is mostly intact in a private collection.
The parasol or umbrella, in use in China for more than 2,000 years, and is included among the eight Buddhist symbols, was a conceit frequently used in chinoiserie motifs.
For a discussion of the use of documented patterns by Pronk, see William R. Sargent, Treasures of Chinese Export Ceramics from the Peabody Essex Museum, Salem, 2012, pp. 275-293, no. 143; and further discussion of the Pronk workshop see Cohen & Cohen, Take Two!, 2017, pp. 122-123
For a smaller saucer, see Christie's NYC, Chinese Export Art Featuring Property from the Tibor Collection, 20 January 2021, lot 22.
Notice
In 1734 the directors of Holland's East Indian Company (Vereenigde Oostindische Compagnie: VOC) commissioned Amsterdam artist Cornelis Pronk (1691-1759) to create four patterns for Chinese porcelain. Pronk's drawings were sent to VOC headquarters in Batavia and then on to Canton in 1736. Using a 'Chinoiserie' vocabulary Pronk created distinctive scenes and motifs that were then produced by the Chinese workshops in Jingdezhen in a variety of types.