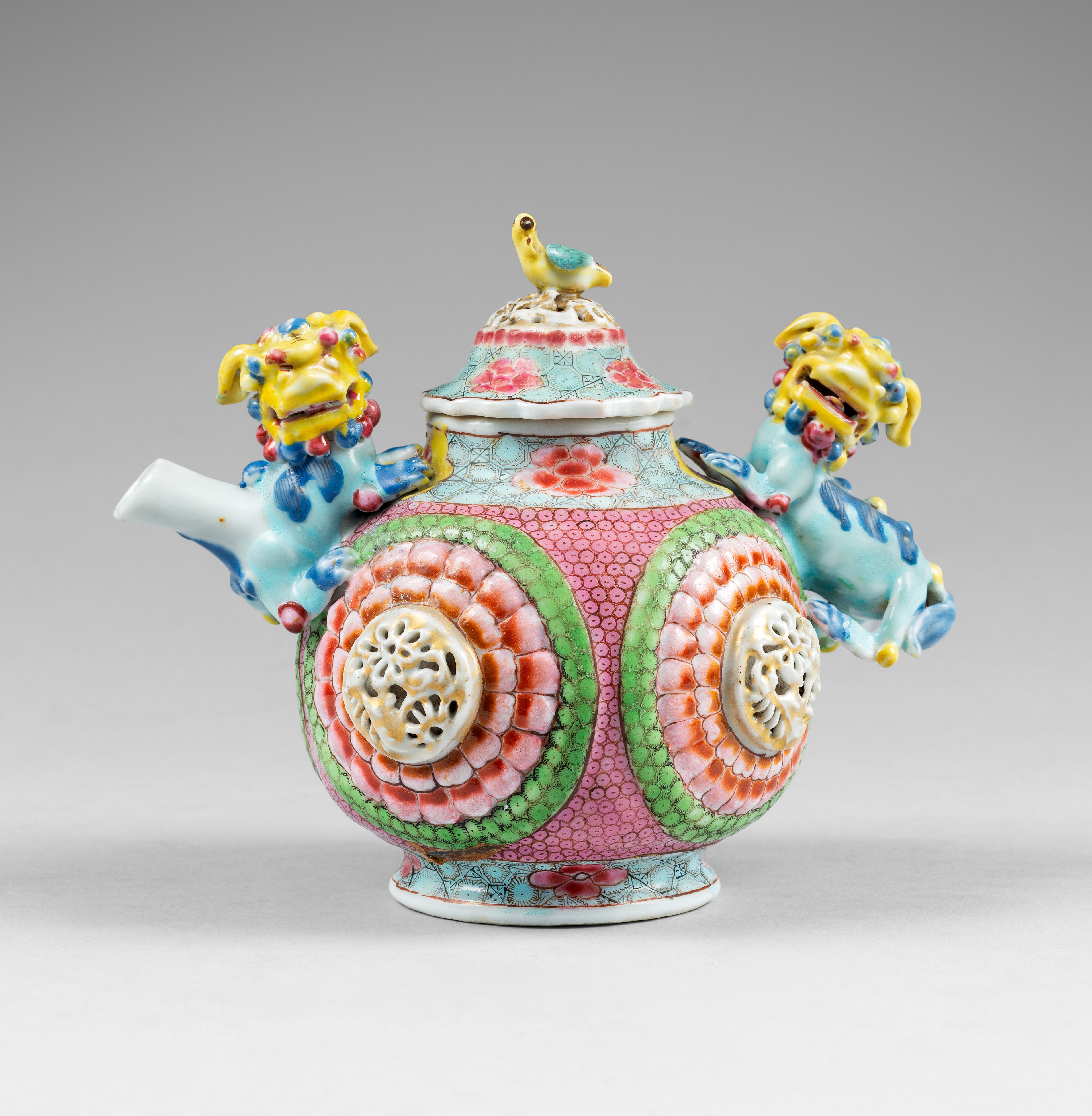 A famille rose "brocade ball" teapot. Yongheng
Each side of the teapot is molded with two convex reticulated and gilt roundels encircled by petal lappets on a diaper ground, and the whole is flanked by two Buddhist lions which form the handle and the spout. The cover bears a cockerel-form finial.
Country:

China

Period :

Yongzheng (1723-1735)

Material:

Porcelain

Dimension:

5.31 in. (13,5 cm)

Reference :

D775

Status:

sold
Provenance
17 mai 1949
Related works
For an identical teapot, see Christie's NYC, Chinese Export Art Featuring the Tibor Collection, Part II, 23 January 2020, lot 80.
For another identical teapot, see Sotheby's London, Fine Chinese Export Porcelain from the collection of Angelo castelo Branco Caldas, 8 May 1990, lot 38.
Two others identical teapots are illustrated by H.A. Crosby Forbes in Yang-ts'ai: The Foreign Colors, Rose Porcelains of the Ch'ing Dynasty, 1982, Milton, MA, p. 16, cat. 2 and by J.P. van Goidsenhoven in La Ceramique Chinoise sous les Ts'ing, Brussels, 1936, pl. 88, cat. 198.
For a pair of identical teapots from the Morgan Collection (nos. 701 & 702), see Christie's NYC, Fine Chinese Ceramics and Works of Art, 2 December 1993, lot 342.
For another similar teapot, see Christie's NYC, Collected in America: Chinese Ceramics from The Metropolitan Museum of Art, 15 September 2016, lot 953.
For another teapot, see Cohen & Cohen, The Golden Gate Collection, 2018, lot 19 (where they mentioned an example in the collections of the Victoria and Albert Museum, part of the Salting Bequest, No. C.1482-1910).
Another very similar teapot (from the Martin-Hurst Collection) is illustrated by G. C. Williamson in The Book of Famille Rose (London, 1927, pl. XXIV, p. 66-67).
Notice
The lion is a symbol of strength and protection. It is the protector of the Buddha. Lion-shaped sculptures are found as sculptures at the entrances to many Chinese temples. These creatures are sometimes called "fu dogs" in the West. The playful and imaginative shape of this press-molded teapot is derived from the shape of the brocade ball which is traditionally seen as a toy under the paw of the male Lion of Buddha. The form is probably derived from a wine pot.
Photography : Jérémie Beylard / Agence PHAR