A Chinese yellow-ochre enamel on the biscuit reclined hound. Kangxi
Decorated with a yellow glaze, its head turned slightly to its left. It has flat drooping ears and a long muzzle. Its tail curls against the left haunch. The sides of the body are deeply carved to indicate the ribs. A bell hangs at its chest from a cord around the neck. Eyes are pencilled in black.
Country:

China

Period :

Kangxi (1662-1722)

Material:

Porcelain (biscuit)

Dimension:

2.95 in. / 3.93 in. / 1.96 in. (7.5 cm / 10 cm / 5 cm)

Reference :

C648

Status:

sold
Related works
A reclined sancai example (from John Sparks Limited, London, 1985) is illustrated by William R. Sargent in The Copeland Collection – Chinese and Japanese Ceramic Figures, 1991 p. 86, no. 34.
A yellow-glazed hound, but seated, is illustrated by Jorge Welsh in Biscuit – Refined Chinese Famille Verte Wares, 2012, p. 184, no. 51.
Augustus the Strong owned several famille verte biscuit examples at the beginning of the 18th century.
A pair of sancai hounds are in the Marie Vergottis Collection (Switzerland).
Hounds are also known in turquoise or green enamels (Anthony de Rothschild Collection), but yellow-glazed examples looks to be rarer. One yellow glazed example is also in the collection of the Palacio Nacional da Pena in Sintra (Portugal).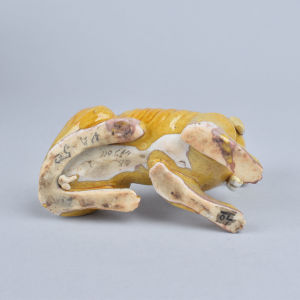 Notice
In China, the dog (gou) is the eleventh sign of the zodiac. It has a variety of symbolic meanings, but it mostly represented as a symbol of fidelity. The breed of the dog represented by the present model has been debated by scholars for some time. It possibly represents a smooth-coated greyhound, which was introduced into China by Portuguese from the 16th century. This breed regularly features in a popular export design known as "Governor Duff". However, this hound also ressembles a long muzzled breed which is native to China which have been produced at least since the Tang dynasty (618-907).
A jade dog in a pose similar to this example and dated 15th/18th century is in the collection of the Arthur M. Sackler Gallery (Washington, D.C. inventory number S1987.24).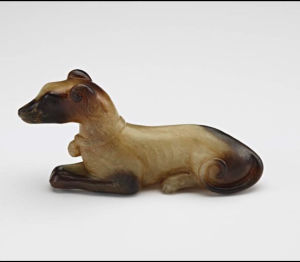 The dating of the jade dog is based partly on its similarity to tomb pottery figures. No specific purpose can be attributed to this figure, thought its glazing, remarkably similar in character to ancien jades, may be a conscious archaism so popular in the Kangxi period.