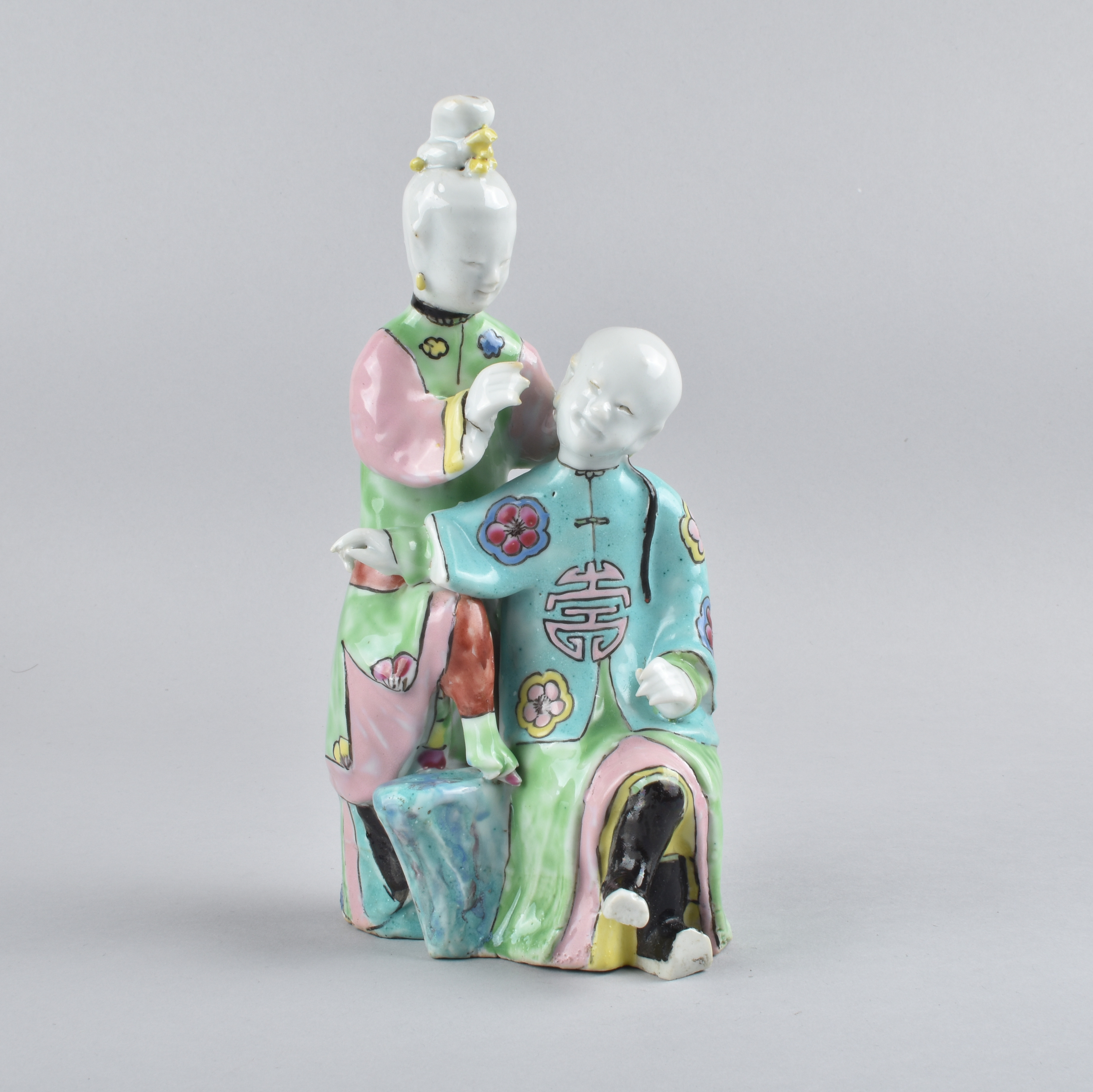 A Chinese famille rose 'erotic' group. Qianlong
Decorated in the famille rose palette, the man seated and wearing a pale blue robe with a pink shou character medallion and a green skirt, the woman in a green coat with pink sleeves and underskirt, with one knee raised revealing a bound foot as she leans over to examine the man's ear.
Country:

China

Period :

Qianlong (1736-1795), circa 1785

Material:

Porcelain

Dimension:

7.67 in. (19.5 cm)

Reference :

D711

Status:

sold
Related works
For two very similar groups forming a pair, see Michael Cohen & William Motley, Mandarin and Menagerie, Chinese and Japanese Export Ceramic Figures, Volume I: The James E. Sowell Collection, 2008, p. 119, no. 6.5.
A group was in the Dr. Anton C.R. Dreesman Collection (Christie's London, 10 april 2002, lot 502).
Related erotic groups are known and depicting men and women at everyday activities, such as ear-cleaning, wine drinking, smoking and music lessons, all of which suggests are preliminary to sexual advances.
Notice
The exposed lower leg and the man's outstretched arm show the nature of the intimacy. The bound foot was considered very erotic : Qing dynasty sex manuals list forty-eight different ways of playing with bound feet. The erotic effect was enhanced by the 'lotus gait', the tiny steps and swing walk that resulted from a malformation of the bound foot. The Manchu court did not approve of foot binding and tried to stop it, but it remained customary among those Han Chinese women who did work in the fields.
The practice had begun in the Tang dynasty : A girl's feet were tightly wrapped in bandages so that they could not grow more than about fives inches; as a result, the bones were broken and deformed over time, and the feet were prone to infection and disease. The woman was unable to walk great distances and could not do manual labour, so it was only inflicted on girls in wealthy households or those earning power was expected to depend on charm rather than mobility and strength. Li Ruzhen (1763-1830) satirized this practice in the novel Jinghua yuan (Flowers in the Mirror) that features a musical kingdom ruled by woman in which the men had to bind their feet. After the fall of the Qing in 1911, foot binding was finally banned and is no longer practiced in China.