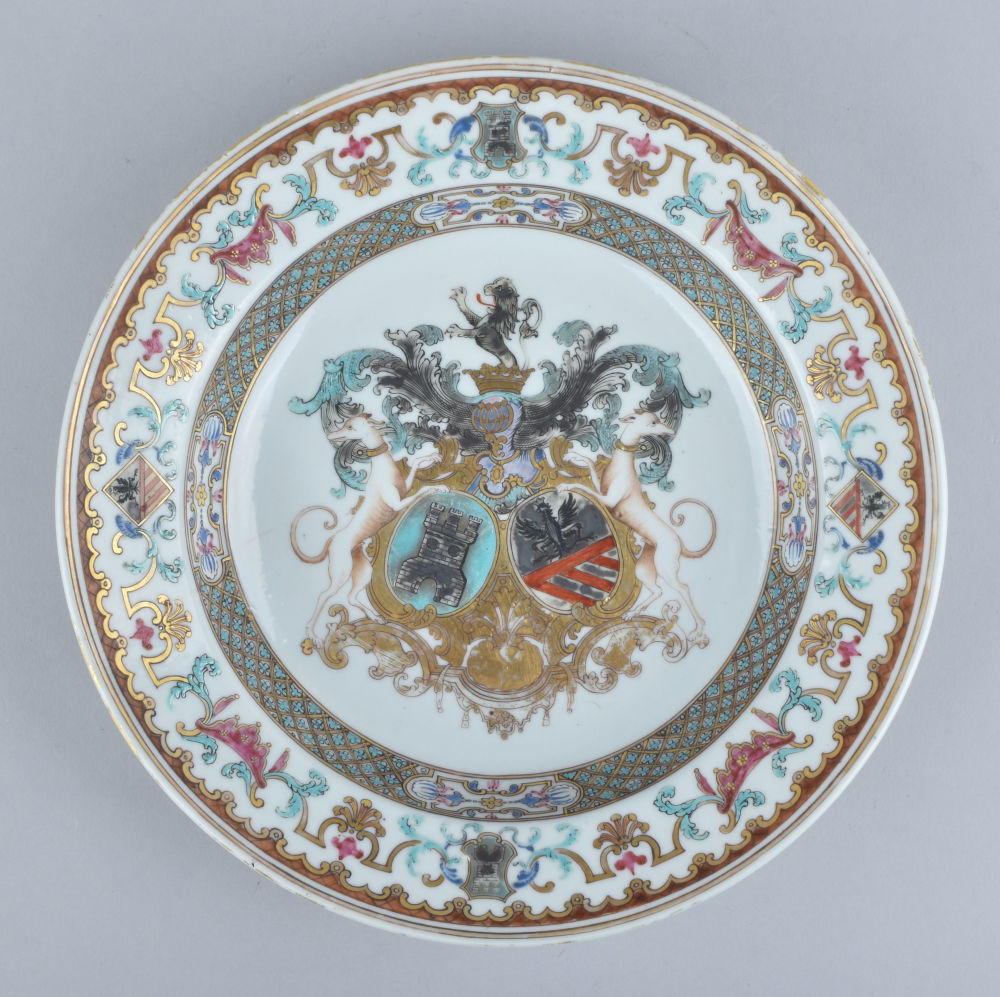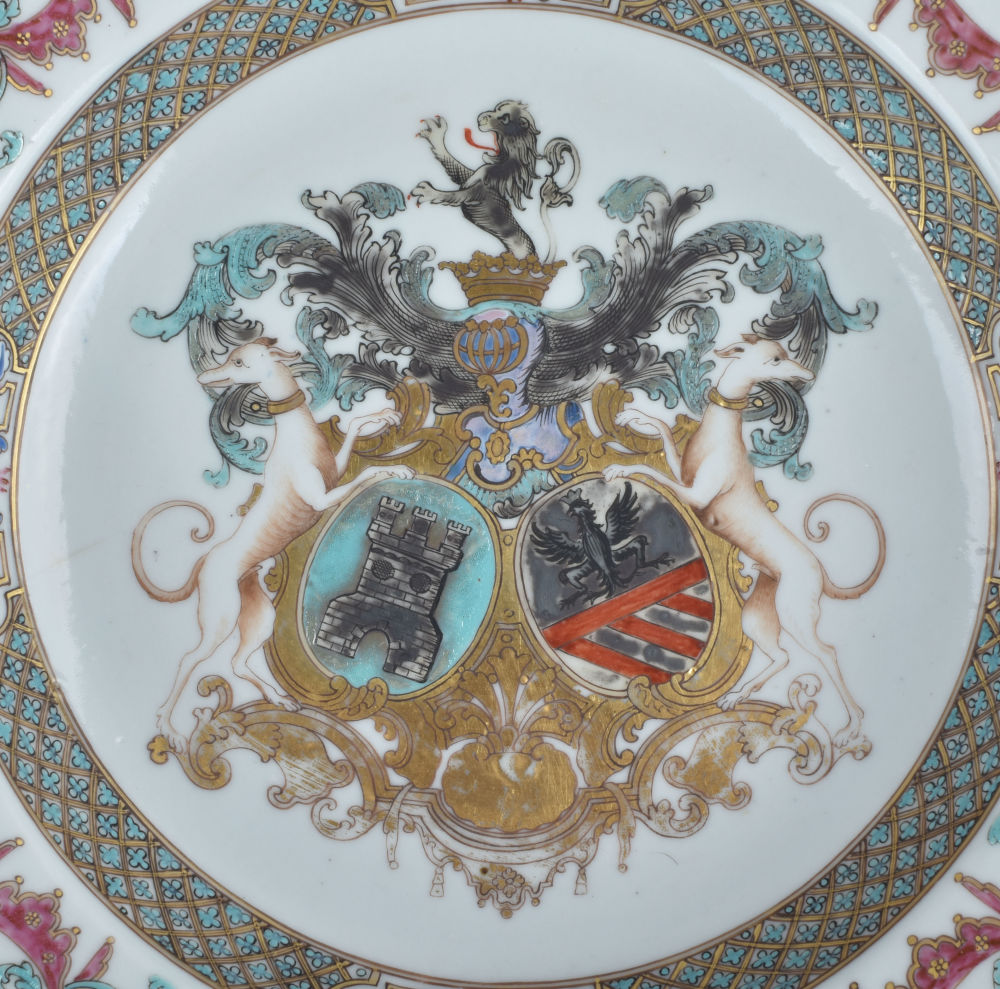 A Chinese export famille rose and silvered armorial plate for the Belgian market (Bistrate of Anvers). Yongzheng period.
The center enameled and silvered with the arms of la Bistrate accollée with those of Proli between greyhound supporters and below a helmet, coronet and crest, surrounded by a trellis-patters in the well, the arms repeated individually around the everted rim between a du Paquier style design of linked feathers, strapwork, shells and hanging drapery.
Country:

China

Period :

Yongzheng (1723-1735), circa 1735

Material:

Porcelain

Dimension:

8.66 in. (22 cm)

Reference :

B808

Status:

sold
Related works
A dish from this service is in the collection of the Royals Museums of Art and History of Brussels. It was exhibited at Chinese Export Porcelain in Hong-Kong in 1989 (cat. n°96, p. 244/245).
Another dish is in the collection of the Rijkmuseum (Amsterdam) and in the collection of the British Museum (Reg. Nr. Franks.1410).
Others models are illustrated by Henry Maertens de Noordhout in Porcelaines Chinoises décorées d'armoiries belges (1994, p. 23), by Jörg (1989, p. 245, no. 96).
Another dish, from the Mottahedeh Collection, is published by Howard and Ayers in China for the West (London and New York, 1978, p.453, no. 459) and sold at Sotheby's New York, 19 october 2000, lot 260.
Others dishes are illustrated by Lunsingh Scheurleer in Chine de Commande (pl. 272) ; by Kroes in Chinese armorial Porcelain for the Dutch Market (p. 15, pl. V), by Krahl and Harrison-Hall in Chinese Ceramics – Highlights of the Sir Percival David Collection (p. 289, no. 129).
A dish from this service was in the collection of Leo and Doris Hodroff and sold at Christie's New York, 23 january, 2008, lot 366 ; another dish in the collection of Khalil Rizk sold at Sotheby's New York 25 april 2008, lot 38 (exhibition at San Francisco, Fall Antiques Show, 1995).
Notice
This service was made for Jean-Charles de la Bistrate (baptized in Anvers in 1715), seigneur de Loer and Neerwinde and chief almoner of Anvers who married on October 7, 1736 Anne-Martine Proli (born in 1711), also of Anvers. Her father, Pierre Proli, was one of the seven directors of the Compagnie d'Ostende, and after his death in 1733, many of his affairs were continued by his son who may have been responsible for ordering this service for his sister and brother-in-law. The authors suggests a date of circa 1730 for the service ; however, it is unlikely that it would date prior to the marital union of the two families whose arms are represented.