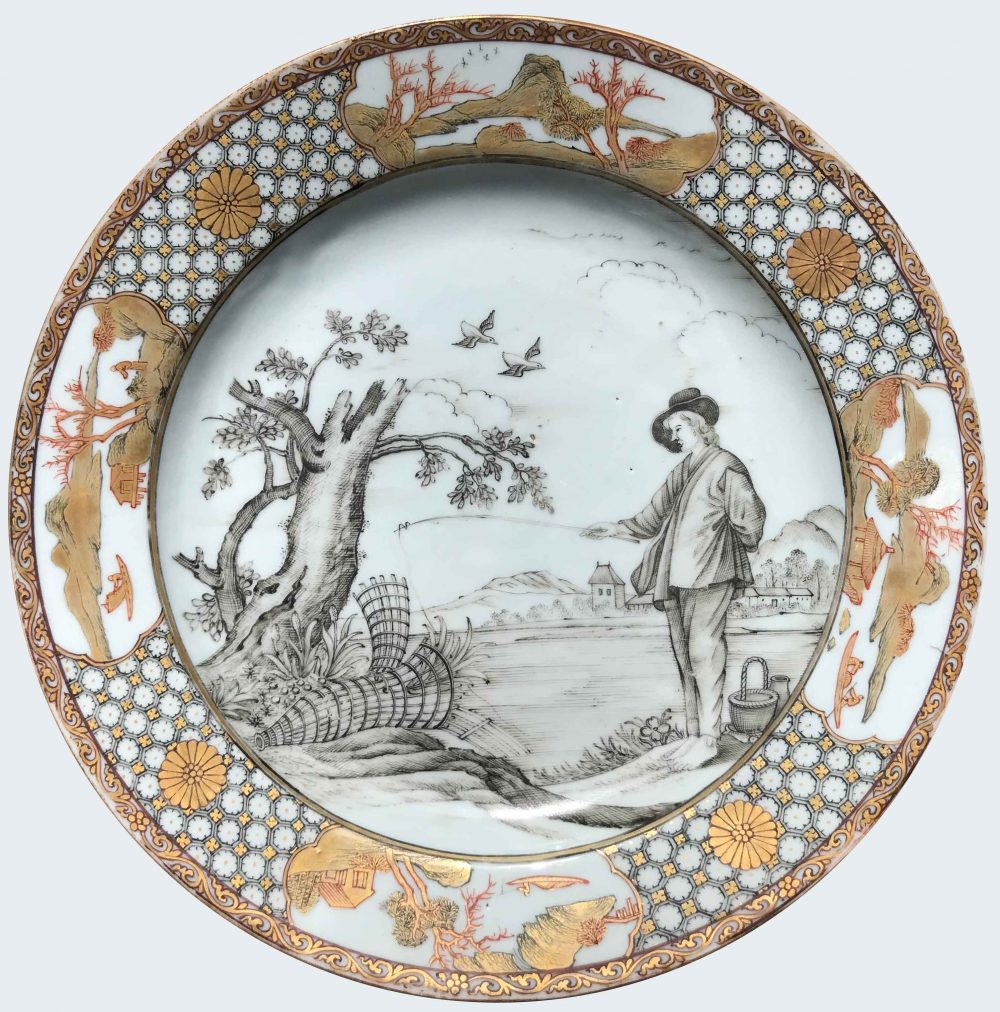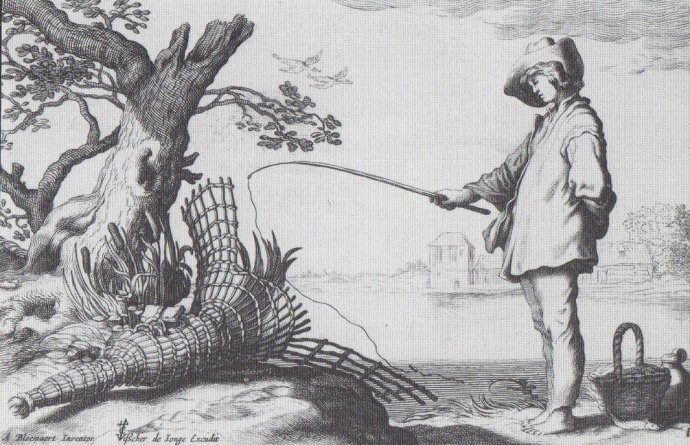 A Chinese en grisaille and gilt "Le pêcheur" plate. Qianlong period.
Decorated en grisaille at the centre with a fishing scene, a young man standing barefoot on a river-bank holding his rod, beside two large fishing baskets below a tree-trunk with birds in flight overhead, the border with four different landscape vignettes decorated primarily in gilt with details en grisaille and iron-red, interspersed with gilt florettes, all on a cell-pattern ground below a classic-scroll band at the rim.
Country:

China

Period :

Qianlong (1735-1795), circa 1750

Material:

Porcelain

Dimension:

8.66 in. (22.5 cm)

Reference :

B748

Status:

sold
Related works
A very similar plate to the present lot is in the Royal Museums of Art and History (Brussels), exhibited Hong Kong, 1989/90, Catalogue no.44.
Another almost identical plate from the Dr Anton C. R. Dreesmann collection was sold at Christie's, 10 april 2002, lot 425.
Another plate, from the Jean-Louis Binder Collection (purchased from Earle D. Vandekar Ltd) was sold at Christie London, 'The J.Louis Binder Collection of Chinese Export Art, London, 17 june 2003, lot 51.
Another plate was also sold at Christie's New York, Mandarin & Menagerie: The Sowell Collection and Chinese Export Art From Various Owners, 26 January 2015, lot 114.
Notice
The scene copies a print by C. J. Visscher de Jonge, a Dutch engraver, who based his design on a drawing by Abraham Bloemaert (1564-1651).
The print is also illustrated in M. Roethlisberger, Abraham Bloemaert and his sons, Doornspijk, 1993, vol.II, fig.568, cat.403, and described in vol.I, p.270/71, where it is stated that fishing was a widespread symbol of amorous activity, based on the notion of the treacherous bait, with the fish trap alluding to the trap of love. See D. S. Lunsingh Scheurleer, Chinese Export Porcelain – Chine de Commande, London, 1974, fig. 207 for an illustration of this print, together with two plates with this design as figs. 206 and 298.
On porcelain this scene is found in famille rose enamels, en camaïeu roseand as in the present lot en grisaille, with a variety of borders. For an enamelled version with the same border as on this plate, see D.S. Howard, The choice of the private trader, 1994, p.83, pl.67, where the author explains 'After the initial, possibly V.O.C., order, variations would have been available to private merchants in Canton, probably with less expensive borders'.