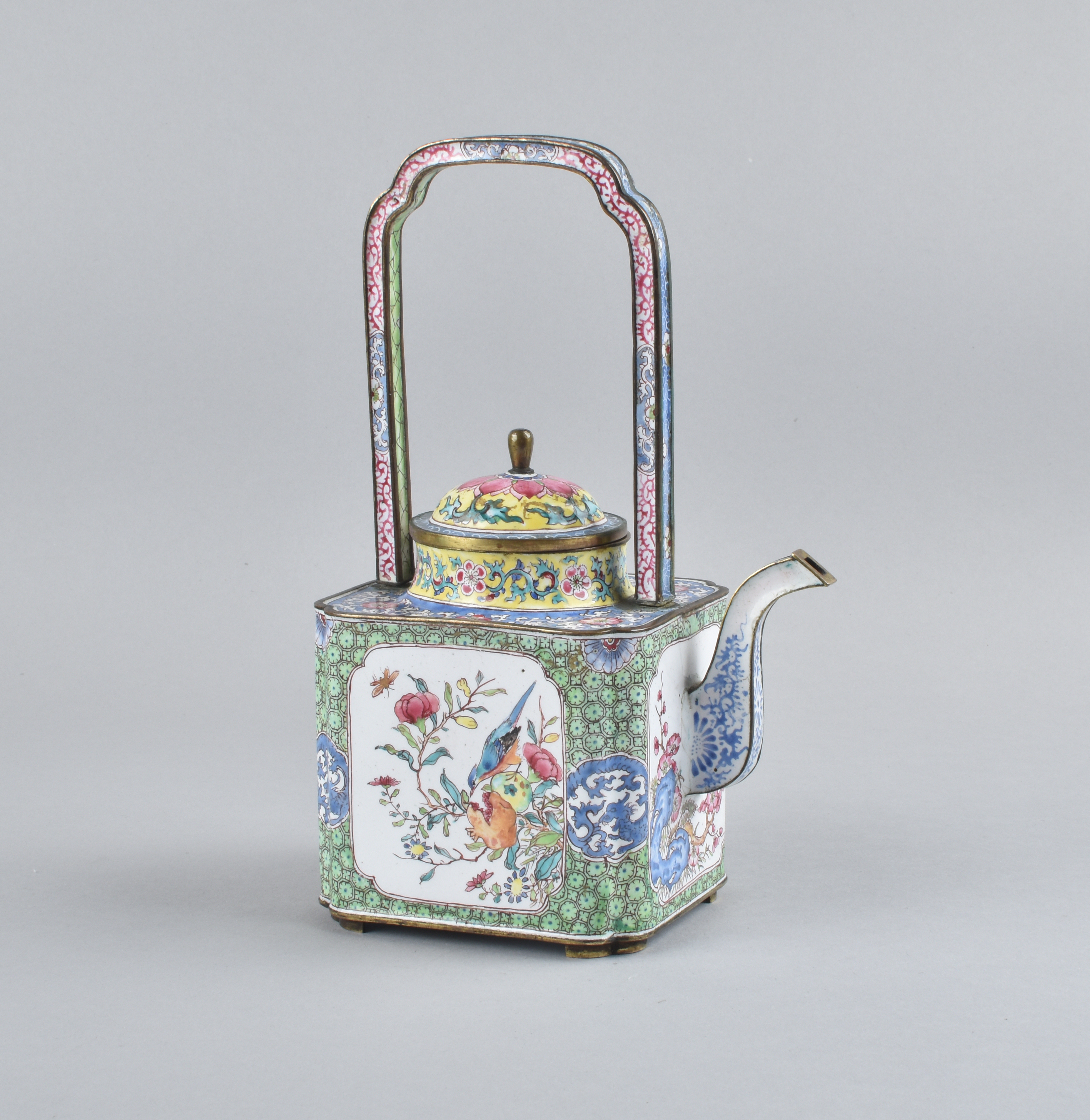 A Chinese Canton enamel on copper teapot. Qianlong
A square-shaped teapot with slightly indented corners, short neck and domed lid, standing on curved feet. It has a square section curved spout and flat shoulder surmounted by a tall handle with indented corners. It is decorated with polychrome enamels on a white ground, which include pink, blue yellow, turquoise iron-red, black and gold. Each side is painted with a square medallion enclosing birds amongst flowers and rockworks. The background is decorated with a green diaper and four medallions with dragons. The spout is decorated with blue foliage scrolls.
Country:

China

Period :

Qianlong (1736-1795)

Material:

Porcelain

Dimension:

7.08 in. x 2.75 in. x 3.14 in. (18 cm / 7 cm / 8 cm)

Reference :

D515

Status:

sold
Provenance
Private French collection
Related works
For a teapot of the same form but with a different decoration, see Jorge Welsh, China of All Colours, 2015, p. 98/100, no. 18.
A further teapot is in the collection of the Metropolitan Museum of New York (Bequest of Mary Clark Thompson, accession number 24.80.482a, b).
For another example of a different form but with a close decoration, see Sotheby's NYC, Important Americana, 25 january 2014, lot 70.
Notice
The shape of the present teapot possibly derives from Chinese porcelain example made during the Kangxi period (1662-1722). The function of this type of vessel is still matter of some debate, with similar pouring vessels associated with the consumption of wine, but in the few known 18th c. inventories and auction records relating to enameled copper wares in the West, only 'teapot' and 'tea kettles' is referred to.