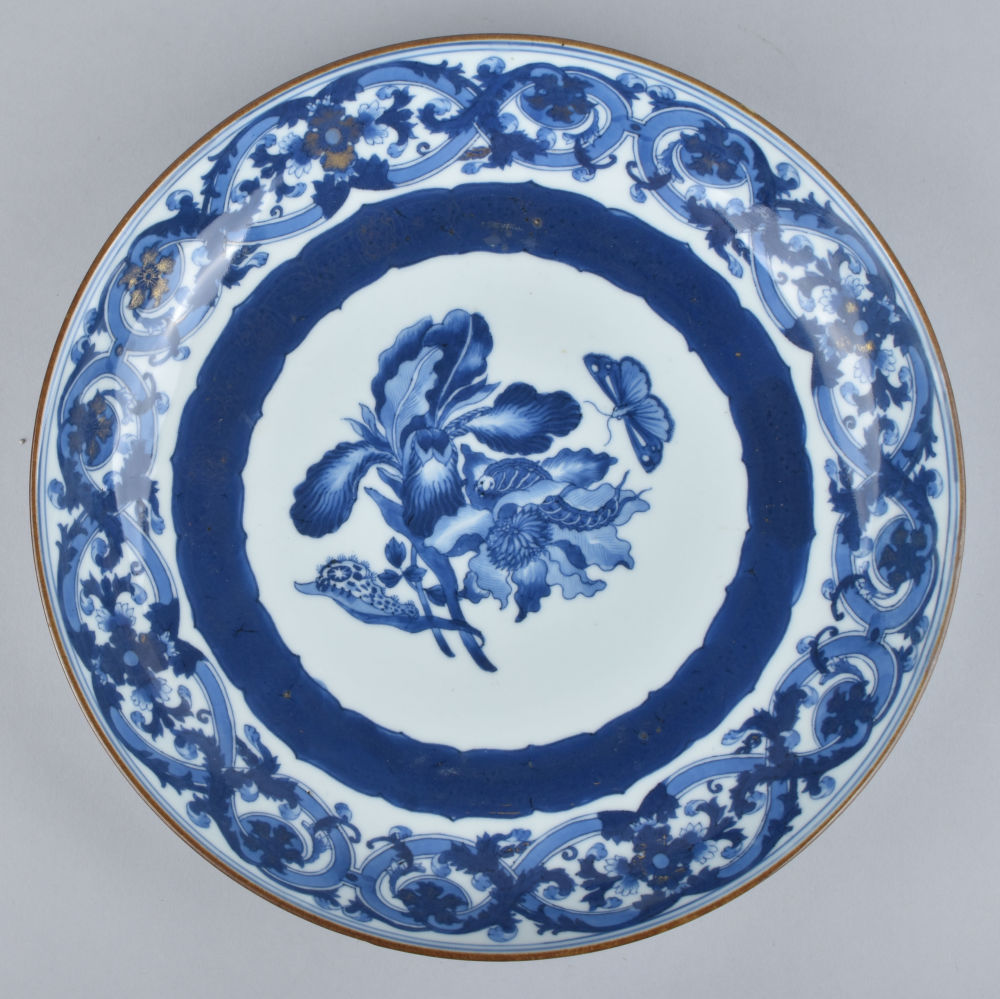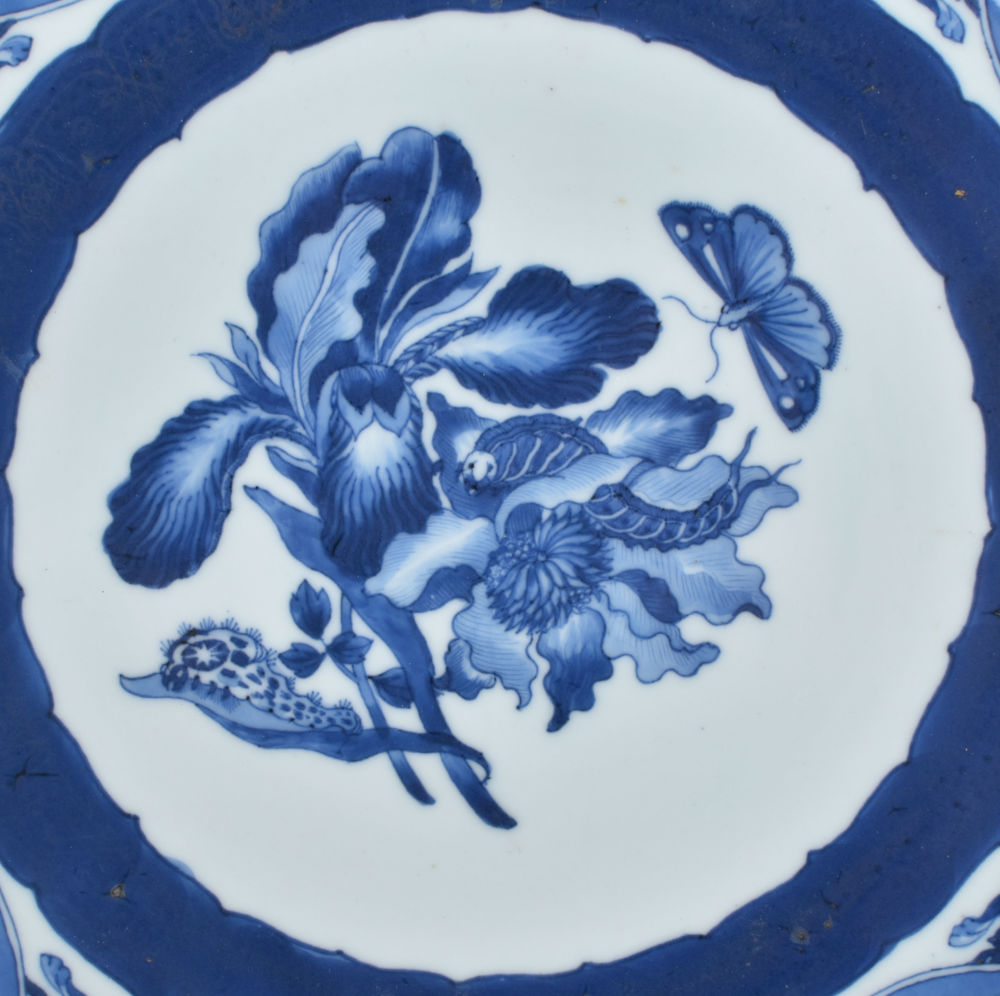 A Chinese blue & white botanical saucer dish after Maria Sybille Merian. Qianlong period.
Decorated in underglazed blue and gold, in the highest quality for this pattern, painted at the centre with a white-bodied caterpillar crawling on the leaf of an iris, beside another with a crawling amongst the petals of an orchid, a butterfly hovering above, enclosed by an gilt floral band in the well and a broad band of elaborate strap work, acanthus leaves and gilt stylized flower-heads at the border.
Country:

China

Period :

Qianlong period (1736-1795), circa 1738

Material:

Porcelain

Dimension:

9.64 in. (24.5 cm)

Price:

upon request

Status:

available
Related works
Plates decorated with underglazed blue are in the collections of the British Museum of London (illustrated by R. Krahl and J. Harrison in Ancient Chinese Trade Ceramics, from the British Museum, London. Ming and Qing Porcelain for the West, 1994, pp. 186-187), the Victoria & Albert Museum (London) or the Philadelphia Museum of Art (Pennsylvania),
A plate and a saucer are illustrated by Maria Antonia Pinto de Matos and Jorge Welsh Research & Publishing in The RA Collection of Chinese Ceramics – A Collector's Vision, TII, no. 303, 198.
A pair of identical large plates were published by Cohen & Cohen in A game of bowls (London, 2014, p. 33, no. 24).
Notice
The main image is taken from a design that is traditionally attributed to Maria Sybille Merian (1646-1717), a remarkable Natural Historian and botanical artiste who travelled to the Dutch West Indies in 1698. She later published a book of her drawings, Metamorphosis Insectorum Surinamensium (published in Holland in 1705 and in France in 1771 with the title "Histoire Générale des Insectes de Surinam et de toute l'Europe"). It is not know which source had been used, as the complete image is not found in her books.
The designs on the rim and the cavetto are also unusual and closely correlate with an imperial vase in the collection of Victoria & Albert Museum (Qianlong mark and period, circa 1740), which also has the iris and anemone from Merian's Prints.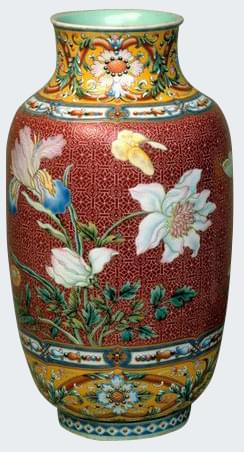 The border design can be attribued to the workshop producing designs by Cornelis Pronk and it may even be one assembled by him, or by a second talented designer working with the VOC who may have been responsible for a number of the other designs attributed to this workshop but with no direct attribution to Pronk.
This design was also painted in polychromie, and the design of the border on two grisaille armorial services for the Dutch market (see Kroes, Chinese Armorial Porcelain for the Dutch Market, 2007, p. 284-6).
The origin of this composite design was discovered by C. Jacob-Hanson (Maria Sibylla Merian, artist and naturalist, The Magazine Antiques 158, no. 2, august 2000, pp. 174-183.