A Chinese blue and white "Pekinese / Spaniel" oblong dish. Qianlong
Of oblong form, with shaped rim, centrally painted with a leaping Spaniel above lingzhi sprays within elaborate scroll, pomegranate, cell-pattern and foliage spray on the border.
Country:

China

Period :

Qianlong (1736-1795)

Material:

Porcelain

Dimension:

15.94 in. / 11.61 in. (40.5 cm / 29.5 cm)

Reference :

C995

Status:

sold
Related works
A similar decoration is known. Howard and Ayers refer this design as "The Pekinese and the parrots" and speculate that it may be the work of Cornelis Pronk and his studio (China for the West, vol. I, London, 1978, p. 296).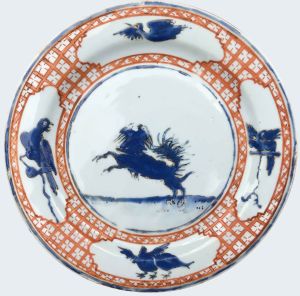 William Mothley and Michael Cohen in their catalog "Take Two" (2017, p. 122/123)  refer also this very similar design described as "Spaniel with parrots" (I2) to the Pronk Studio.
The model with the parrot and the dog could be a later fusion of the parrots (also used at Meissen factory, the design attributed to P. Schenck) and our dog (from an unknown print).