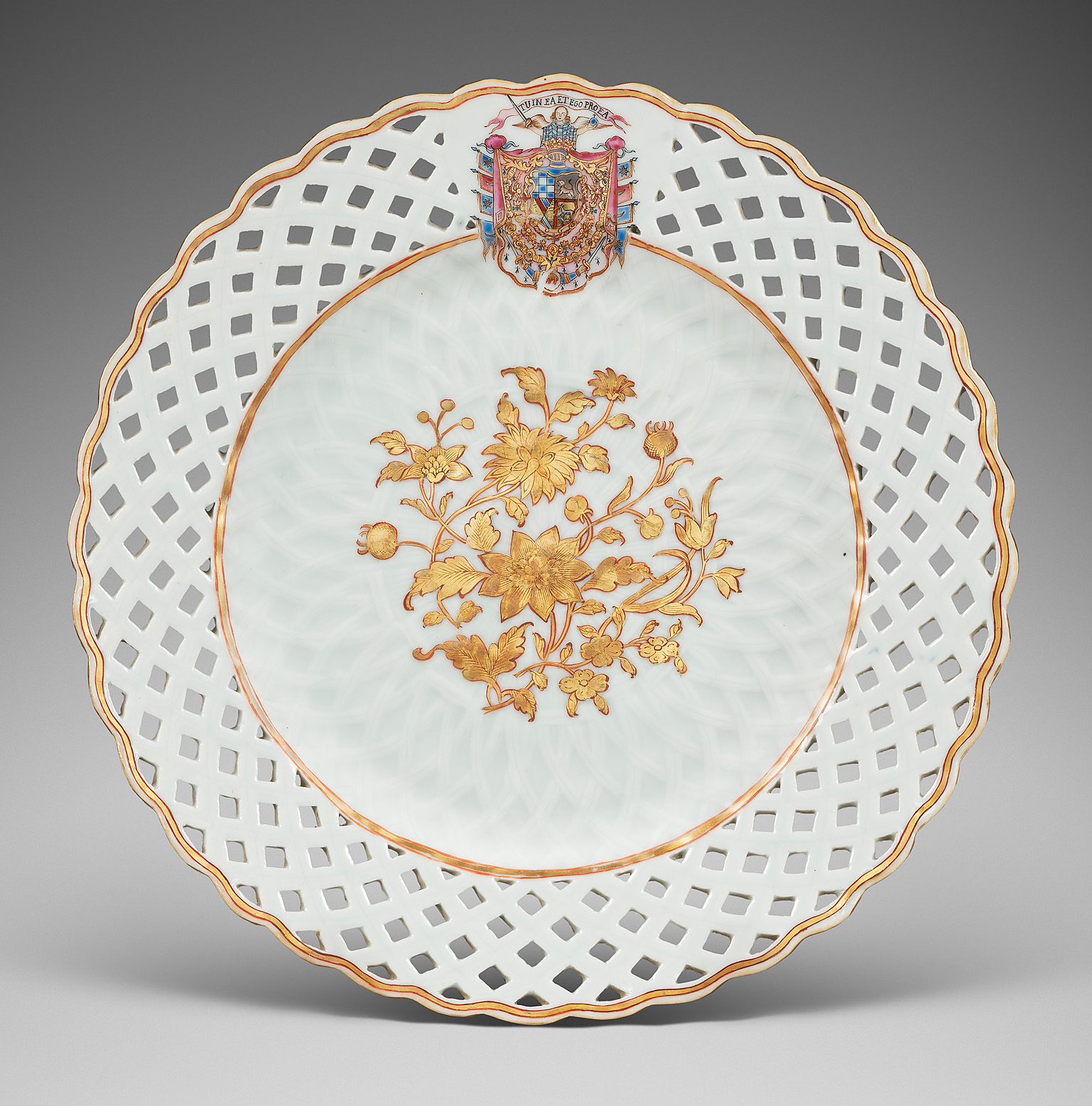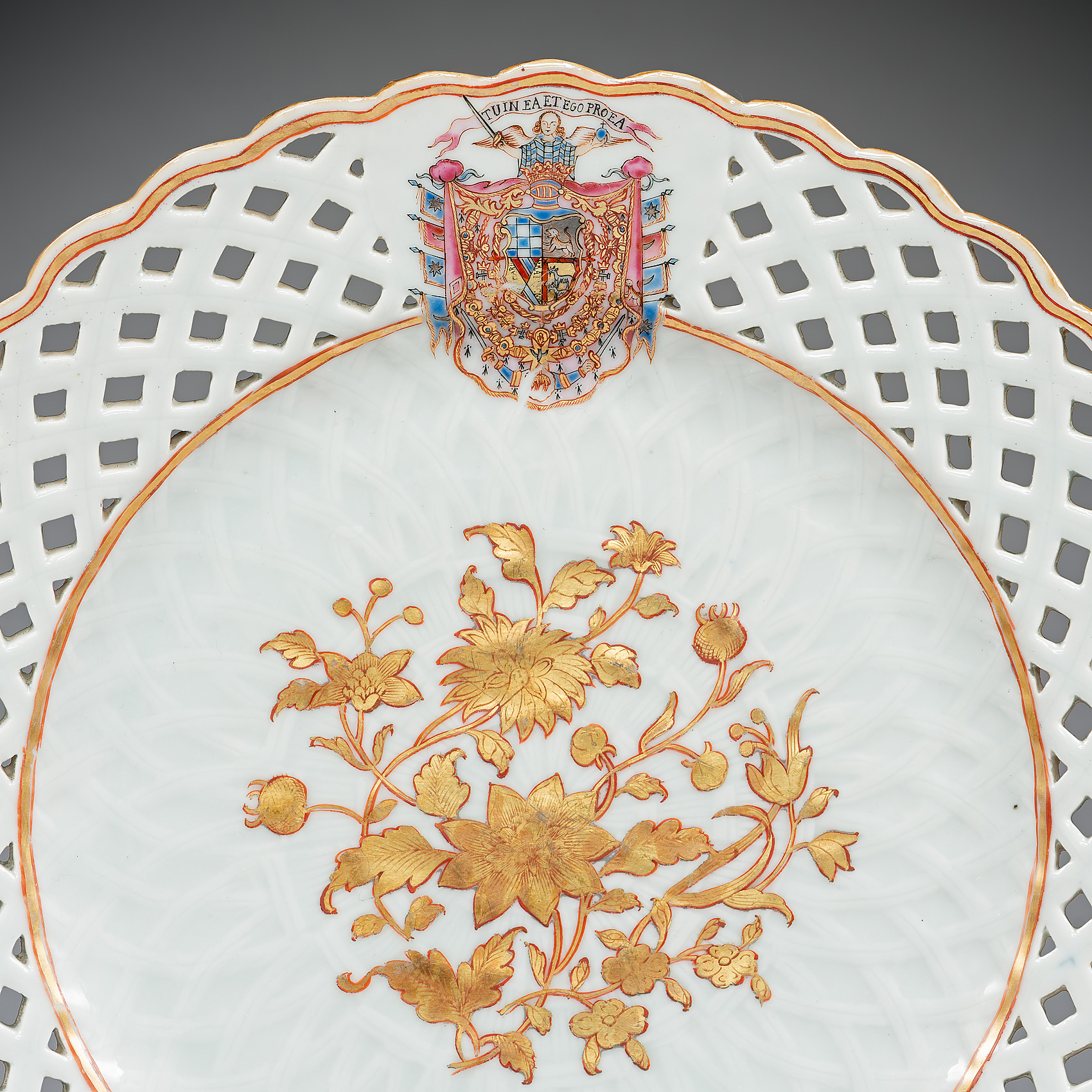 A Chinese armorial plate for the Spanish market (Fernando de Silva, 12th Duke of Alba). Qianlong
With a lobed rim based on European metal work models, decorated in the famille rose palette and gold, with in the centre a floral medallion of narcissus and magnolias in gold with iron-red highlights, surrounded by a band in the well. On the rim are the coat-of-arms of the Duke of Alba, outlined in red.
Country:

China

Period :

Qianlong period (1736-1795), ca. 1765

Material:

Porcelain

Dimension:

8.66 in. (23 cm)

Reference :

E050

Status:

sold
Provenance
Fernando de Silva y Álvarez de Toledo (1714-1776), 12th Duke of Alba

Related works
This service was published by Rocio Diaz in Chinese Armorial for Spain, 2010, Jorge Welsh Books, pp. 147/151.
Two identical plates are in the collections of the Museo Nacional de Artes Décoratives (Madrid).
Various pieces are in private collections, included a fluted salad bowl, a tureen, a stand, a mancerina, oblong dishes, and plates (including some with pierced rim as the present example).
Notice
This service was ordered by Fernando de Silva y Alvarez de Toledo, 12th Duke of Alba de Tormes, 10th Duke of Huéscar, 9th Duke of Galisteo, 5th Duke of Monitor, 6th Count-Duke of Olivares, 10th Marquis of Carpio, 14th Count of Lérin, 11th Count of Monterrey, Grandee of Spain, 16th Marquis of Coria, 11th Marquis of Villanueva del Rio, 6th Marquis of Eliche, 6th Marquis of Tarazona, 14th Count of Osorno, 12th Count of Salvatierra, 11th Count of Piedrahita, 11th Count of Galve, 5th Count of Morente, 15th Count of Monica, 8th Count of Fuentes de Valdepero.
He was born in Vienna, Austria on 27th October 1714 and he married Maria Bernardino de Toledo y Portugal. He started his career as a Gentleman of the Royal Chamber at the age of nineteen. He made his mark in the army and was send to Italy in commend of the Regiment of Navarre.
Between 1746 and 1749, Fernando de Silva was Spanish ambassador to France. He was promoted to the rank of Lieutenant General in 1747 and Captain General in 1770.
He was Grande Constable of Navarre, Grand Chancellor of the Indies, Master of the Horse in Perpetuity of the Royal Stables of Cordoba, Chief Steward of Ferdinand VI and Charles III, President of the Academia de Buenos Letras of Barcelona, sixth Director in Perpetuity of the Real Academia Espanolade la Lengua, Dean of the Council of State, Knight-Commander of the Order of Calatrava (1744), Knight of the Royal Orders of France (1760) and of the Order of the Golden Fleece in 1746, for Which he was granted the insignia in 1749.
Photography : Jérémie Beylard / Agence PHAR