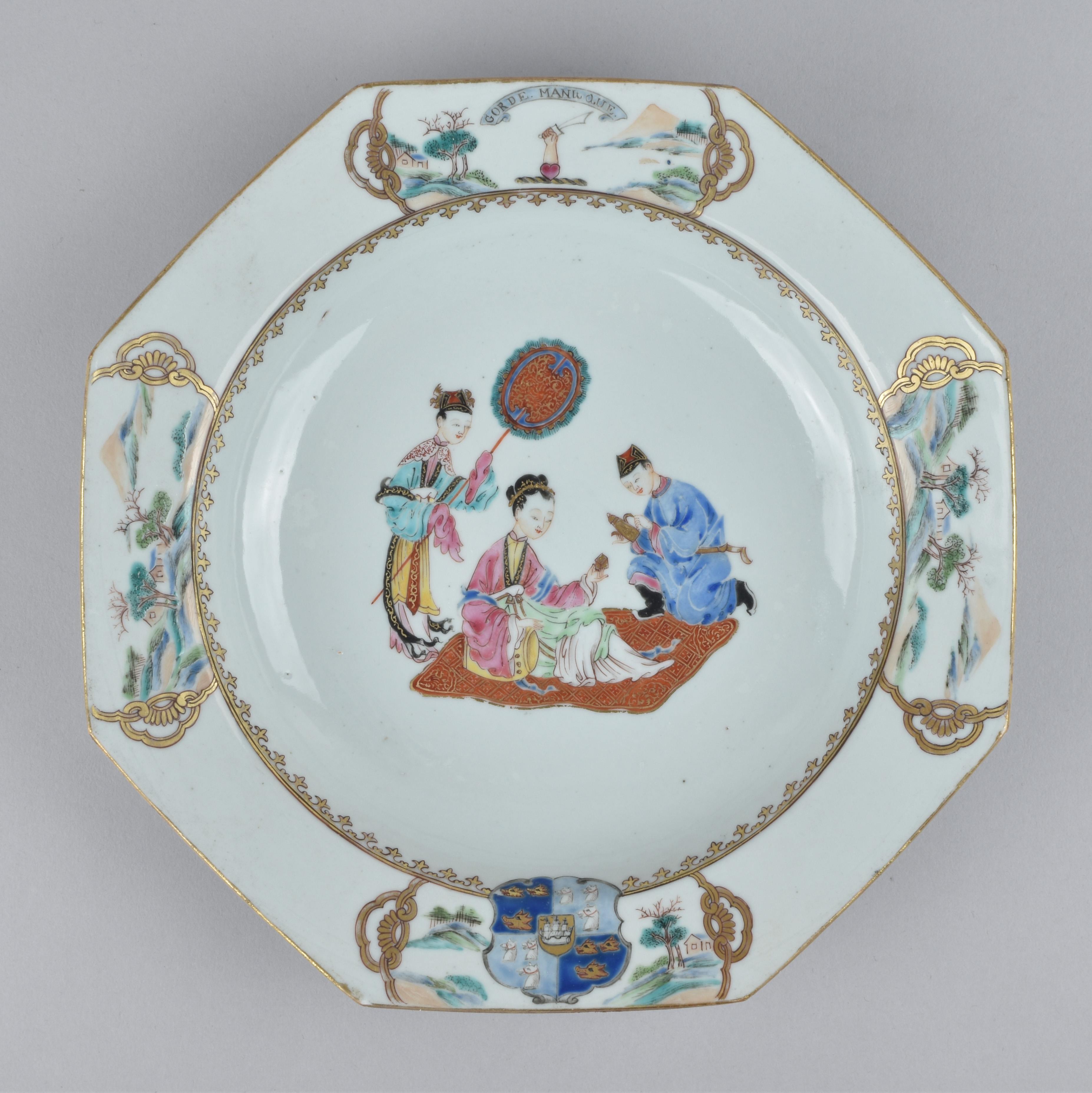 A Chinese armorial plate for the English market (Gordon). Qianlong
An elegantly decorated Chinese export octagonal famille rose plate bearing the arms of Gordon for the English market with a Chinese-inspired central scene and border panels depicting rural landscapes in polychrome enamels.
Country:

China

Period :

Qianlong (1735-1795)

Material:

Porcelain

Dimension:

8.66 in. (22 cm)

Price:

upon request

Status:

available
Notice
This plate exemplifies the significant diffusion of cultures, art, and ideas between the East and West. The armorial and octagonal form—likely derived from a European silver form—met the needs and tastes of an English buyer's dinner table, which juxtaposed against the Chinese central and border panel scenes, perhaps revealing the buyer's deep appreciation of Chinese culture and designs. The rare figural scene depicts a young woman seated on an extravagant silk carpet leaning on a yellow barrel-form stool turned on its side as she looks expectingly at her small square teacup while a male attendant kneels beside her to serve her tea. Behind the seated woman, a female attendant holds a long-handled oval fan adorned with feathers, ensuring the young lady stays cool as she enjoys her tea.
Curiously, the male attendant in blue is serving tea out of a conical shaped vessel—another European silver form made during the early 18th century and typically referred to as a "lighthouse coffeepot."[1]This scene, although rare, is not unique, and can be found on Yongzheng and early Qianlong period Chinese export porcelain. However, the Gordon service might be unique armorial set in the fact that the tea vessel held by the male attendant is distinctly derived from a lighthouse coffeepot form. A partial tea service at the Louvre depicts the same figural scene, but each piece with a different teapot form.[2] Similarly, a separate Chinese export armorial service bearing the arms of Powell shows an identical scene but with an ewer.[3] This small detail adds yet another interesting layer of cross-cultural diffusion to the piece. The lower border panel bears the arms of Gordon quartering Forbes: 1st and 4th, Azure, three boars' heads couped Or (Gordon); 2nd and 3rd, Azure, three bears' heads couped Argent muzzled Gules(Forbes), on an escutcheon Or, a ship in full sail Argent. The upper border panel bears the crest, A dexter hand issuing from a heart and holding a scimitar, and the motto "Corde Manuque." The "Corde Manuque" motto, which translates to "with heart and hand," is recorded for Gordon of Dalpholly.[4] However, the Gordon of Dalpholly crest is correctly blazoned, A dexter hand issuing from a heart and holding a flaming sword.[5] Additionally, the arms of Gordon quartering Forbes are not recorded, further compounding the difficulties with trying to attribute this service to an individual. As John M. Bulloch amusingly notes in concluding his genealogical research of this branch of Gordons: "Gordonology is inexhaustible."[6] Intriguingly, the central escutcheon of a ship in full sail may provide the best clue. It is not unheard of for Chinese export armorial services to be ordered with a ship adopted as a heraldic element as acknowledgment of involvement in the China trade.[7]
Sir Adam Gordon of Dalpholly (c. 1600–1700) married Anne Urquhart of Newhall and made his wealth in trade. He owned a part ownership in the merchant ship Bon Accord, and a £6,000 stock ownership in the "Company of Scotland trading to Africa and the Indies."[8] Sir Adam Gordon had at least three sons and one daughter, although few records remain of them other than his heir, Sir William Gordon, 1st Baronet of Invergordon (1679–1742).[9] However, it is possible that one of Sir Adam Gordon's descendants would have continued his trade activities in the East Indies. One of Sir Adam Gordon's grandsons was John Gordon, the son of Adam Gordon the younger. Little is known of John Gordon, although a "Captain John Gordon" is recorded as the commander of the Montagu, an East India Ship which was consigned to China during the 1719-1720 and 1722-1723 season.[10] Given the many branches of the Gordon family, without more this must remain as mere supposition, however, it is possible that Captain John Gordon would have been inspired to order a Chinese export armorial service later in life after reminiscing upon his early voyages to China. An octagonal plate from this service is published in "Collecting Chinese Export Porcelain" by Elinor Gordon from her personal collection.[11] An additional octagonal platter, two teacups, and a saucer are at the Rijksmuseum in Amsterdam.[12] A larger octagonal platter is also published in "Chinese Export Porcelain in Private Brazilian Collections" by Jorge Getulio Veiga.[13] A further plate is in the collection of the Royals Museums of Art and History in Brussels. [14]
[1] Metropolitan Museum of Art Collection No. 25.15.21
[2] See Louvre Museum Collection No. R 1198 to 1207
[3] See British Museum No. Franks.823.+; see also Rijksmuseum No. AK-NM-13410
[4] Fairbairn, Fairbairn's Book of Crests of the Families of Great Britain and Ireland (1905).
[5] Id.
[6] Bulloch, The Families of Gordon of Invergordon p. 81 (1907).
[7] See Howard, Made in China: Export Porcelain from the Leo and Doris Hodroff Collection p. 79 (2005).
[8] Bulloch at 8.
[9] Id. at 12.
[10] See A Register of Ships, Employed in the Service of the Hon. the United East India Company (1800).
[11] Gordon, Collecting Chinese Export Porcelain p. 14 (1977).
[12] Rijksmuseum Nos. AK-NM-13421, AK-NM-13459, AK-NM-13459-A, & AK-NM-13459-B.
[13] Veiga, Chinese Export Porcelain in Private Brazilian Collections p. 289 (1987).
[14] Jörg, Chinese Export Porcelain, p. 256, (1989)