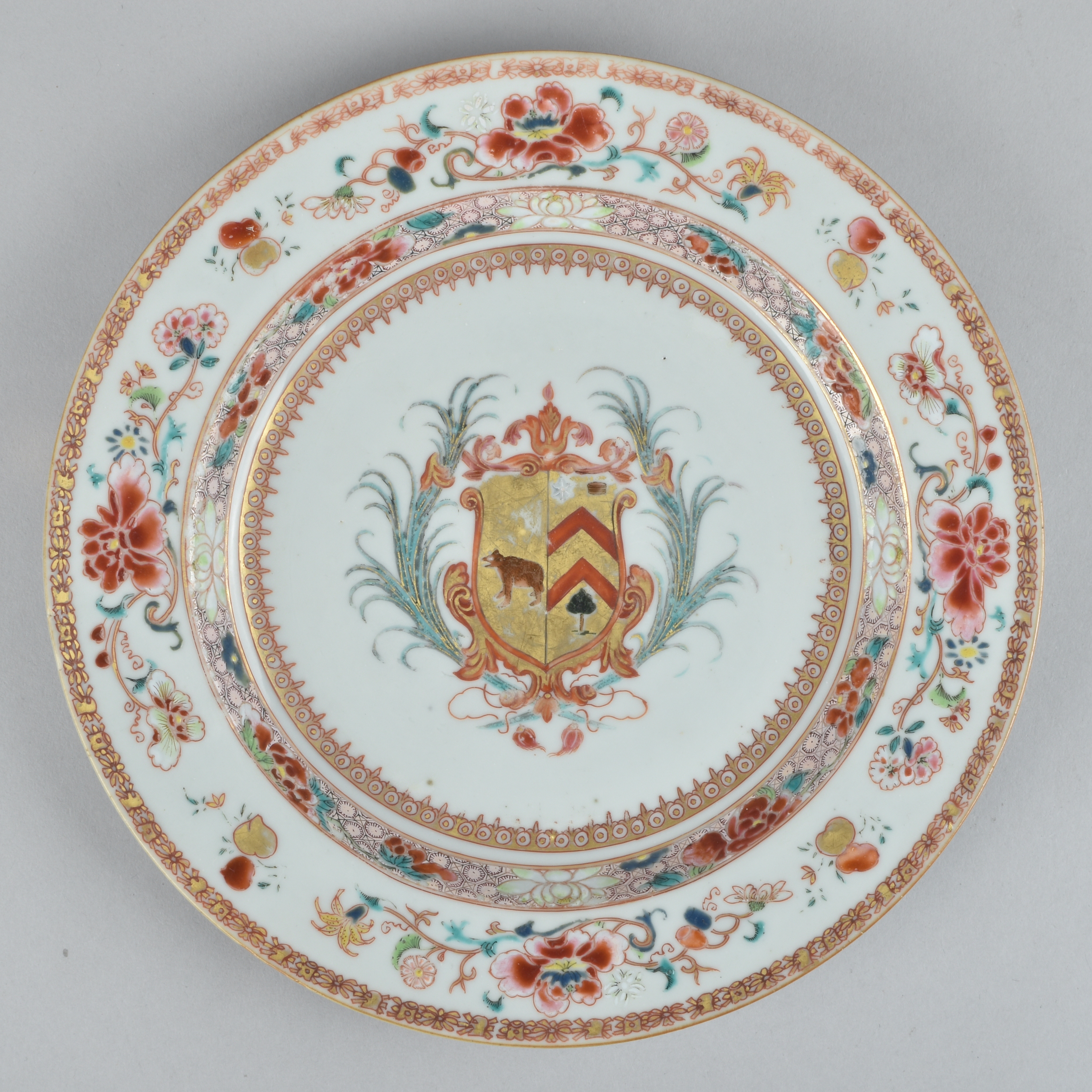 A Chinese armorial plate for the Dutch market (Berewout impaling du Peyrou). Yongzheng
Decorated in the famille rose palette, with the coat of arms of Berewout impaling Peyrou, the shield in the Louis XIV style, and surrounded by two palm fronds, ribbons and tassels with scroll work, volutes and ornaments in the European style.
Country:

China

Period :

Yongzheng (1723-1735)

Material:

Porcelain

Dimension:

8.66 in. (22.5 cm)

Reference :

D757b

Status:

sold
Related works
Six plates are in the collections of the Amsterdams Historisch Museum.
Notice
This armorial porcelain was made for Frederick Berewout (1692-1777) and Anna Maria du Peyrou (1694-1763), who married on 24 october 1717. Both were members offloading and patrician families in Amsterdam. The berewout family had been in Amsterdam since the beginning of the 17th century. Frederick Berewout was a merchant as well as a ship-owner and banker. As a ship-owner he was involved in whaling and he was also interested in West Indian Trade, in particular the sugar trade in Surinam and was a director of the Westindische Compagnie (WIC) from 1728. His sugar plantations in Surinam and Bernice were valued at HFL 360.000 after his death in 1777. He also joined the city council of Amsterdam as a councillor from 1731 to 1748, and as alderman in 1734. In 1758, Frederick Berewout purchased the house of Herengracht, no. 605 for the considerable sum of HFL 83.000 from Willem G. Deutz. Today, the Museum Willet-Holthuysen is housed in his former residence.