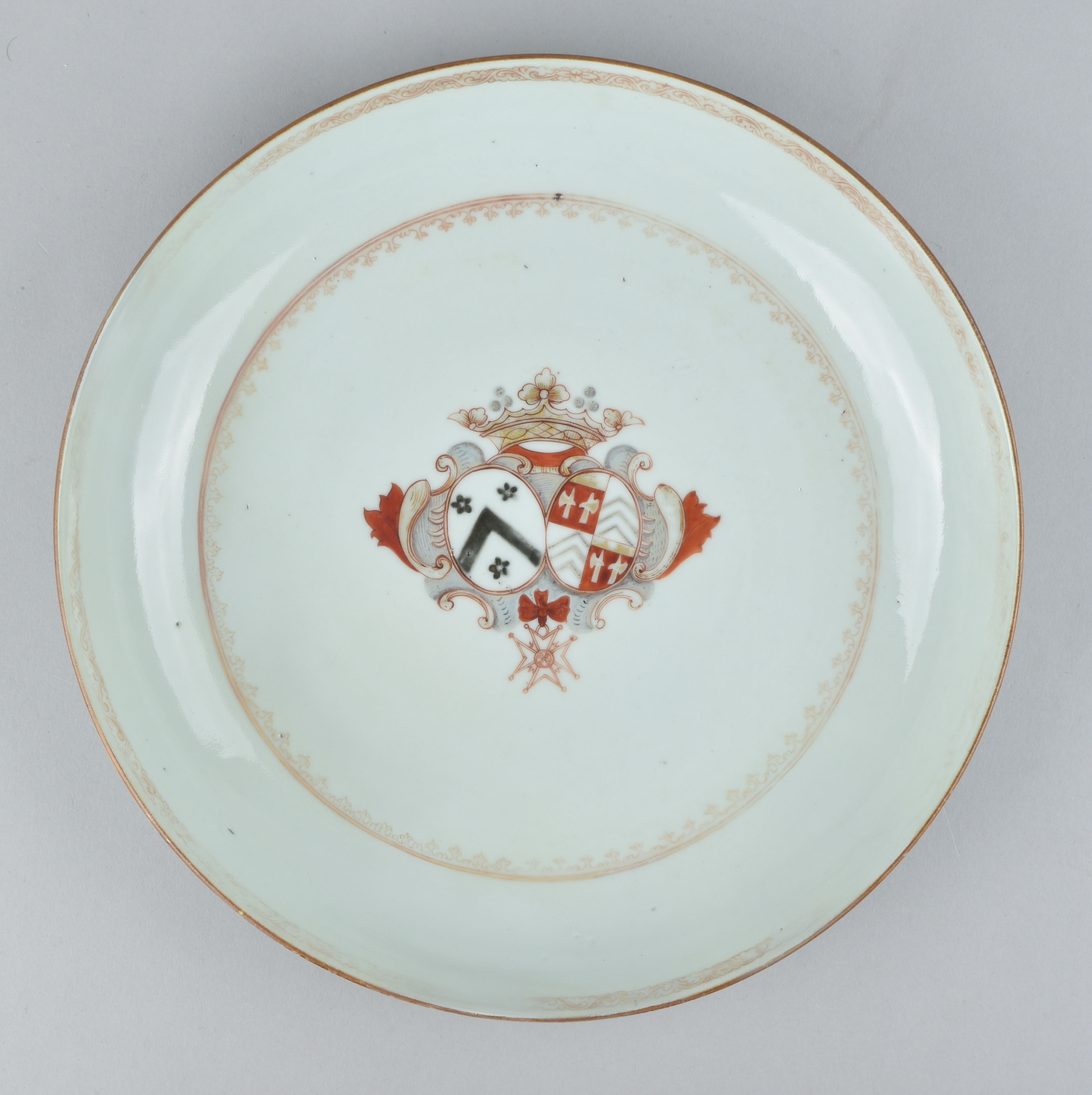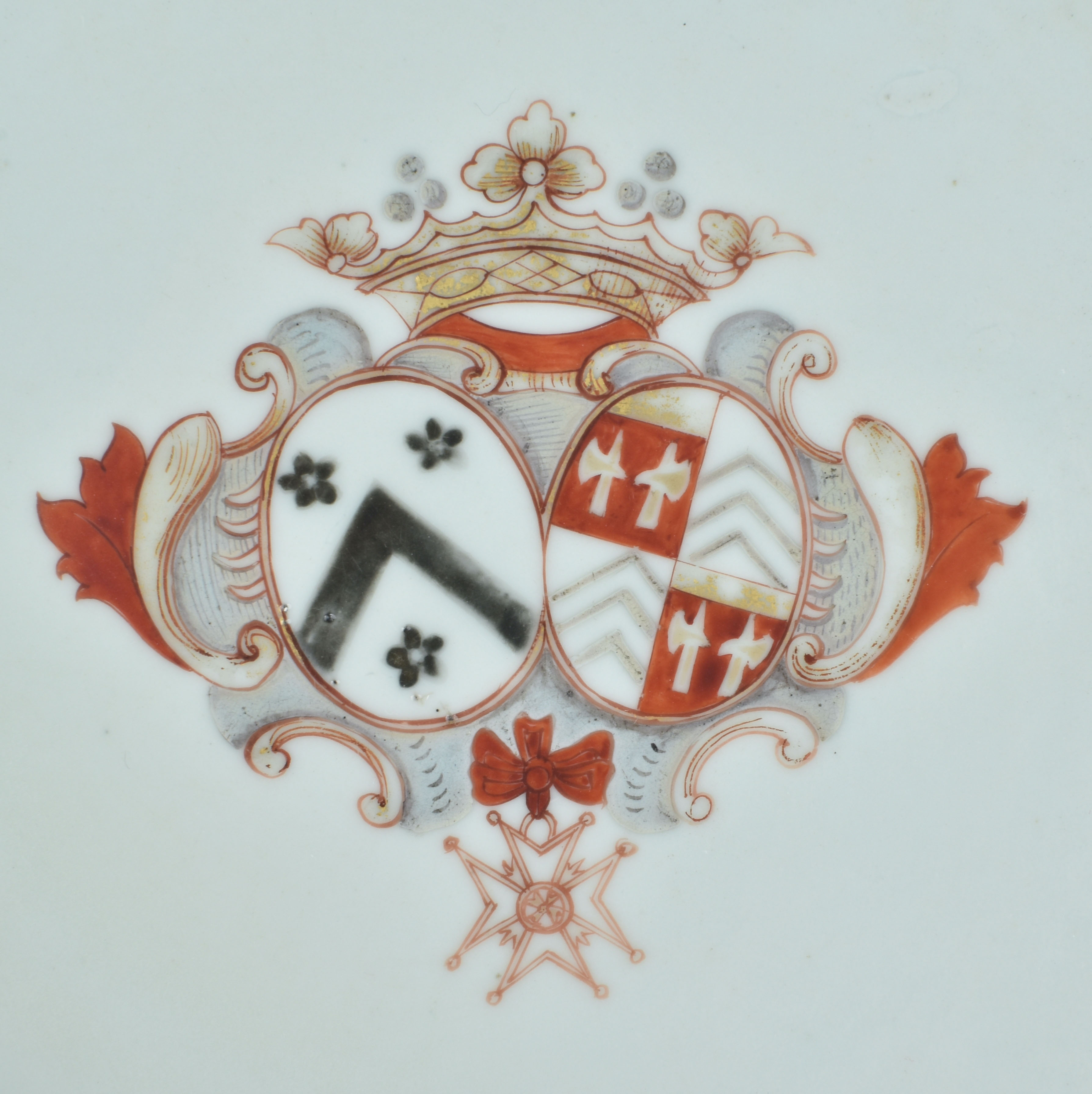 A Chinese armorial dish for the French market (Rosily). Qianlong
With the coat of arms of the François Joseph de Rosily (1703-1771), écartelé, aux 1 et au 4, de gueules, à deux haches d'armes adossées d'argent, au chef d'or (qui est de Lannoster) ; au 2 et 3 d'argent, à trois chevrons d'azur (qui est Gourio), bearing the Collar od the Order of Saint Louis
Country:

China

Period :

Qianlong (1736-1795), ca. 1740

Material:

Porcelain

Dimension:

10.03 in. (25.5 cm)

Reference :

D230

Status:

sold
Notice
François Joseph de Rosily-Méros, Count de Rosily, was born on March 23rd 1703 at the Château de Méros in the town of Plovénez-du-Faou and died in Brest on April 30th 1771. He descended from an old aristocratic Breton family, fought in the Seven-Year War as a Naval Officer and ended his military career as a Squadron Commander.
His father was a Lieutenant General of the Royal Armies and Knight of the Order of Saint Lazare. A portrait of him was painted in 1704 by Hyacinthe Rigaud (portraitist of King Louis XIV). As a young man François-Joseph de Rosily joined the Royal Navy in a Company of Guards. He was promoted to the rank of Ensign on March 1st 1727 and was made Adjutant on April 1st 1738. He travelled to Louisiana in 1739 and was appointed Major of the Navy (ou Naval Major) ***on April 1st 1747, then Ship's Captain in 1749 when he became one of the main senior officers of the Military Garrison in Brest.
He was in Louisbourg on the Île Royale (French Guyana) in 1756/1757, at the beginning of the Seven-Year War. In 1757 he took command of "Le Diadème" a 74-cannon vessel belonging to the Prince de Bauffremont and went on to capture HMS Greenwich a 50-cannon English vessel, on his way to Saint Domingue.
The same year, as part of the squadron of Dubois de la Motte during the Seven-Year war, he showed outstanding bravery and tactical skills on his encounter with an 80-cannon English ship. He was wounded but kept going. His reputation became known all over France. He would have taken the English ship, if the French commander should have not fired reminder guns at him, when the english was about to surrender.
When he took command of Le Diadème again in 1758, serving under him was a young officer by the name of Lamotte-Piquet (who went on to fight in the American War of Independence). FJ de Rosily was made Marshall of the King's Armies. After having served as Inspector of the Coast-Guard in Brittany, he was made Navy Major. A Knight of the Order of Saint Louis he subsequently became Grand-Cross and spent the last years of his life as Commander of the Navy in Brest where he died in 1771 at the age of 68.