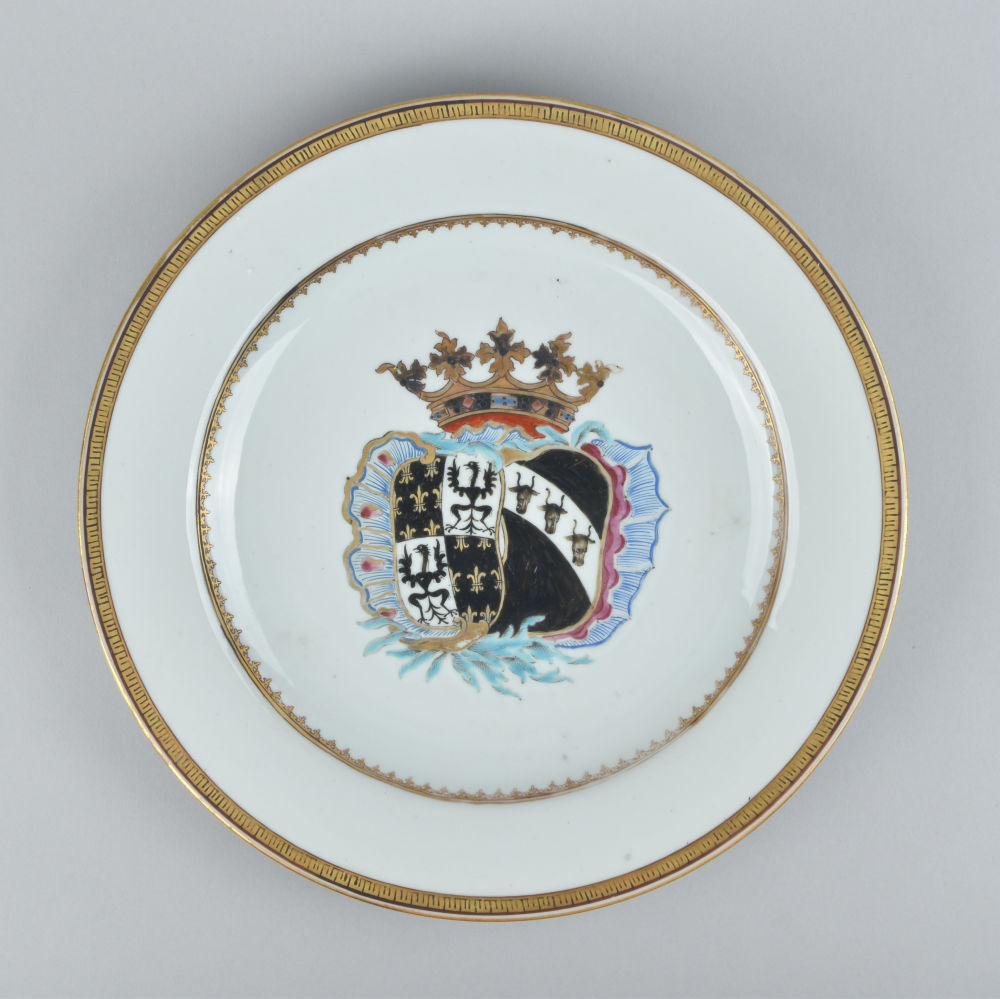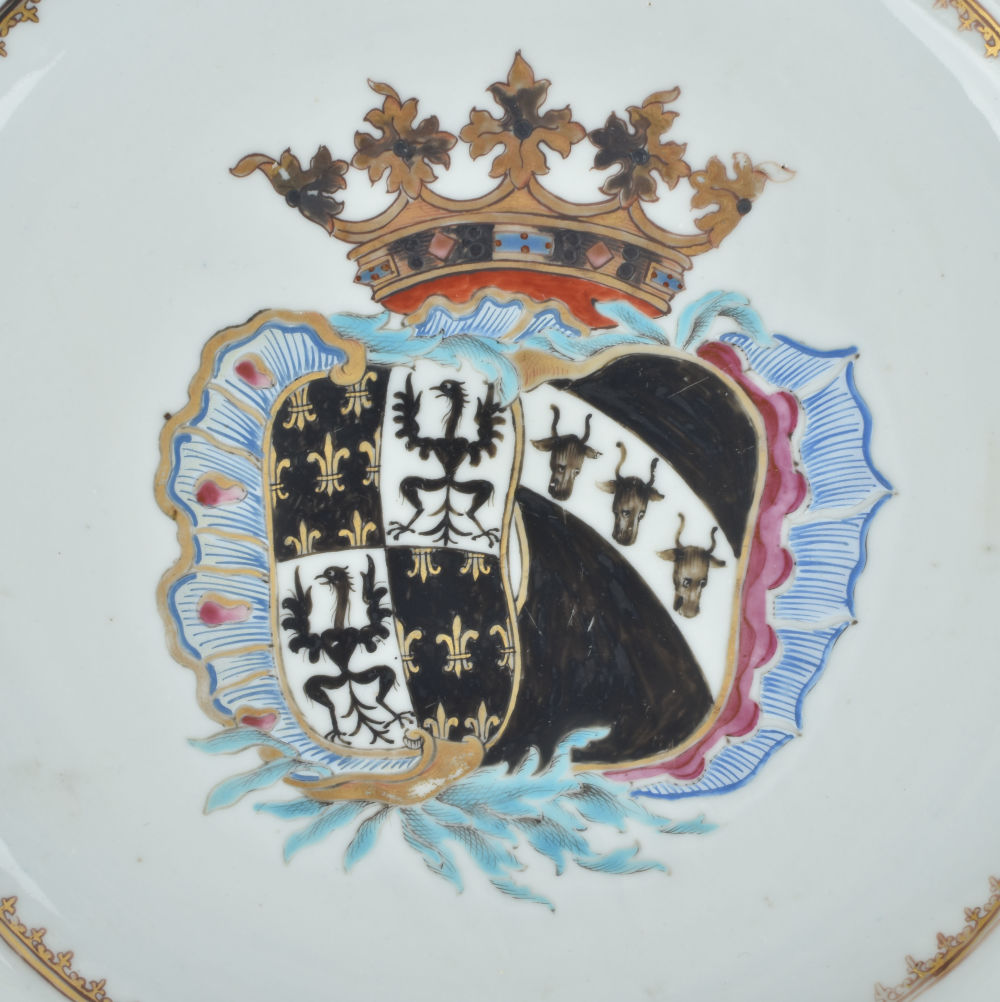 A Chinese armorial charger for the Dutch market (De Famars and Vriesen)
A large Chinese export famille rose dish bearing the arms of De Famars and Vriesen accollé for the Dutch market. The dexter coat of arms of De Famars is quarterly: 1st and 4th, on a black background seven gold fleurs-de-lis; 2nd and 3rd, on a white background a black rising eagle. The sinister coat of arms of Vreisen is on a black background, a white bend charged with three black cows' heads.
Country:

China

Period :

Qianlong (1735-1795), circa 1752-1755

Material:

Porcelain

Dimension:

12.40 in. (31.5 cm)

Reference :

D317

Status:

sold
Notice
This large dish dates to c. 1752 – 1755, and was part of a larger dinner service, of which the Chinese Porcelain Company handled a substantial portion.[1] The Chinese Porcelain Company published its first soup plate (22.9cm) from the Famars service in 1995,[2] and another pair of dishes and a tureen in 1999.[3]After purchasing a partial dinner set at Christies Amsterdam in 1999, the Chinese Porcelain Company issued its final publication of the Famars service with twenty-five pieces comprising a tureen, cover, and stand, a pair of bottle vases, a pair of sugar bowls and covers, twelve soup plates, and four large dishes of identical size to the present dish.[4] Of the original dinner service, Dr. Kroes notes that only ten large dishes are known, ranging from 32cm to 38cm.[5] One large dish (35.6cm) was gifted to the Metropolitan Museum by the Winfield Foundation in 1951 from the Helena Woolworth McCann Collection.[6] Another soup plate (23.1cm) resides at the Rijksmuseum.[7]
The large central coat of arms accollé are enclosed within a cartouche almost reminiscent of an ornate clam's mantle, adorned by flowing sea vegetation—replicating the cool colors of the ocean. One might be led to believe that the cartouche hints at the owner's profession, or perhaps symbolizes the protection and longevity of the family. However, the cartouche is simply the product of the mid-18th century Rococo style that gained popularity throughout the western world.
Trade cards and bookplates—decorative prints made for single owners that functioned as identifying labels, exist for individuals of varying professions in the Rococo style with similar mantling and flourishes. For example, a trade card at the British Museum depicts rich shell ornamentation alongside succulent fruit, yet the central cartouche reads: "Will Cave, Copper Plate-maker in West Smithfield"—having nothing to do with the harvest or the sea.[8] It is highly likely that the Famars dish is after an undiscovered bookplate because of its well-rendered Rococo style cartouche—a common practice used to guide the Chinese decorators. The Rococo style was popularized through a culture of worldly pleasure, excess luxury, and the bold display of each—typified by its extravagant asymmetry and irregularity, often with fanciful rock and shell ornamentations.[9]Perhaps the principles that propelled the Rococo style to popularity provides the best insight into the lives of Western nobility who had the opportunity to obtain these luxuriously expansive Chinese export porcelain armorial services.
Interestingly, the extravagant asymmetry of the central coat of arms is strongly juxtaposed against the outer minimalistic symmetrical lappet and inner spearhead borders. The outer border is inspired by neoclassical design, which practiced noble simplicity in sedation of grandeur in gesture and expression.[10]It is fascinating to see the conflicting European styles juxtaposed on Chinese export armorial porcelain. One might wonder whether the original pair of owners suffered from conflicting tastes, quarrelling with one another on the resulting design for their armorial service.
Curiously, the outer neoclassical border is known only on one other Chinese export armorial porcelain service bearing the arms of King Frederick the Great of Prussia.[11] Like the Famars dish, the Frederick service juxtaposes the full grandeur of the arms of the Prussian king, with four escutcheons superimposed over thirty-two quarterings on a royal mantle, against the identical minimalistic neoclassical outer border. The story of the Frederick service is still unknown, but whether the identical borders betray an untold connection between Famars, and Frederick is a question likely lost to history. The Famars service was first attributed to the Famars of Brabant in 1995,[12] then the Famars of Amsterdam in 1999—both part of the United Provinces of the Netherlands rather than Prussia.
However, Dr. Kroes attributes the owner of the original dinner service to Jan Willem de Famars (1715 – 1785) of Lingen—a county under Dutch control until 1702 when it was integrated into the Kingdom of Prussia under King Frederick I.[13] Despite his Prussian roots, in 1734, Jan Willem de Famars joined the cavalry of the Dutch army where he rose through the ranks from kornet to lieutenant in 1737, captain in 1742, major general in 1748, military commander of Nijmegen in 1762, and lieutenant general in 1766.[14] In 1752, Jan Willem married Johanna Geertruid Vreisen (1734 – 1807) in Zwolle—a union of which this dinner service commemorated.[15] The Vreisens were one of the wealthiest and most powerful families in Zwolle, with at least one city council member for over 150 years straight.[16] The close proximity of Zwolle to Prussia's border and the Vreisens' pervasive political and economic influence, in addition to Jan Willem's Prussian roots in Lingen makes it plausible that there is an untold connection rather that mere coincidence between similarities between the Frederick and Famars services. However, absent any primary source documents, such a theory is only mere supposition.
[1] See Chinese Porcelain Company Catalog 35, 17th and 18th Century Chinese Export Porcelain, p. 60, no. 28 (2001).
[2] See Chinese Porcelain Company Catalog 15, Important Chinese Export Porcelain, p. 38, no. 28 (1995).
[3] See Chinese Porcelain Company Catalog 26, Important Chinese Export Porcelain from Kangxi to Jiaqing, p. 52, no. 31 (1999).
[4] See supra n. 3; see also Kroes at p. 416.
[5] Supra n. 1.
[6] See Metropolitan Museum Collection No. 51.86.366.
[7] Rijksmuseum Collection No. AK-NM-13366.
[8] British Museum Collection No. Heal,100.21.bb.
[9] See Rijksmuseum, Rococo Style, available at https://www.rijksmuseum.nl/en/rijksstudio/styles/rococo.
[10] See Metropolitan Museum, Neoclassicism, available at https://www.metmuseum.org/toah/hd/neoc_1/hd_neoc_1.htm.
[11] See supra n. 3; e.g. Kroes at p. 416.
[12] See supra n. 4.
[13] See Kroes at p. 417.
[14] Id.
[15] Id.
[16] Id.