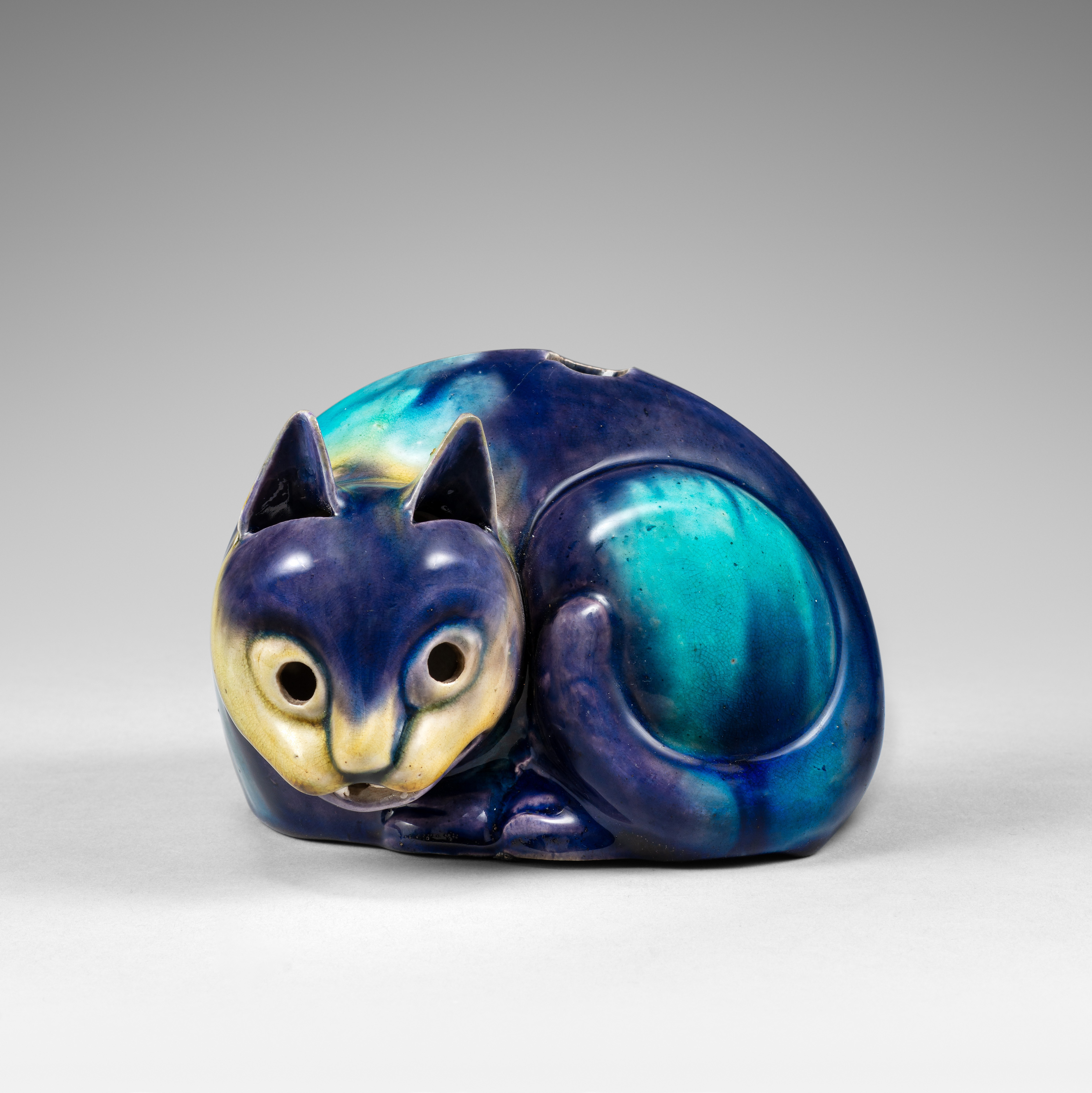 A cat turquoise and aubergine nightlight. 18th century
Enameled in bright turquoise, aubergine and yellow, this molded porcelain figure of a crouching cat is hollow with no base. It is pierced with large holes for the eyes and mouth and has an opening in its back. Its teeth and tongue are finely executed. Its ears are pricked and its long tail is curled around its round body.
Country:

China

Period :

18th c.

Material:

Porcelain

Dimension:

5.51 in. x 4.52 in. (14 cm x 11.5 cm)

Reference :

D872

Status:

sold
Related works
A similar example, glazed in turquoise blue and aubergine, inset with glass eyes, was sold at Sotheby's Monaco, Belle Collection de Porcelaines de Chine – La Collection du Docteur Julien Pergola et de divers amateurs, 23 june 1986, lot 1011).
Chinese porcelain cat nightlights are found in blue and white, turquoise, black and white, or famille verte enamels. Early 19th century examples were made in black-mirror. A variety of models of cats were also exported from Japan in the late seventeenth and eighteenth centuries, sometimes designed to be incense burners. Others models of cats were produced in Meissen in the 1740's although they never reached the degree of popularity as the dogs the factory produced.
Notice
Porcelain nightlights shaped as cats are found as early as the late Ming Dynasty, as evidenced by their presence in the famed shipwreck of the VOC vessel The Geldermalsen, circa 1643-46, sold as part of the Hatcher Cargo (Christie's Amsterdam, 14 March 1984, lot 279).
Their purpose was to ward off rats and mice, cats being known for both their hunting abilities and their outstanding night vision. Cat nightlights continued to be produced during the 18th century, some of the finest examples were made for export to the West during that time. Most models are recumbent. The Jesuit priest Père d'Entrecolles wrote from Jingdezhen in 1712 that "I have seen a cat painted after life, in the head of which a little candle was placed to illuminate the eyes, and was sure that in the night the rats were terrified by it. » The cat is traditionally an auspicious animal in China. The word for cat in Chinese mao is homophonous with the word for the ripe age between eighty and ninety (mao), making the cat a symbol of longevity. Cats are believed to have been introduced into China by Buddhist monks, and are known to have the ability to capture rodents that could destroy a family's wealth. Because of their superior eyesight, cats in China were believed to ward-off evil spirits as well as mice. European iconography of the period also featured frequent feline imagery portraying the animal as both playful and mischievous.
Photography : Jérémie Beylard / Agence PHAR