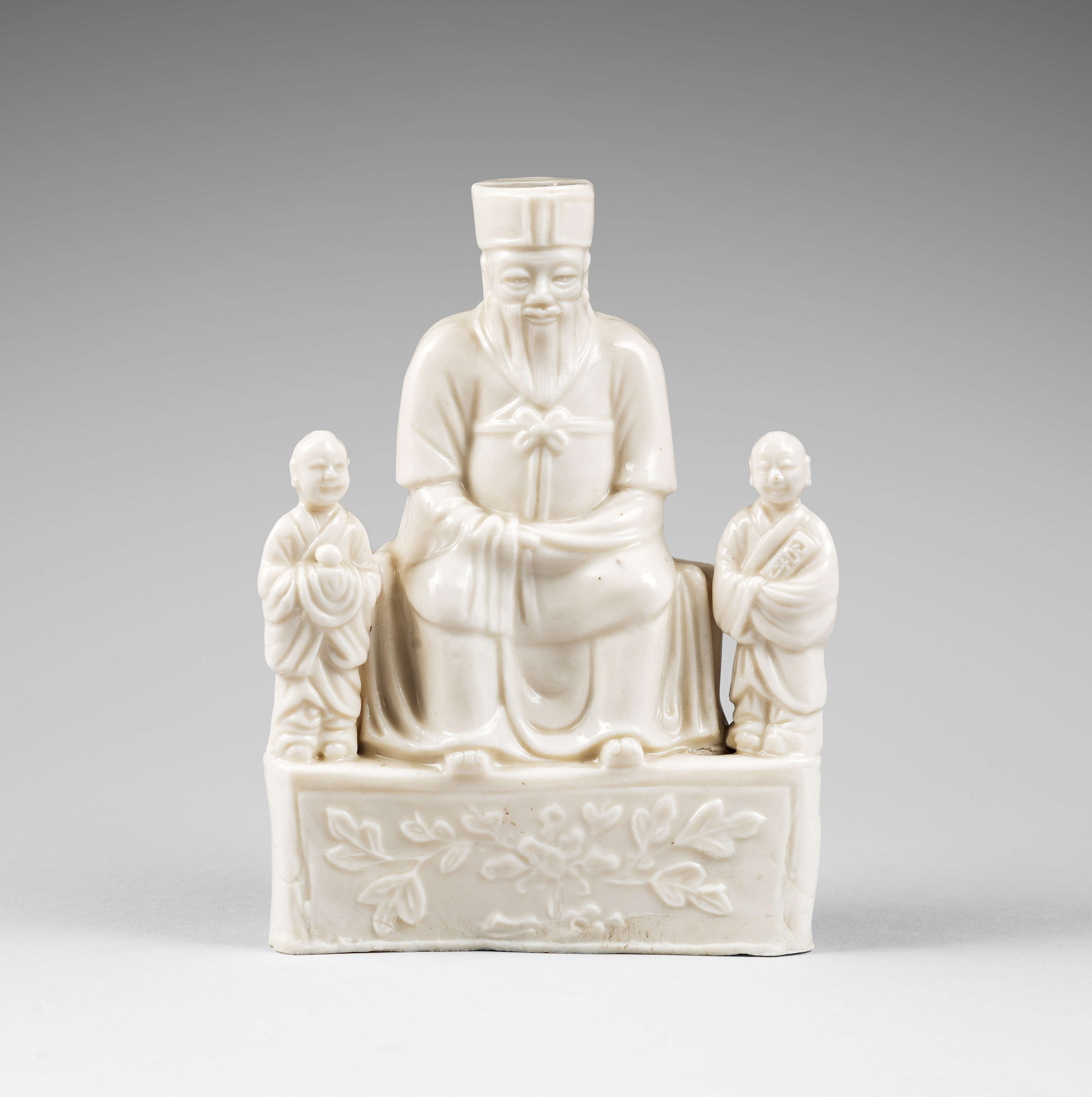 A blanc-de-chine group depicting Tudi. China, Kangxi
The group depicts Tudi seated on a throne between two attendants, one holding a tablet, with the inscription zhaocai 'bringing money', on a demi-lune base, moulded with a flowerhead and leaves issuing from rockwork, covered in a cream glaze.
Country:

China (Dehua)

Period :

Kangxi period (1662-1722), circa 1690

Material:

Porcelaine

Dimension:

7.12 in. (18.1 cm)

Reference :

D871

Status:

sold
Provenance
From a European private collection.
Purchased from Kleykamp in The Hague, Holland, circa 1925.
Marchant, London, 2014 (included their exhibition of Blanc de Chine, no.39).
Related works
A pair of related figures with French ormolu mounts is illustrated by Regina Krahl in Chinese Ceramics from The Meiyintang Collection, Volume Two, no. 1011, pp. 308/9.
Another related figure probably described in the 1688 inventory at Burghley House, England, is illustrated by Gordon Lang in Chinese and Japanese Porcelain from the Collection of the Earls of Exeter, no. 235, p. 90.
Notice
Tudi Gong (also known as Tudi Gong, Tudi Chen or the "God of the Land'),  is a deity that holds a significant place in Chinese folk religion and Taoism. This ancient god is revered as the protector of a specific locality or region, and his worshippers believe that he brings good fortune, prosperity, and fertility to the area. Tudi Gong is associated with agriculture, as he is believed to govern the fertility of the earth and the growth of crops.
Photography : Jérémie Beylard Agence PHAR