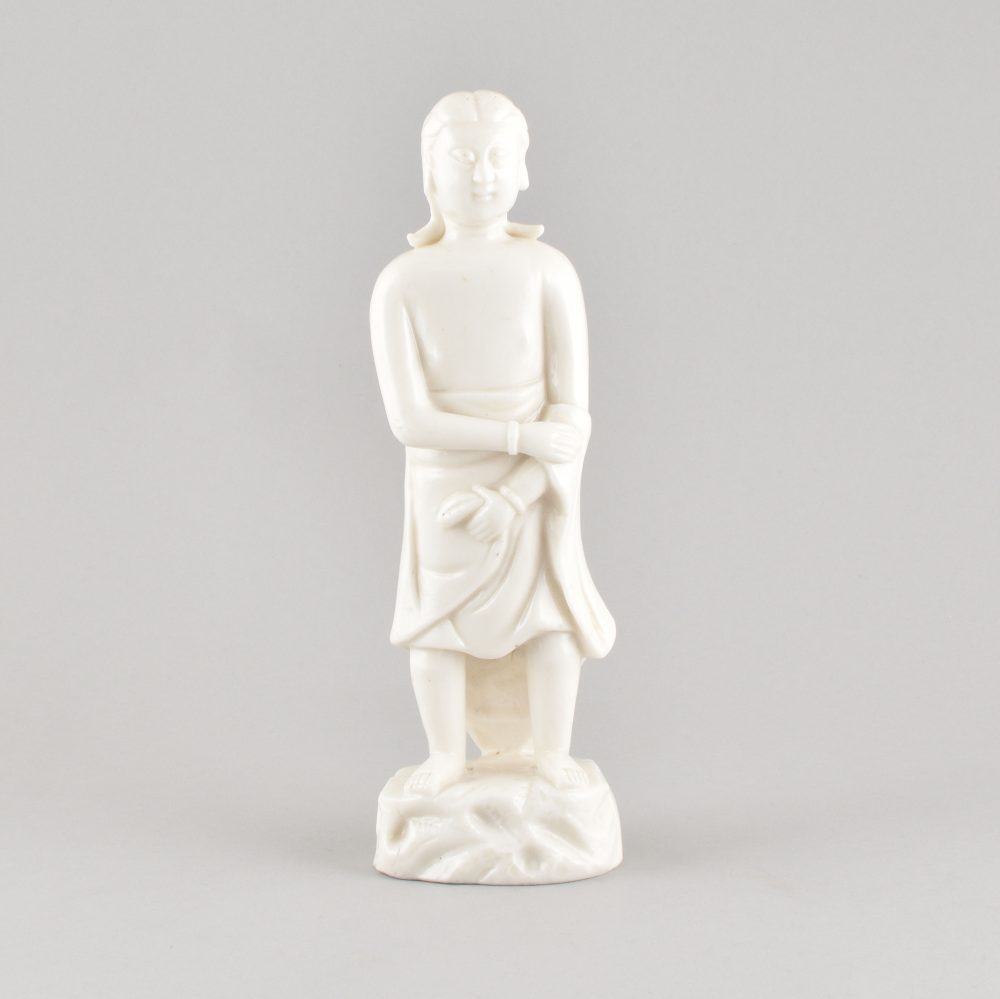 A 'Blanc-de-Chine' Dehua figure of "Adam". Kangxi period.
Standing barefoot on a rockwork base, his arms crossed in front, both hands clasping the ends of the short skirt draped around his waist, his upper torso bare, his head facing forward with smiling expression, his hair combed back behind his ears and falling to his shoulders.
Country:

China

Period :

Kangxi (1662-1722), ca. 1690

Material:

Porcelain

Dimension:

8.46 in. (21.5 cm)

Reference :

B840

Status:

sold
Related works
For others identical figures from private collections and museums, see :
P.J. Donnelly, Blanc de Chine, The Porcelain of Tehua in Fukien, London, 1969, pl. 121 C.
J. Ayers, Blanc de Chine, Divine Images in Porcelain, China Institute Gallery, New-York, 2002, no. 55, p. 104 (The Koger Collection, The John and Mable Ringling Museum of Art, The State Art Museum of Florida)
D. Howard & J. Ayers, China for the West, 1978, T I., p. 93, no. 54 (from the Mottaheded Collection).
W. R. Sargent, Treasures of Chinese Export Porcelain Ceramics, from the Peabody Essex Museum, 2012, no. 103, p. 214/215 (from the Chinese Porcelain Company, NYC).
Marchant & Sons, Blanc de Chine, London, 1985, no. 53, p.30.
Marchant, Blanc de Chine, 1994, no. 20, p. 30 (from the collection of John T. Dorrance Jr., Gladwyne, Pennsylvania).
Marchant, Blanc de Chine, London, 2014, no. 47, p. 76.
Sotheby's Melbourne, The Connoisseurs Autumn Collection, 27 may 2008, lot 6.
Notice
This figure has variously been described as a "slave" or "Adam", but it could be based on prints or carved wood models, possibly of the type made to depict natives of exotic regions. A feminine model, recorded as "Eve" is also known.
The early eighteenth-century European interest in "native" cultures and depictions of their people cannot be overlooked as a source and inspiration for these figures. Seventeenth-century travel books and maps published in Europe frequently illustrated peoples of various countries in their typical states of dress (or undress). In fact, such publications were the ultimate sources for imagery found on Japanese screens, Chinese scrolls, and albums depicting people of the world.
The 1721 inventory of Auguste II the Strong, Elector of Saxony, lists six similar figures and their measurements are similar to those for these models.