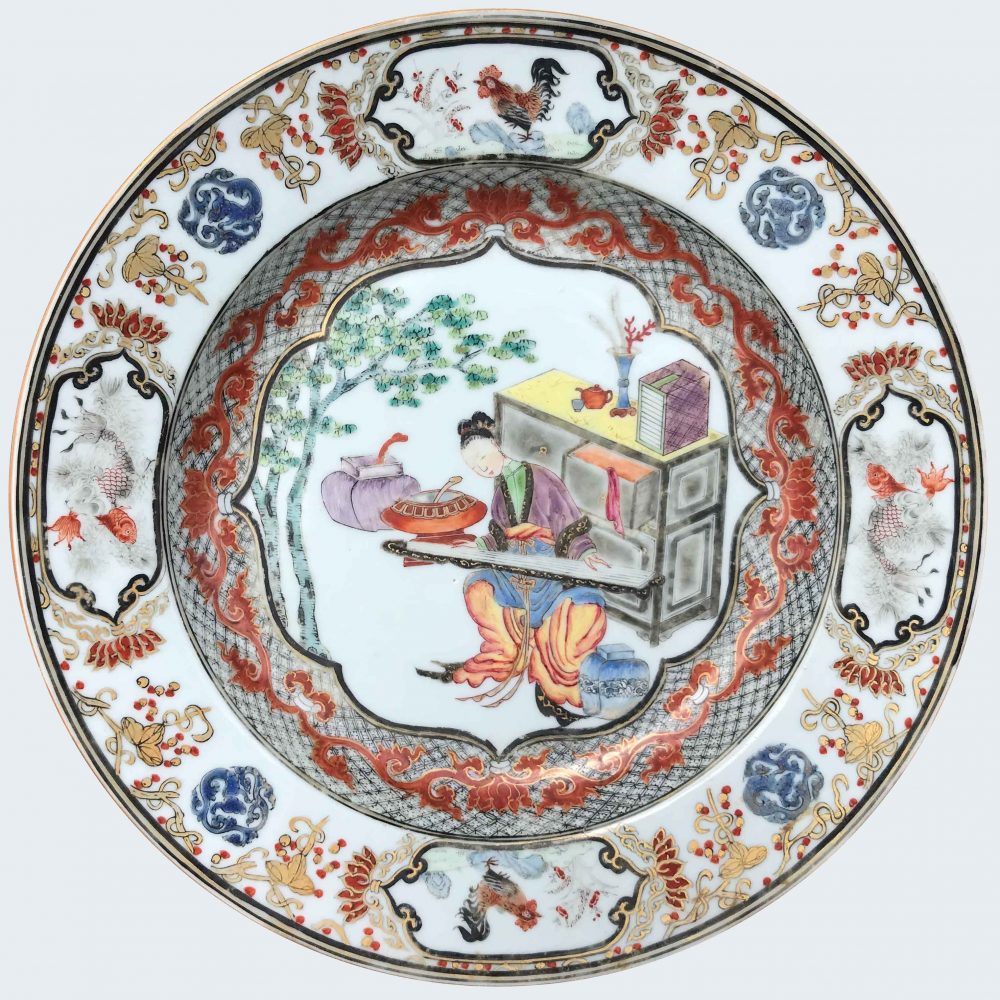 A Chinese famille rose plate decorated with a lady playing a qin. Yongzheng period.
Decorated in the famille rose palette, the centre with quatrefoil panel with a seated lady playing a qin in front of a black cabinet, on her right two vases and a tree, another vase on her left side, all reserved on a grisaille swastika diaper ground with overglaze red and gold scrollwork, the floral rim with four cartouches of cockerels and fish.
Country:

China

Period :

Yongzheng (1723-1735)

Material:

Porcelain

Dimension:

8.66 in. (23 cm)

Reference :

B790

Status:

sold
Related works
An identical plate, from the Hodroff Collection, is illustrated by David S. Howard in The Choice of the Private Trader, The Private Market in Chinese Export Porcelain illustrated from the Hodroff Collection, Zwemmer, 1994, p. 72, pl. 52.
A very similar plate was sold at Sotheby's Amsterdam, Chinese and Japanese Ceramics and Works of Art, 2 may 2005, lot 94.
The central decoration is also known with a silvered border, but our plate looks rarer (see Williamson, the Book of Famille Rose, 1970, plate XLVII).
Notice
Before the development of European designs, the presentation of elegant Chinese interiors and domestic scenes, sometimes on eggshell porcelain plates, did much to stimulate the curiosity of European buyers. The quality of such painting was very hight and this porcelain was selected by supercargoes in China shops in Canton.