The Chinese Export Porcelain teapot of the Governor of Louisiana (French /American market). Qianlong
Of globular form, decorated with gilt and grisaille sprays of flowers, the arms are Billouart de Kerlerec, Or (here argent), a cross cooped azure (here or) in chief two mullets of six points azure pierced of the field , and (du) Bot, Argent (here azure), a fess gules (here or).
These arms illustrate well the change which occurred in their representation, either in Europe or in China. On the left hand side the arms are completely reversed in terms of colors and do not even follow heraldic rules of not having a charge gold (or) on a silver (argent) background; only the two mullets of six points pierced are represented correctly. This mistake, however, is not the Chinese artist's fault as he scrupulously followed the drawing given to him, as can be seen by the vertical lines on the fess on the right-hand arms which he has produced. These lines, present on the original engraving sent to China indicate that the cooler was red (gules), were painted over with gold (or) in Europe. The change of tinctures on both arms was meant to indicate the cadency.
Country:

China (for the French / American market)

Period :

Qianlong (1735-1795), circa 1750

Material:

Porcelain

Dimension:

5.90 in / 8.66 in. (15 cm hight / 22 cm large from handle to beak)

Reference :

D025

Status:

sold
Provenance
The collection of a French lady
Related works
This teapot is illustrated in Armoiries françaises et suisses sur la porcelaine de Chine au XVIIIe siècle, 2009, p. 81. The arms bear the collar of the Order of Saint Louis that he received in 1746. He arrived in France in March 1750 and stayed 3 months there, which a suitable time for ordering his tea set. The delivery was probably made few months before to leave for Louisiana.
A portrait of Louis Billouart is in the collections of the Louisiana State Museum (inventory number T.83.1965). A miniature portrait of him is also in the collections of the NYC Historical Society Museum & Library.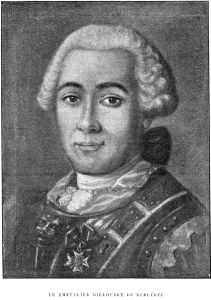 A portrait of Madame Louis Billouart, Louisiana's first lady in the 1750's / early 1760's, is in the collections of the University Louisiana Lafayette.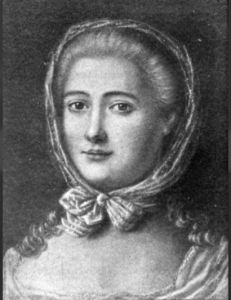 Louisiana had honored Louis Billouart de Kerlerec by naming a street in what is known as "The French Quarter" in the New Orléans, the "Kerlerec Street".
A document in the collections of the US National archives depicts also Louis Billouart, which appoints Chief Okana-Stoté of the Cherokee as captain in the service of the French during the French and Indian War.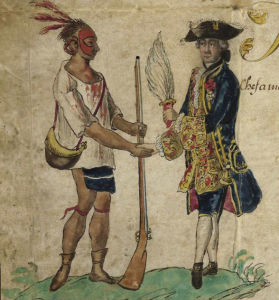 Notice
Louis Billouart, Chevalier de Kerlérec was born on June 27, 1704 in Quimper, France, to Guillaume Billouart, Sieur de Quervasegan, and Louise de Lansullyen.  He served as a volunteer seaman in three French naval campaigns from 1718 to 1720, the last of which took him to Louisiana.
In 1721 he was commissioned navy guard but subsequently left the military to command a merchant vessel engaged in the Antilles and West African trade.  Kerlérec reenlisted in the military in 1726, however, and participated in the French campaign against the Natchez Indians in Louisiana in 1730.  He was promoted to ship's ensign in 1731 and took part in French naval operations against Barbary pirates the next year.
Between 1734 and 1737, Kerlérec completed three routine tours of duty aboard French men-of-war.   During an engagement with a British squadron off the coast of St. Domingue in 1740, under the command of the marquis d'Antin, he was severely wounded in the back.   After being promoted to ship's lieutenant in 1741, Kerlérec was assigned to convoy duty in the Atlantic.  In command of the frigate Neptune in 1745, Kerlérec injured his right foot and both ears during a battle between British and French fleets. He was captured, forced to surrender his sinking vessel, and taken to a prisoner-of-war camp at Spithead in England.  He was made Knight in the Order of Saint-Louis in 1746. Following the War of Austrian Succession (1740–48), he was allowed to return to France where he was promoted to ship's captain in 1751.
From 1753 to 1763 he was appointed Governor of Louisiana. During Kerlérec's tenure as governor, he maintained relations with the Cherokee and other powerful Native American tribes by offering gifts, preferring bribery to war.  Within the colony, however, his relationship with colonial administrator Vincent de Rochemore proved more difficult to navigate and the two were embroiled in a constant power struggle. Initially, Kerlérec gained the upper hand by having Rochemore placed under his control in 1760 and then recalled to France. In 1763, however, Rochemore used his own political influence to have Kerlérec recalled, accusing him of violating the king's orders.
On his return to France in 1763, Kerlérec was imprisoned in the Bastille.  He was exiled from Paris in 1769 and ordered to remain at least thirty leagues from any royal residence. Legally exonerated of all charges on September 3, 1770, Kerlérec died on September 8 in Paris, just days after clearing his name.
He was the last representative for France in this part of the world, since Louis XV left a part of the Louisiana territory to Spain through the Treaty of Fontainebleau (1762), and the remaining part to the British through the Treaty of Paris (1763).
Bibliography :
Marc de Villiers du Terrage, Les Dernières Années de la Louisiane française (1903);
P. Levot, "Kerlérec, Louis Billouart, chevalier de," Nouvelle Biographie générale de depuis les temps les plus recules jusqu'a nos jours … (1861), XXVII.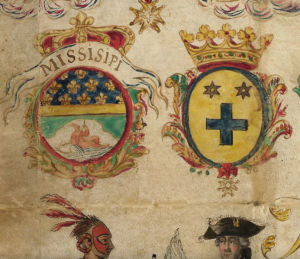 Cowan, Walter Grieves and Jack McGuire. Louisiana Governors: Rulers, Rascals, and Reformers.  Jackson:  University Press of Mississippi, 2008.
Alexandre Dub, The Imperial Lives of Louis Billouart de Kerlerec, Governor of Louisiana, 127th Annual Meeting American Historical Association, 2013.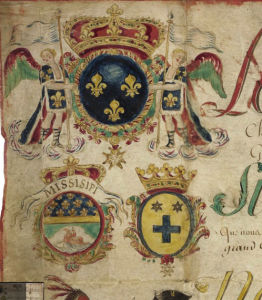 Marc de Villiers du Terrage, Les dernières annés de la Louisiane française. Le Chevalier de Kerlérec-D'Abbadie-Aubry-Laussat, 2013.
Hervé Gourmelon, Le Chevalier de Kerlerec 1704-1770: L'affaire de la Louisiane: Un déni de justice sous le règne de Louis XV, Essai de réhabilitation de Louis Billouart de Kervaségan, Chevalier de Kerlérec, Les Portes du Large, 2007.