A large Chinese figure of Budai Heschang decorated with famille verte enamels on the biscuit. Kangxi period.
The figure is modelled seated wearing long flowing robes with his left arm resting on his raised left leg, with a laughing expression on his face. Beside him there is a small boy playfully crouching under his right arm.
Country:

China

Period :

Kangxi (1662-1722)

Material:

Porcelain (biscuit)

Dimension:

6.29 in. (16 cm)

Reference :

C582

Status:

sold
Related works
For a very similar budai, see Christie's London, Chinese Ceramics and Works of Art, 14 May 2013, lot 269.
Another similar example, see Christie's NYC, Chinese Export Art, 23 january 2008, lot 16.
A figure of the Budai can be seen displayed on a shelf in the painting Le Déjeuner by François Boucher in the Musée du Louvre, Paris.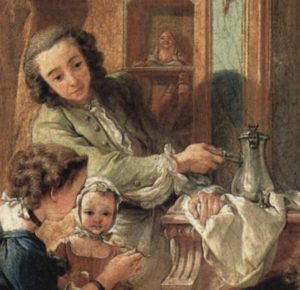 Severals figure of Budai in famille rose enamels or Blanc-de-Chine are in the Copeland collection and illustrated by William Sargent in The Copeland Collection: Chinese and Japanese Ceramic Figures, Peabody Essex Museum, 1998.
Notice
This figure depicts the Maitreya Buddha, the Coming Buddha, who is known  as the Laughing Buddha, always represented as a stout figure with a laughing expression, draped in a mendicant"s robe, breast and abdomen exposed. The character of Budai of Budai Heshang, based on an historical monk of the late Tang period, became popular as early as the Song dynasty. He is often shown surrounded by children. His nickname, Budai, which means "cloth bag", derives from the sack he carries. He is awlays shown carrying the hemp bag containing all of his possessions and a small cord of eighteen beads symbolizing the Eighteen Luohan. Perhaps because of his mirthful expression, he became one of the most sought-after figures within the Export market.
While generally considered to be made for the Export market, many Budai figures were undoubtedly intended for the dwesmtic market as well. A photography of about 1928, taken in Beijing shows Robert Rousset who brought together collections of antiquities for sale to Western dealers and collectors. Among the diverse ceramics seen in the photograph are several Budai figures.
Budai Heshang was one of the most popular porcelain figures in the Export market, occurring as small Dehua examples, turquoise biscuit or in the famille rose palette. Among the larger figures are a number modeled as tureens.
Budai became a symbol of chinoiserie, which is indicated by the persistance of the term magot or pagode by which he became known in the West. European porcelain figures of Budai were made after Chinese originals. One closely of this one was recently shown at the Exhibition Porcelaines de Meissen et de Chantilly – La fabrique de l'Extravagance (Chateau de Chantilly, 2020, p. 142, no. 49.