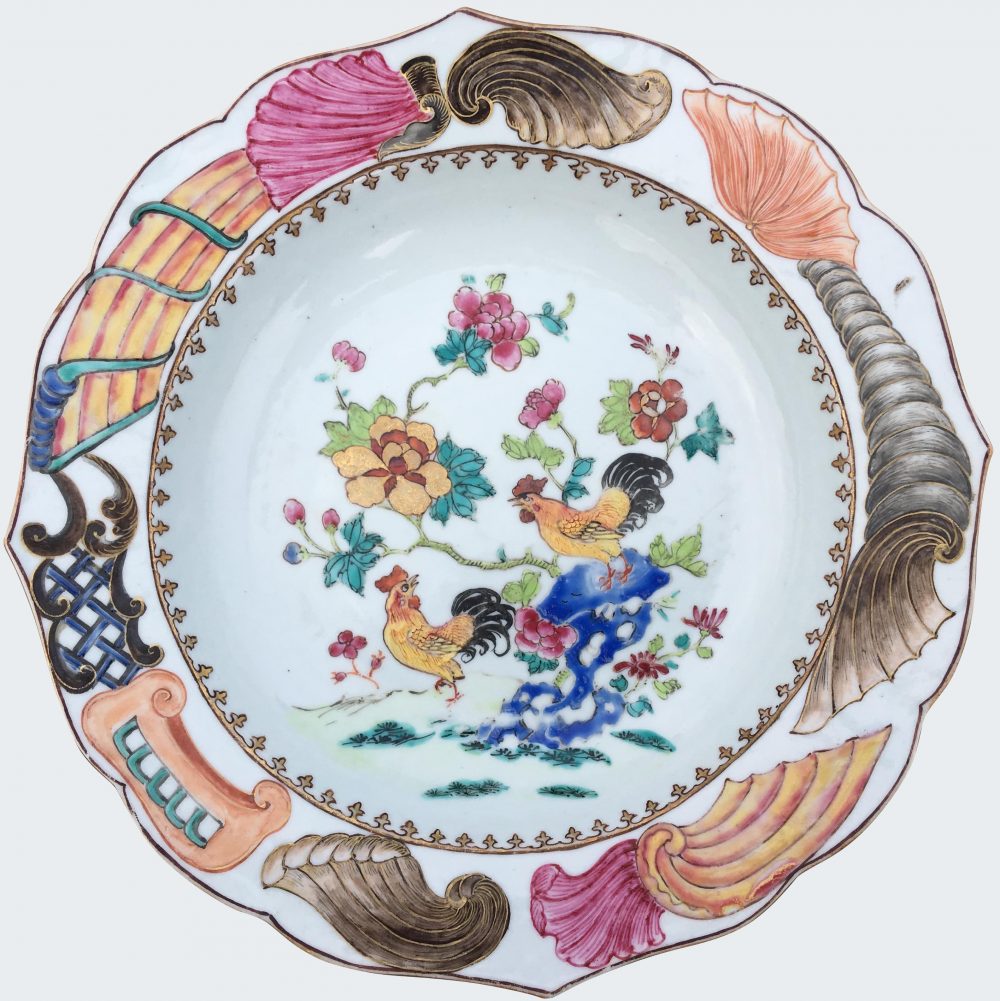 An unusual Chinese famille rose "cockerel" plate. Qianlong period.
Enameled as the centre with two cockerels, one perched on blue pierced rockwork beside three peonies, within a band of gilt spearheads in the well and a bold and stricking design of shells at the border below the foliate rim.
Country:

China

Period :

Qianlong (1735-1795)

Material:

Porcelain

Dimension:

23 cm

Reference :

B164

Status:

sold
Provenance
Private collection from the south of France
Related works
Two dishes with an identical design are in the Peabody Essex Museum (Salem, USA). One is illustrated by J. McClure Mudge in Chinese Export Porcelain in North America (New York, 1986, p. 135, no. 202) and in the catalogue of the collection of the Peabody Essex Museum (William R. Sargent, Treasures Chinese Export Ceramics from the Peabody Essex Museum, 2012, p. 249, no. 124). One of them was exhibited at Yang-ts'ai : The Foreign Colors (China trade Museum, Milton, MA, 1982) and published by Forbes in the catalogue of the exposition (no. 17).
An identical plate was in the collection of François Hervouët sold at Sotheby's London, 3 november 1987, lot 930 (sold again at Christie's London, 11 may 2004, lot 60). Another plate was sold at Christie's London, 1 november 2005, lot 24.
A large dish, from a european private collection, was sold at Christie's London (11 may 2004, lot 59).
Notice
This very unusual border is closely related to the border on two others services ; the famille rose armorial service ordered by the Snoek family of the Netherland (Christie's, The Hodroff Collection, 23 january 2008, lot 364), which also has similary shaped rims ; and a serie of plates and dishes painted in underglaze blue and white depicting various scenes of tea-production.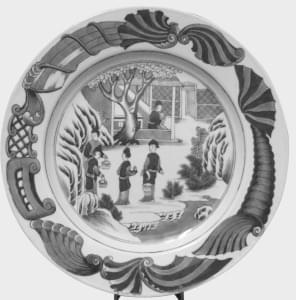 Plate held on at the Metropolitan Museum of New-York depicting a scene of tea-production
The plate border was probably inspired by patterns from a European rococo prototype. Although the design's specific origin is not presently known, a faience tray from Rouen has a « décor à la corne » and shell decoration that provides a close comparison.
A less well-definited version also appears on a Japanese export plate (Groninger Museum, 1963-201).
Left to follow their own discernment, the painters who decorated plates intended for a European market usually turned to traditional motifs. In these examples, the central decoration of roosters among peonies and rocks becomes emblematic of wealth, fame, and good fortune. Together, the rooster (gongji) and peony (fuguihua) complete a rebus conveying the wish « May you receive official rank and honor ». It also can mean « wealth, rank, and good fortune », because the term for a large rooster is a pun on « good fortune ». The rooster atop the rock may also be seen as a rebus meaning « May there be good fortune inside the home », as the words for rock (shi) and home (shi) are pronounced in the same way.