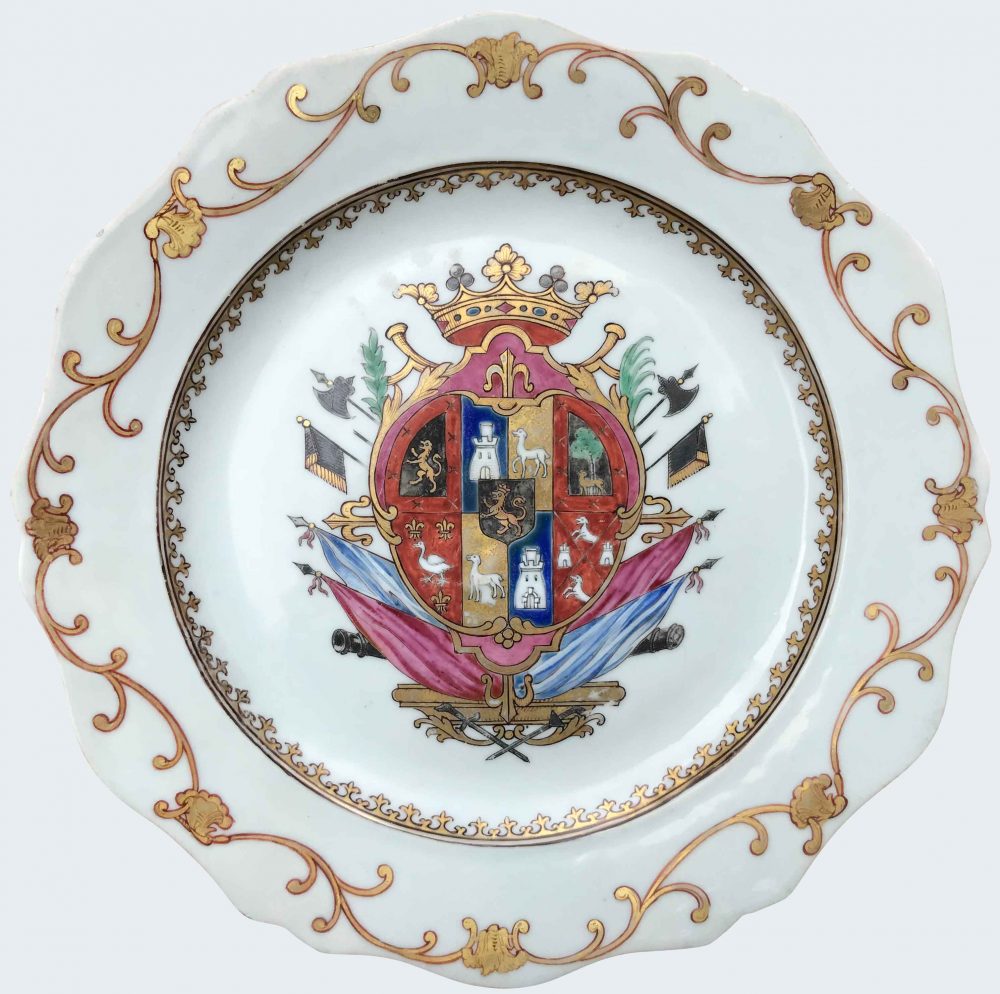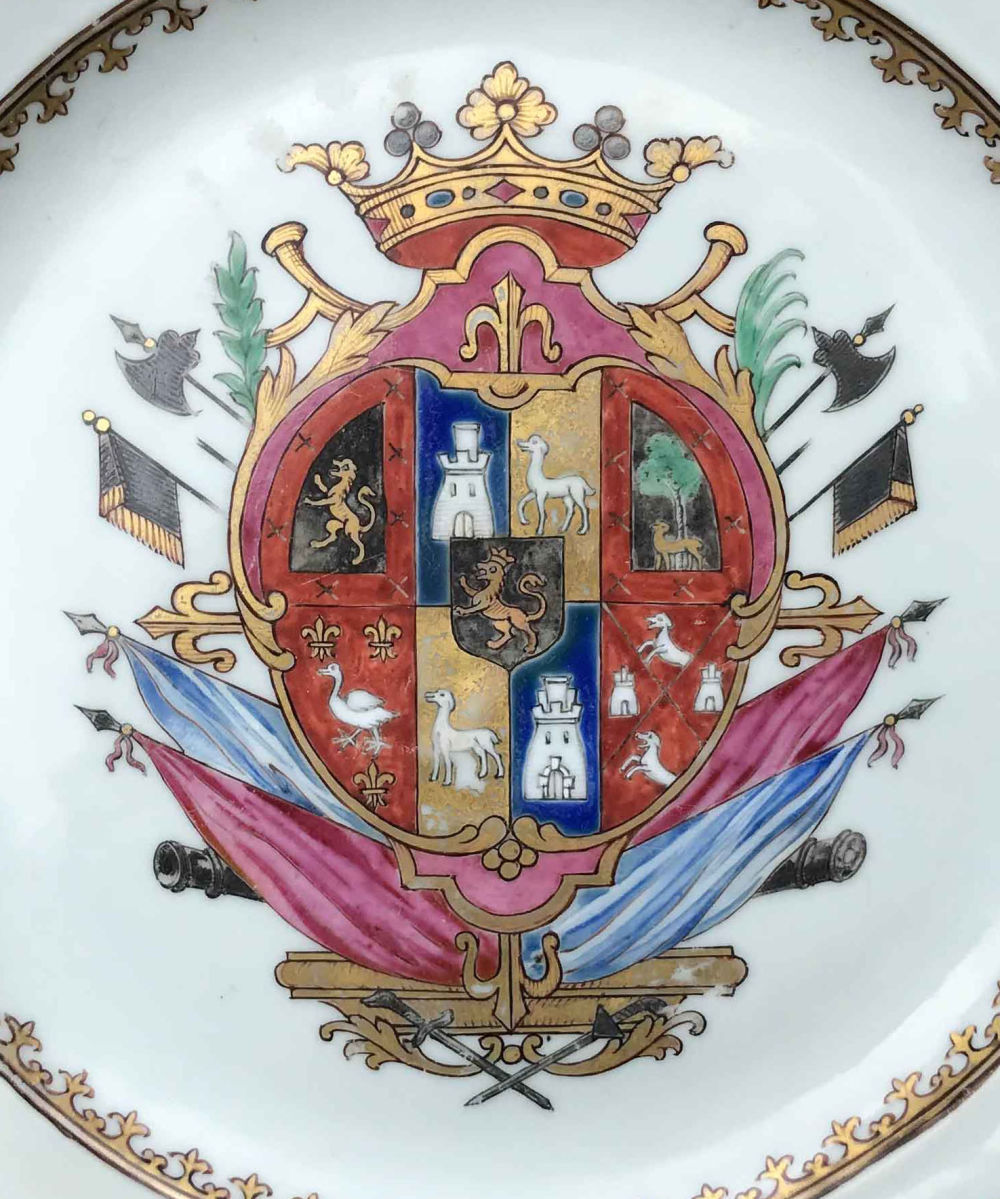 A very rare Chinese armorial plate for the Spanish market (Pedro Manuel de Arandia, Governor of the Philippines). Qianlong period.
Decorated in the famille rose palette, with shell-and-scroll border on the rim, spearheads in the well, and in the centre the coat-of-arms of Pedro de Arandia y Santiesteban, tierced per pale. 1. Per fess: a. sable, a lion or within a bordure gules with eight saltorels sable, Santiesteban; b. gules, a swan argent between four fleur-de-lis or, Echeverria. 2. Quaterly; B. a. and d. azure, a castle argent; b and c. or, a wolf argent, Alberro. 3. Per fess: a. argent, a tree vert with a wolf at its foot, within a bordure gules with eight saltorels sable, Melicua; b. per saltire:1st and 4th or, a wolf argent, a crowned lion, Arandia. The arms beneath a marquis coronet; joined to the shield the cross of Calatrava, and surrounded by flags, standards and war trophies.
Please note :
"Exceptional" : from 0 to 1 piece known
"very rare" : from 2 to 5 pieces known
"Rare" : from 6 to 10 pieces known
Country:

China

Period :

Qianlong (1735-1795), circa 1754-1759

Material:

Porcelain

Dimension:

8.66 in. (23 cm)

Reference :

B715

Price:

upon request

Status:

sold
Provenance
From a Parisian Collection
Related works
A wine cooler from this service is in a private collection. The present plate looks to be the one of the five listed for this service.
Another service ordered by Pedro Manuel de Arandia is illustrated by Rocio Diaz in Chinese Armorial Porcelain for Spain (2010, Jorge Welsh Books, no. 12, p. 138-140). A tureen from this service is in the Museo Nacional de Artes Decorativas of Madrid (inv.no.ce19220).
Notice
Pedro Manuel de Arandia was born in Ceuta on 6th Febrary 1699. He was the son of Nicolas de Arandia e Ibanez Echeverria and Maria Cruz de Santiesteban y Alberro. He died without descendants in Manila on 1 june 1759.
He served as Brigadier of the Royal Armies, Captain of the Regiment of Infantry Guard and Intendant of La Mancha. He rose to the position of Gentleman of the bedchamber of the King of the Two Sicilies and was made Knight of the Order of Calatrava in 1750. In 1752, he was promoted to the rank of Field Marshal and appointed Governor of the Philippines, replacing the Marquis of Ovando, althought he would not reach Manila until 1754. Aiming to carry out the King's instructions and bring justice to the Filipinos, Pedro Manuel de Arandia focused on modernizing the country. Unfortunately, both his lack of tact and the negative influence of his inner circle of advisors caused the public to hate him and the clergy to turn against him.