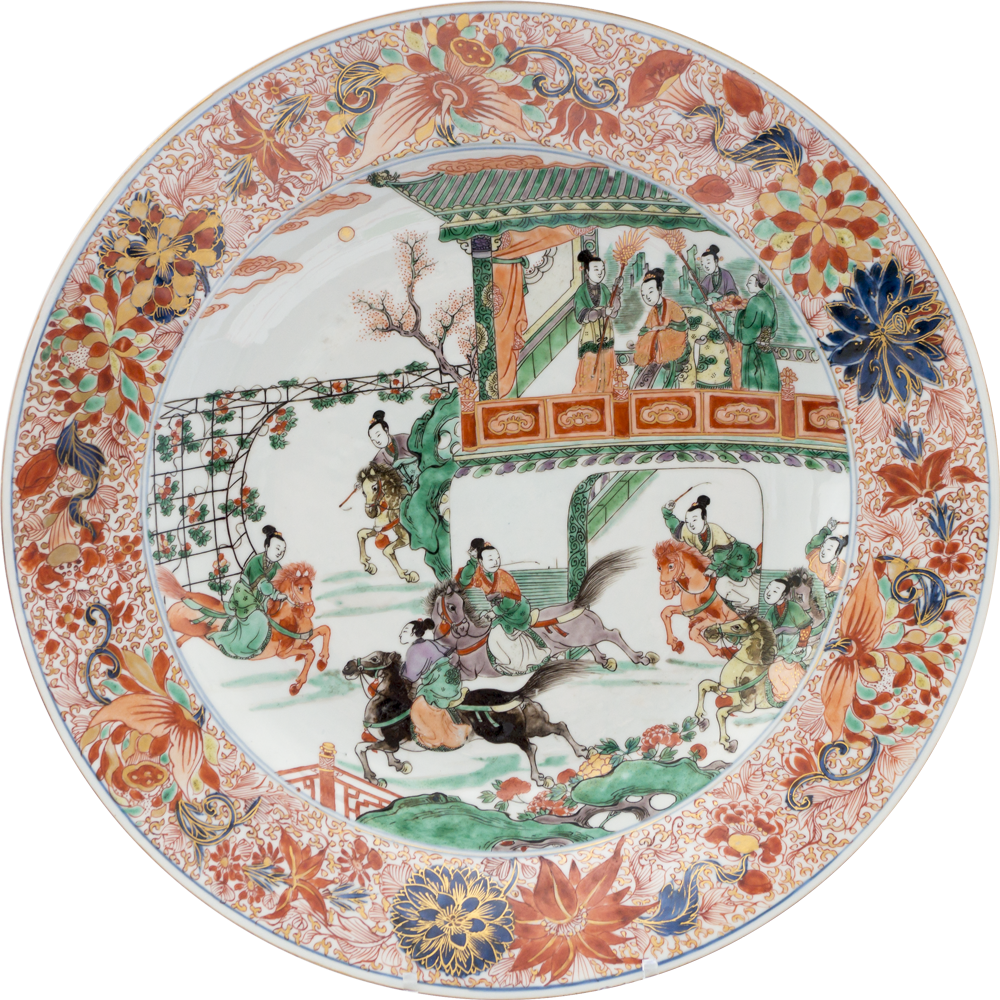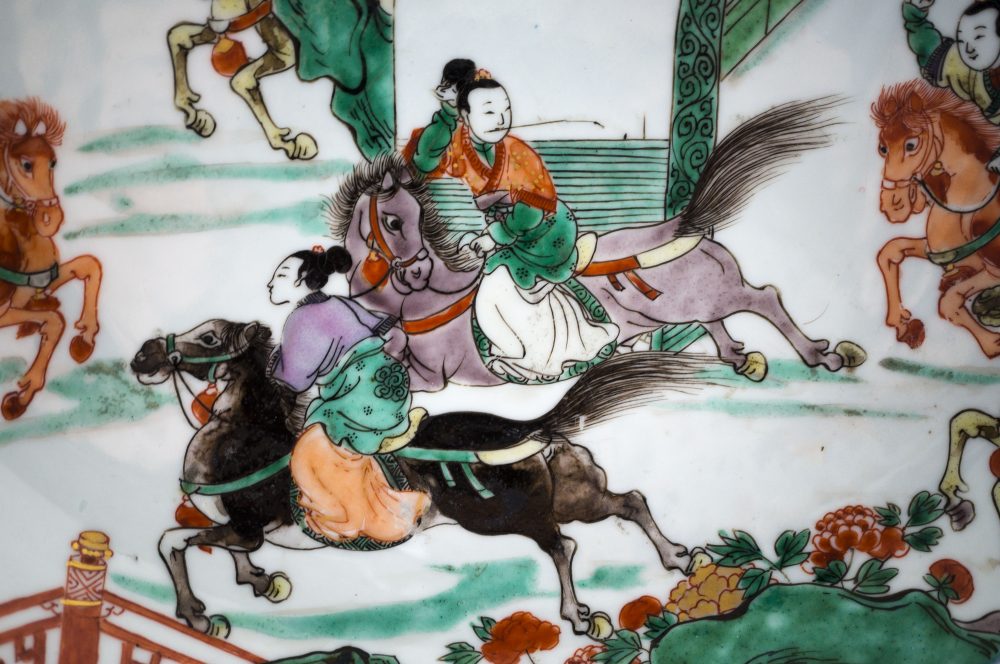 A very large Chinese famille verte-imari dish decorated with the generals of the Yang family. Kangxi period.
The centre enameled in the famille verte palette with eight female warriors on horseback being overlooked by a matriach and her attendants on a balcony, the broad everted rim with verte-Imari scrolling flowers, the reverse with three iron-red and underglaze blue prunus sprays.
Country:

China

Period :

Kangxi (1662-1722), circa 1710

Material:

Porcelain

Dimension:

16.92 in. (43 cm)

Reference :

B203

Status:

sold
Provenance
From a private collection from Belgium
Related works
A larger dish, from the collection of Edmond de Rothschild at the château d'Arminvilliers, was sold at Sotheby's Paris, 11 december 2014, lot 260.
An exceptional set of 50 dishes, from the collection of Paul-Louis Weiler, was sold in Paris (Drouot, Gros et Delettrez, 5 april 2011, lot 79). This set comes from the Lancut castle in the southern Poland, and by repute comes from the collection of Princess Isabella Lubomirska, born Czartoryska (1736-1812)). A part of this set was again on sale in 2012 in Paris, and very recently at Christies London (26 april 2016, lot 77, 78, 79).
Identical dishes, with different diameters, were sold at Christie's London (17 june 2003, lot 212), Christie's Rome (29 may 1990, lot 102), Sotheby's Monaco (27 may 1980, lot 913), Sotheby's London (10 may 1994, lot 72), or Sotheby's New York (23 october 2004, lot 32/33)
For a similar dish, painted in famille rose enamels, see Christie's New York, 23 january 2012, lot 390. A dish was published by Williamson in The book of Famille Rose (pl. XLIV). A pair of bottles with this design were published by Lusingh Scheurleer in Chine de Commande (fig. 150).
Notice
The center of this dish bears a design known as « The generals of the Yang family ». The center appears to show Mu Guying and seven others of the Yang widows preparing for battle, overseen family matriarch She Taijan.
The Yang family was celebrated in the Northern Song dynasty (AD 960-1127) for their military prowess and loyalty to the Emperor, and for many years they were successful in protecting China from northern invaders. Eventually, however, the majority of the male members of the Yang family were killed by the invading Khitan Tartars. In order to avenge their husband's deaths and in defense of their country, the women of the family took up arms and are shown here practicing their equestrian skills prior to riding out to meet the enemy.
This design appears to have been popular from about 1715-1735, at a time when extremely fine quality porcelain was produced. Dishes with this design and from this period are more commonly found decorated in the rose-verte or famille rose palette, and the verte-Imari palette appears to be particularly unusual. Rose-verte dishes with this design were known to have been amongst those in the vast collection of August the Strong (see F. Reichel, Die Porzellansammlung Augusts des Starken, Dresden, 1993, no. 21).