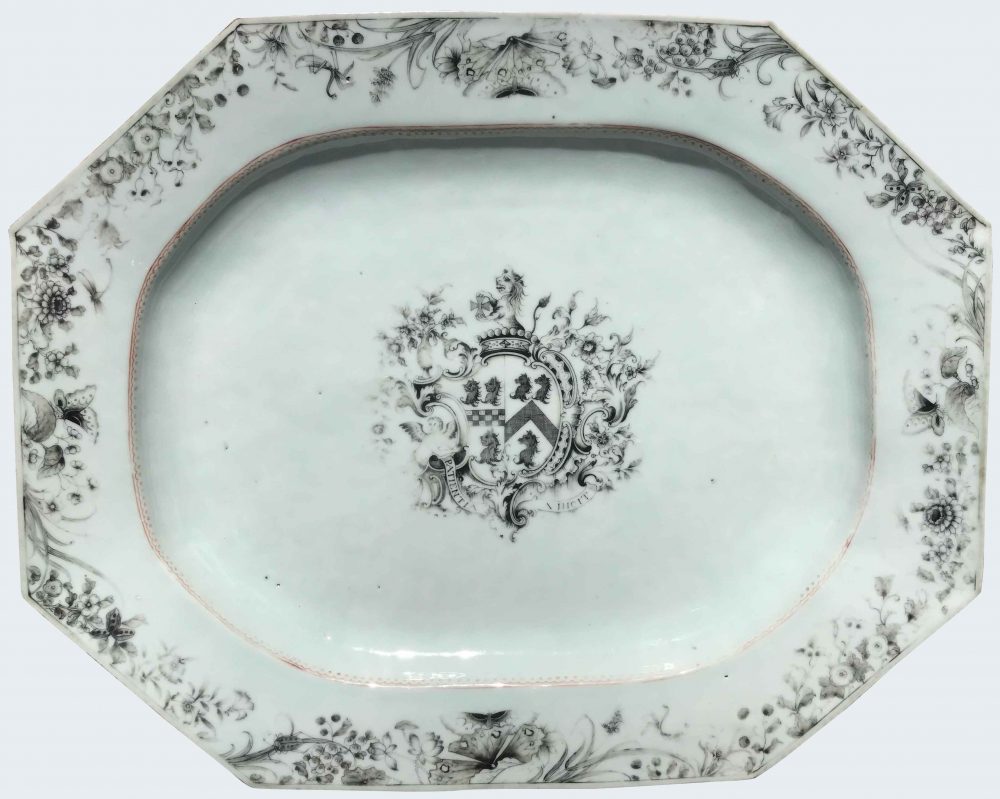 A very large Chinese en grisaille armorial platter for the English market (Birkbeck). Qianlong period
Of octagonal form and decorated en grisaille and gilt with a central coat of arms, the dexter of Birkbeck, Argent a fess cherry or and azure between three lions heads gules (with an unusual crest), on a count's coronet a demi lion rampant holding between the paws a cross pattée. The motto PATIENTIA VINCIT. The impaled coat is painted, Argent a chevron between three horses heads erased sable, recorded for Upwood. The rim is finely painted with a border of flowers and insects.
Country:

China

Period :

Qianlong (1735-1795), circa 1750

Material:

Porcelain

Dimension:

18.89 in (48 cm)

Reference :

B862

Status:

sold
Related works
This service is repertoire by Howard in Chinese Armorial Porcelain (vol. II, London, 2003, p. 233).
For a pair of plates, see William Motley/Cohen & Cohen, Bedtime Stories, 2004, p. 35.
A plate is in the collection of Le Musée de la Compagnie des Indes de Lorient (France), and illustrated by Louis Mezin in Cargaison de Chine, Porcelaines de la Compagnie des Indes du Musée de Lorient, 2002, p. 167.
A dish was formerly in the Carsten Fourshou Collection (Denmark).
Notice
Members of the family of Birkbeck were recorded in Westmorland in the early 14th century, and in 1515 Thomas Birkbeck was granted arms for his defense of Carlisle again the Scots.