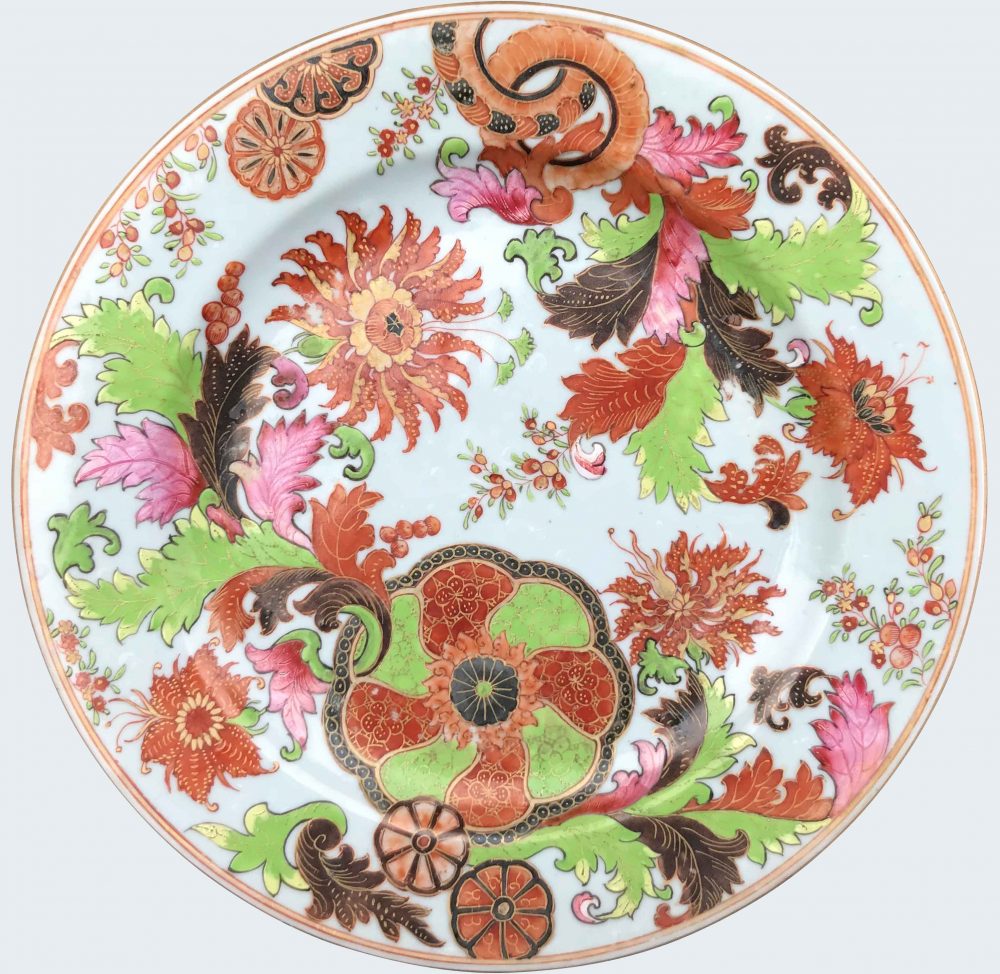 A set of four Chinese famille rose "Red Tobacco Leaf" plates. Qianlong period.
Enamelled in the famille rose palette, with stylised sliced pomegranate and hibiscus amidst serrated leaves, in pale green, iron-red, pink and brown enamels.
Country:

Chine

Period :

Qianlong (1735-1795), after 1770

Material:

Porcelain

Dimension:

8.66 in. (23 cm)

Reference :

B650

Status:

sold
Provenance
From an American property
Related works
Pierre L. Debomy, Tobacco leaf and Pseudo Feuille de tabac et Pseudo, A tentative inventory, 2013, p. 206 (model C2).
See also M. Beurdeley, Porcelaine de la Compagnie des Indes, p. 190, cat. 158.
For a large dinner service, see Christie's London, Chinatrade, 28 april 1999, lot 150.
For a set of two large platter, see Christie's Paris, An Educated Eye, Chefs-d'oeuvre d'une Collection Privée Suisse, 16 may 2017, lot 45.
Notice
This motif "Pseudo Tobacco Leaf", sometimes called "Red Tobacco Leaf", is painted with a great freedom and spirit, a strong sense of composition, and in a unique range of colors : a faded, completely orange brown, dark brown, a faded, almost gray black, yellow-green, yellow, dark pink brightened with white enamel, and white enamel. This relatively limited range of color somewhat obscures the pattern's attractiveness at first, but its charm is indisputable once the details of the spirit are appreciated.