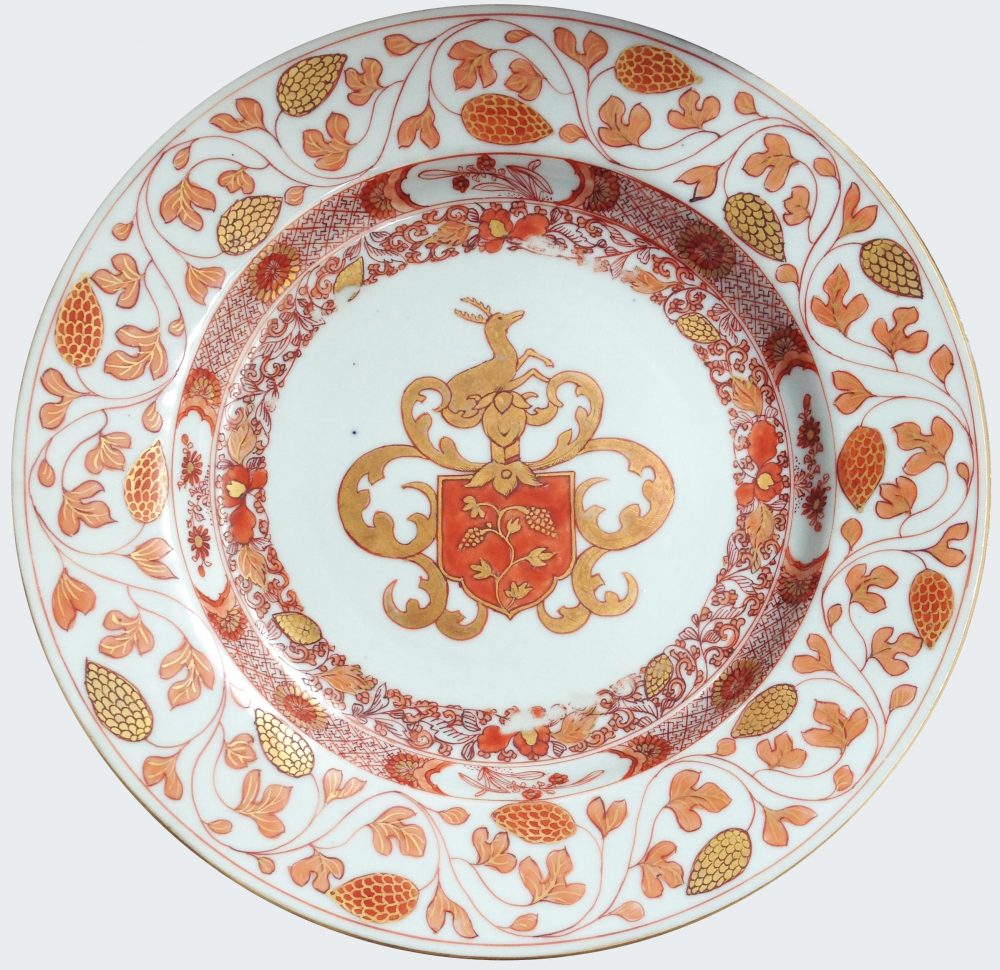 A rare Chinese export porcelain armorial plate for the portuguese market (Barcelar). Kangxi period.
Rare dinner plate enamelled in rouge-de-fer and gold with a central armorial shield, surrounded by scrolling vine with clusters of grapes, the cavetto with floral reserves and chrysanthemums on a swastika trellis ground.
Country:

China

Period :

Kangxi (1662-1722)

Material:

Porcelain

Dimension:

21,5 cm

Reference :

B35

Status:

sold
Provenance
From a private collection of Bordeaux
Related works
The arms are known on an other "blue service" (see Nuno de Castro, Chinese Porcelain At The Time Of Empire, 2007, p. 107 and Cohen & Cohen (Londres), 1999, p. 5. Only one other identical plate is repertoried.
Notice
The arms have recently been identified as those of Pedro Vaz Soares Bacelar, born circa 1645 (or in anoth- er text 1680), the son of Duarte Claudio Huet and Constança Malheiro Pereira Bacelar Sotomaior. Constança was the daughter of Marcos Malheiro Pereira Bacelar & Helena de Meireles Sotomaior, Marcos was Knight of the Order of Christ and General of the Minho army. This iron-red version has not been published before. The use of scrolling vine in the decoration is a feature of porcelain made for the Portugues Market in this period.