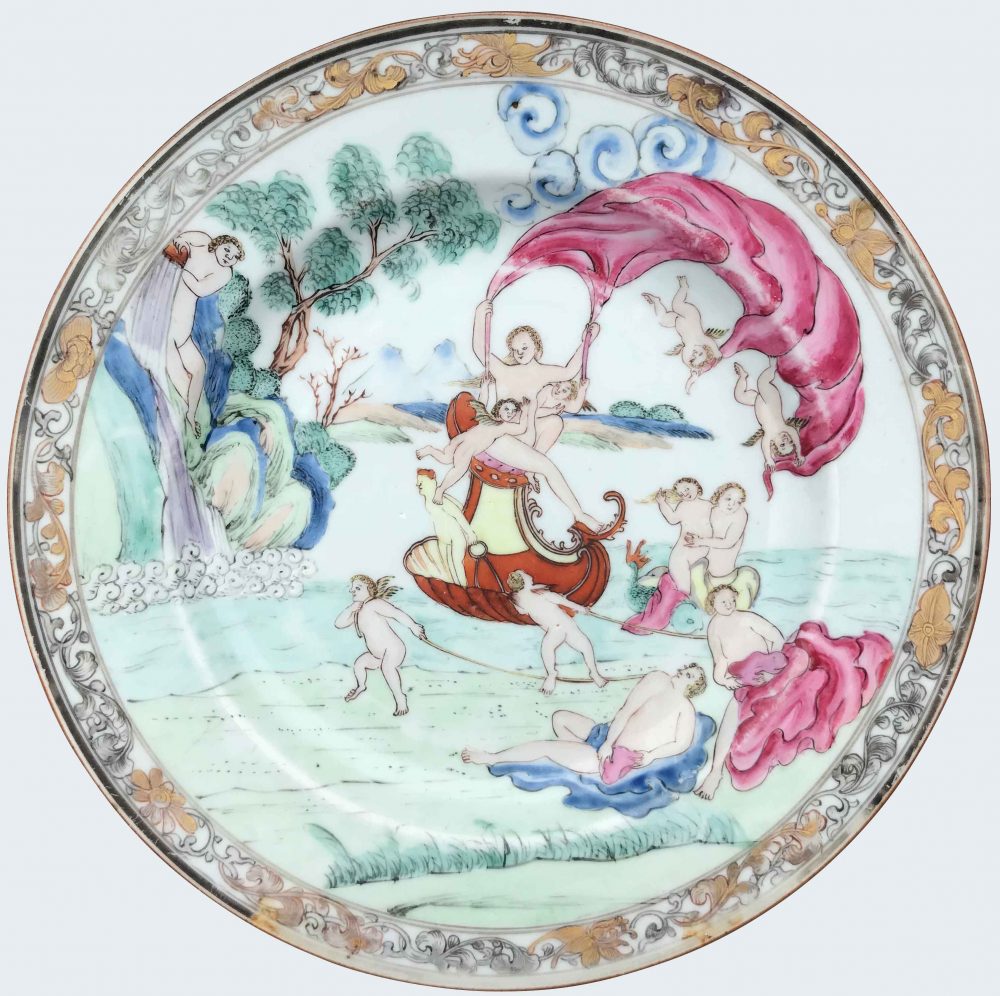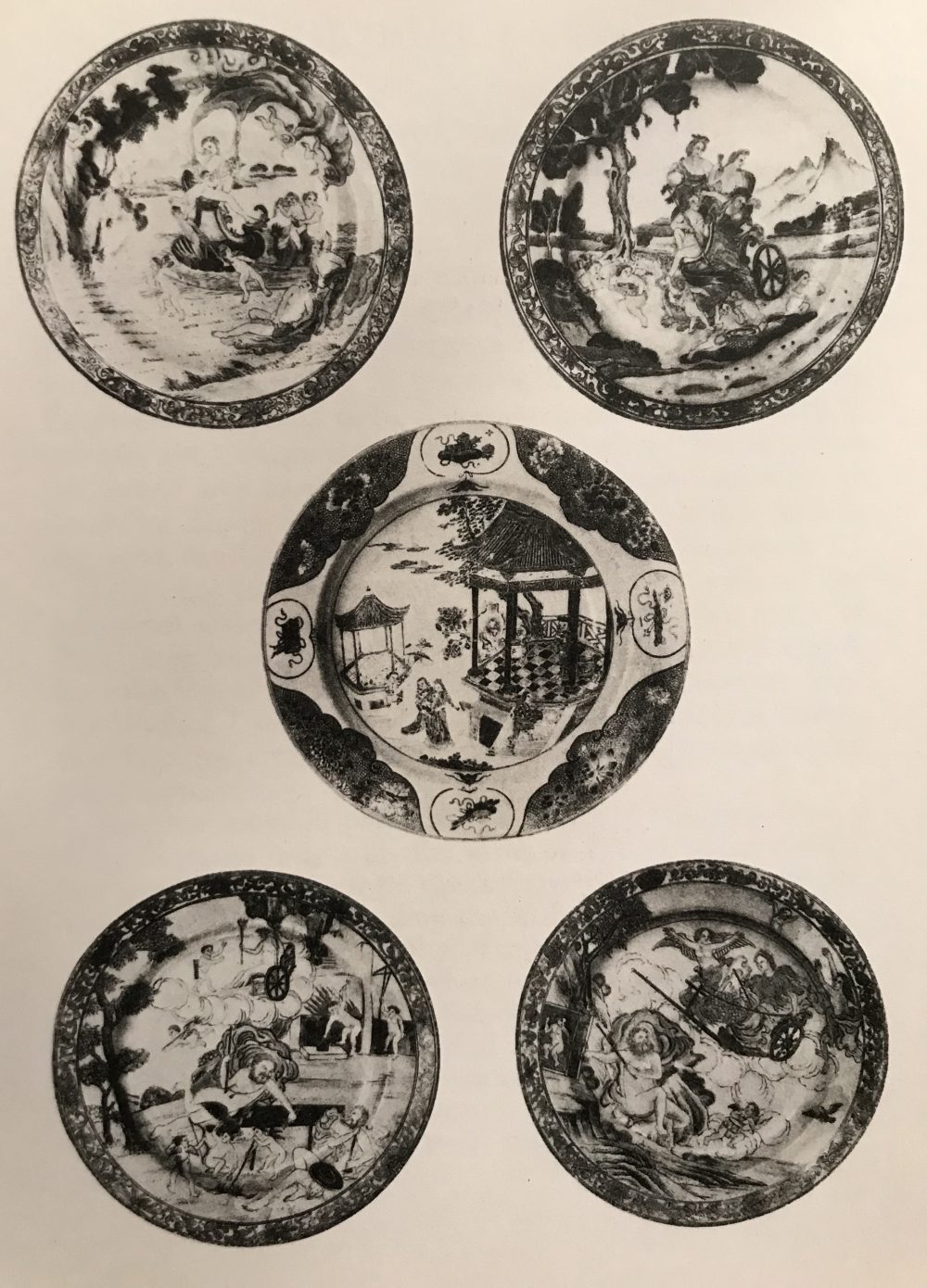 A rare Chinese Export "Four Elements " plate depicting "Water". Qianlong period (circa 1742)
Decorated in the famille rose palette and depicting Galatea, a sea-nymph, in a shell-shaped chariot drawn by dolphins, being guided by a putti, two other putti grasping a shaded red and pink cloth which is billowing to form a canopy, sea-nymphs, tritons and other putti playing in the turbulent river and on the chariot, a reclining naked figure, possibly Acis, on a blue cloak on the river bank in the foreground observing the scene, within a gilt scrolling floral band at the rim with details picked out in iron-red and en grisaille.
Country:

China

Period :

Qianlong (1735-1795), circa 1742

Material:

Porcelain

Dimension:

8.66 in. (23 cm)

Reference :

B657

Status:

sold
Provenance
From a French Collection
Related works
An example, with the gilt band, from the Miller Collection, was recently sold at Christie's New York, Chinese Export Art, 21 january 2016, lot 71 (sold 11.875 usd/10.800 euros).
A complete set of the four plates, with the gilt band, from the Martin Hurst Collection, is illustrated by G.C. Williamson in The Book of Famille Rose (London, 1927, pl. XXXIX (top left).
Another complete set is presently in the Winterthur Museum (Wilmington, DE) and published by A. Palmer in A Winterthur Guide to Chinese Export Porcelain (1976, p. 71, pl. 7).
Another plate (with two other plates with the gilt band), is illustrated by François & Nicolas Hervouët in La porcelaine des Compagnie des Indes à décor occidental, sujets littéraires, anecdotiques, satiriques et historiques (p. 319, no. 13.94) (pr. Wisen, Paris).
A "Four Elements" plate (Earth), with the gilt band is in the collection of the Peabody Essex Museum (Salem).
For another identical plate with the gilt band, see Christie's London, Chinese Ceramics and Works of Art including Export Art, 8 november 2005, lot 135.
Another plate is in the Musée de la Compagnie des Indes (France, Lorient) and published in the catalogue of the Museum,  a pattipan was also in the collection of Khalil Rizk (Sotheby's NYC, 25 april 2008, lot 208, sold 8.215 usd).
Plates with the more common blue enamel band are illustrated by Howard and Ayers in China for the West, London and New York, 1978, vol. I., p. 332, no. 328.
Notice
The Cardinal Maurice of Savoy, who became later King of Sardinia, commissioned Francesco Albani (1578-1669) in 1635 to make a series of four circular paintings of the elements – Air, Water, Fire and Earth (now in the Galleria Sabauda in Turin). Later, sets of prints after the painting were made by a number of engravers, including Antoine Hérisset (1685-1769) and Jean-Louis Delignon (1755-1804), among others. One such set served as source for Chinese enamelers who decorated these pieces.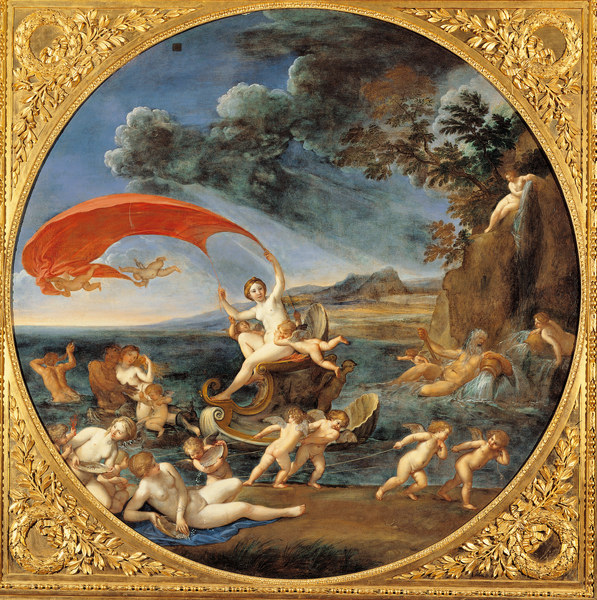 The "Four Elements" plates with the gilt floral band are quite rare. The majority of Chinese plates with this design, already uncommon, are decorated with a blue enamel scrolling foliage band, which may have been commissioned at a slightly later date, possibly circa 1745.