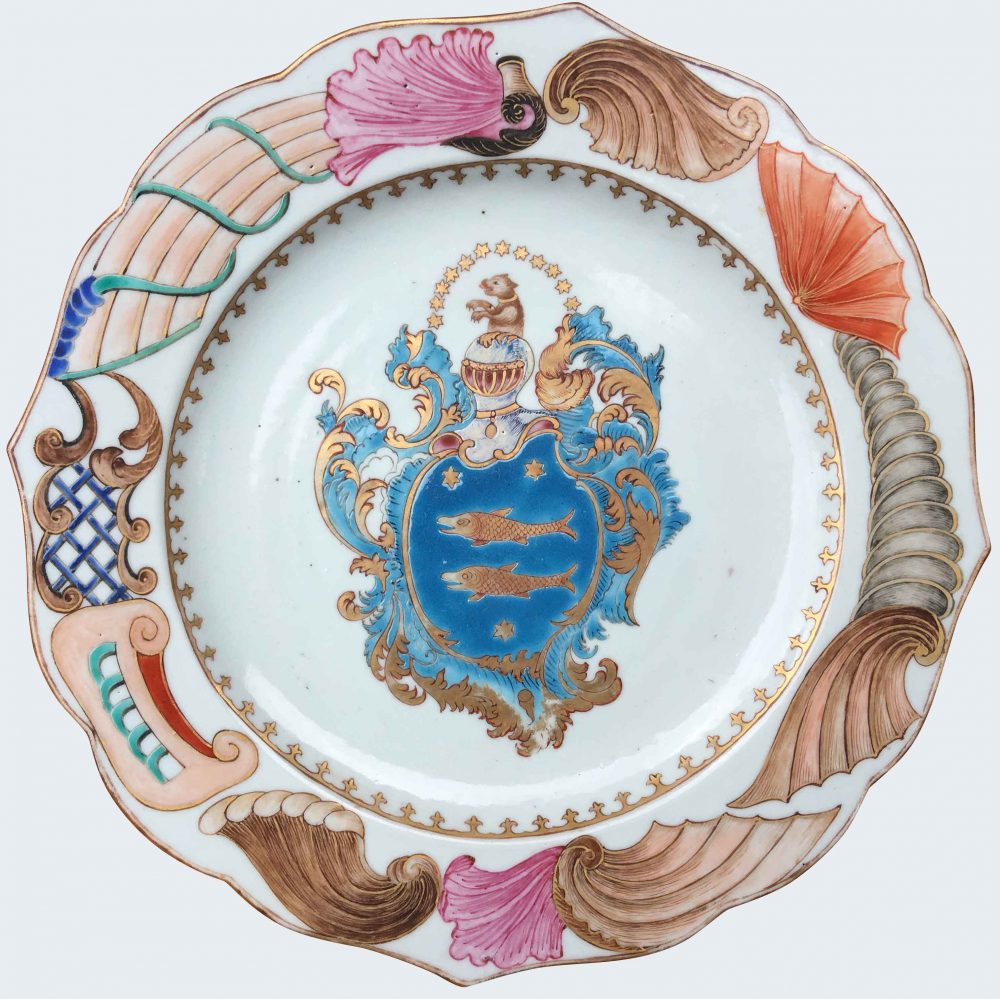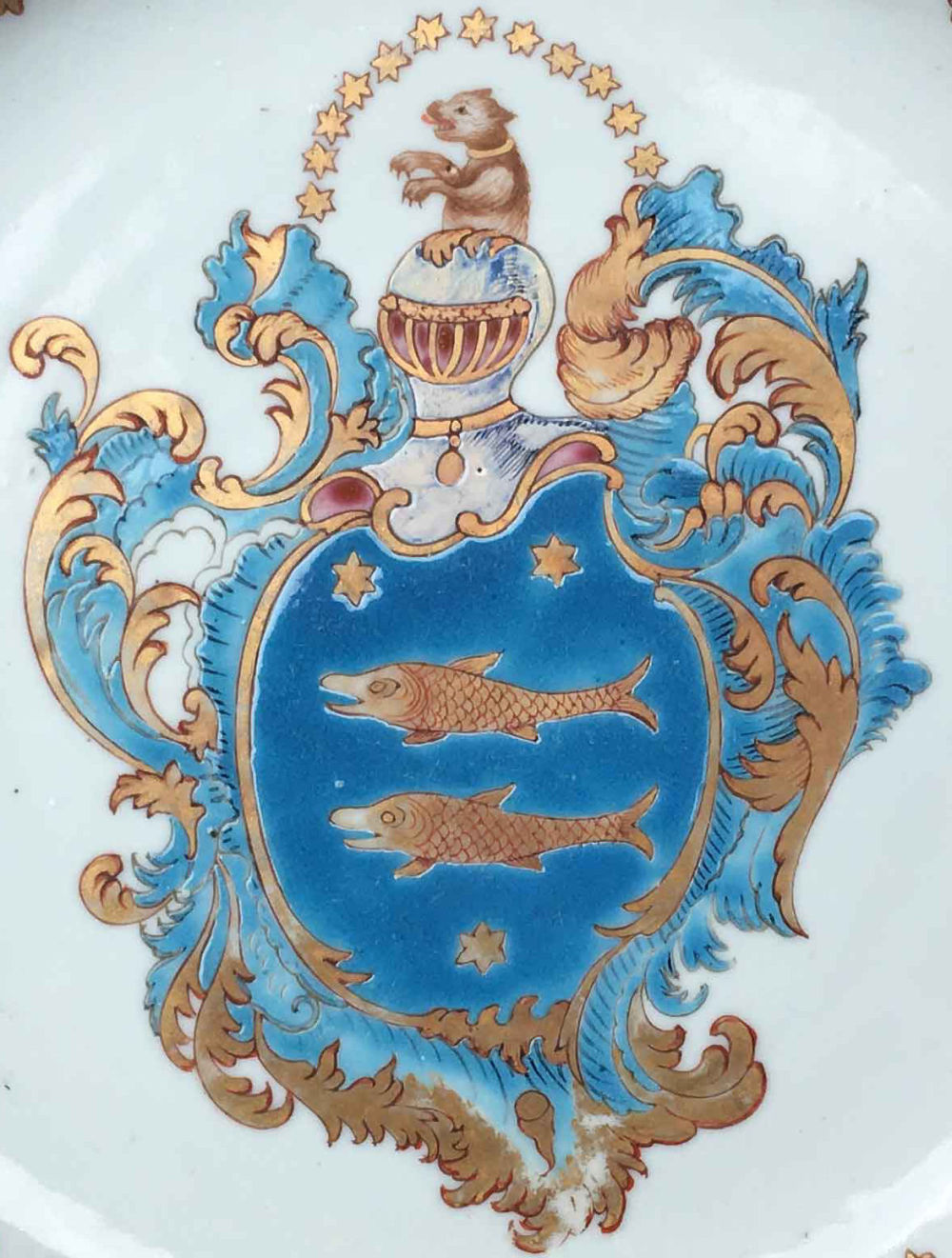 A rare Chinese armorial plate for the Dutch/Batavian market. Qianlong period.
Enamelled in the center with the arms of Guillot of Amsterdam, the cavetto with a gilt spearhead band, the border with variant colorful rocaille shells.
Country:

China

Period :

Qianlong (1736-1795), circa 1740-43

Material:

Porcelain

Dimension:

9 in. (23cm)

Reference :

B442

Status:

sold
Provenance
Elias Guillot (1695-1743), Governor of the Coromandel Coast (1733), Extraordinary Councillor of the Indies and director-general of the Indies (1742)
Related works
Only 20 pieces of this service have been listed (including the recent pieces exhibited). However the examination of dimensions, enameling colors, porcelain colors, and stiffness aspect of the painting to think that some listed pieces are forged.
A plate, presently in the collection of the British Museum (inv.no.F858+) was published by R. Krahl & J. Harrison-Hall in Ancient Chinese Trade Ceramics from British Museum, London (Taipei : National Museum of History, 1994, n°238, pp. 282-283).
Another plate, presently in the collection of the Metropolitan Museum of New York, was published by J. G. Phillips in China-trade porcelain : an account of its historical background, manufacture, and decoration, and a study of the Helena Woolworth McCann collection, Winfield Foundation and the Metropolitan Museum of Art [by] Harvard University Press, Cambridge, 1956, p. 71, pl. 5 (the coat of arms attributed to the Snoek family).
Another plate, from the Mottahedeh Collection, was published by D. Howard et J. Ayers in China for the West, London (1978, vol. I, p. 395, n° 393).
Two dishes, from the Cecil H. Bullivant Collection, were sold at Christie's Londres, 15 march 1971, lot 68.
Two plates, one from the Chinese Company New York (prov. Mica Salabert Collection, Paris), the other from Sotheby's NYC (19 october 2000, lot 259) were published by Dr. J. Kroes in Chinese Armorial Porcelain for the Dutch market, 2007, p. 32 & p. 324 (with illustrations also of a Japanese plate and a Samson copy).
Three plates were recently exhibited on the private market : the first by Cohen & Cohen and published in Baroque and roll (november 2015, p. 136) ; the second was exhibited by Polly Latham (USA), and the third by Vincent L'Herrou (Galerie Théoreme).
Another plate was sold by Christie's, The Hodroff Collection, Part II Chinese Export Porcelain From The Collection Of Leo & Doris Hodroff, 23 January 2008, New York, Rockefeller Center, lot 364 (sold 8.750 USD).
Another plate, from the collection of the Dr. Hardouin (Nantes) was recently sold by Sotheby's Paris, A table !, 17 December 2014, lot 327 (sold 6.000 euros).
A large plate was sold by Sotheby's NYC, 23 october 1992, lot 173 (from the collection of Nicole & François Hervouët).
For a plate with two cockerels and an identical pattern on the rim, from the Galerie Nicolas Fournery, and presently in a private collection in Hong-Kong, see our website (number B164)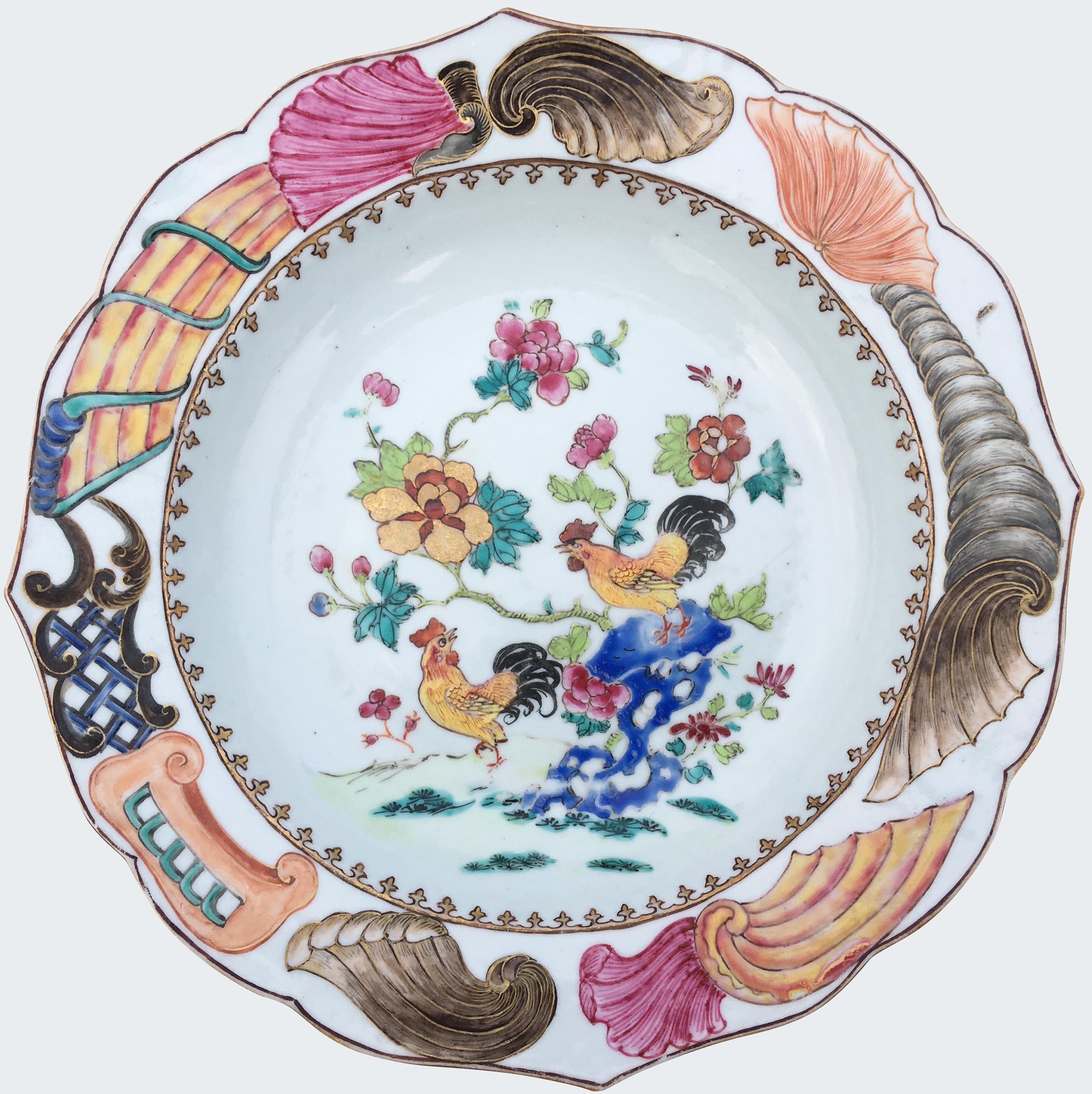 The border is also known on blue and white plates with scenes of tea processing. Howard & Ayers (1978) suggest that this border may have been designed by a European artist (like Pronck), influenced by Rouen faience (see Le Corbeiller, 1974), in the late 1730's and commissioned specifically for the tea processing plates and then used for this service too. As a merchant Guillot would have handled tea, so it is possible that he also ordered the tea processing series. The Pignatelli armorial service has a similar border.
Notice
These arms were formerly attributed to the Snoek family of Amsterdam (Phillips Goldsmith, 1956), based on Rietstap's Armorial général, but Dr. Jochem Kroes (1997) has attributed them to Elias Guillot (1695-1743) who was governor of the Coromandel Coast (1733-1737) and died in Batavia.
The Guillot family were originally from Bordeaux, where Elias was born. They moved to Amsterdam and several members of the family became wealthy merchants. Elias went to the Indies in 1714 as a junior merchant and master of the warehouse in Masulipatnam in 1715.
He moved through the Coromandel Coast and by 1730 was senior merchant, promoted to Governor in 1733. In 1737 he moved to Batavia where he probably ordered this service from Canton. He died unmarried in Batavia in 1743 and left his estate to various relations in London and Amsterdam. His armorial service might also have descended to his Amsterdam or London relatives, significantly most of the known pieces have appeared in British and American collections.