A 'Blanc-de-Chine' Dehua wine pot. Kangxi period.
A Chinese white porcelain (blanc-de-Chine) hexagonal wine pot and cover with flat base, three corner feet, and six rounded sides. Each side moulded with a recessed relief design within a shaped border, rising to a low, hexagonal mouth. The matching flat cover with infitting unglazed flange has a knob in the form of a seated lion. An overhead flattened tubular handle rises from the shoulder, to which is also attached the short, curved, rising spout. The panel designs represent scholars seated viewing the landscape, or with attendants preparing tea or carrying a wrapped qin (musical instrument).
Country:

China (Dehua, Fujian Province)

Period :

Kangxi (1662-1722), circa 1650-1700

Material:

Porcelain

Dimension:

H. 7.48 in. (19 cm)

Reference :

B422

Status:

sold
Provenance
From a private French collection
Related works
We have listed severals similar wine pots in prestigious museum's collections and private collections (two of them from royal collections).
The first example, with figures, is in the collection of Her Majesty The Queen Elizabeth II and held on at Hampton Court Palace (access number RCIN 1182), published by J. Ayers in Chinese and Japanese Works of Art in the Collection of Her Majesty The Queen (2016, Vol. I). This wine pot was listed in the inventory of Queen Mary's China at Kensington Palace in 1693/94.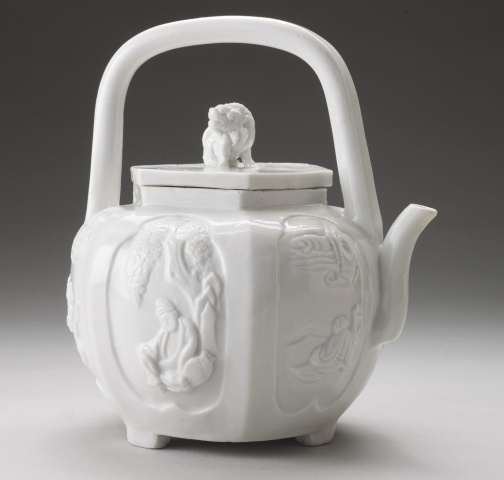 A pair, decorated with flowers, acquired from Marchant & Son (published in their catalogue Blanc de Chine, 1994), is in the collection of the Peabody Essex Museum (USA) and published by W. R. Sargent in Treasures of Chinese Export Porcelain Ceramics, from the Peabody Essex Museum (2012, no. 95, p. 202/203).
One, with figures, listed as a "teapot", from the collection of Sir Augustus Wollaston Franks (curator, 1826 – 1897), is held on at the British Museum (access number Franks.682). The Donnelly Gift to the British Museum (1980.7.23.339) includes an other example with molded flowers and rocks decoration.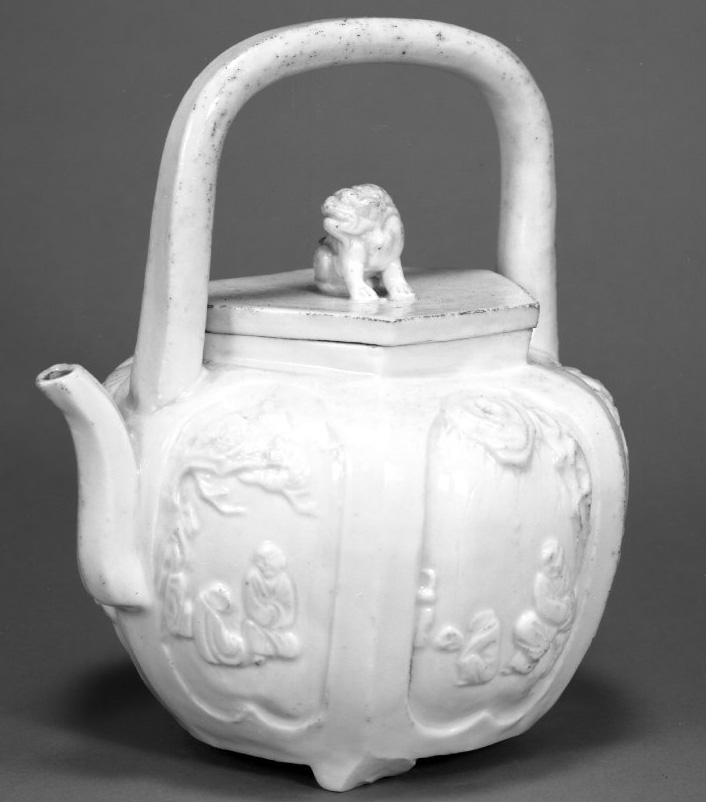 Another one, again from the collection of P.J. Donnelly, also reputed for his knowledge about Blanc de Chine, was recently sold at Sotheby's NYC, Important Chinese Art, 13 september 2016, lot 299 (Property from the collection of Richard Lehman Gray, sold 11.250 USD). This winepot was published in Courts and Colonies: The William and Mary Style in Holland, England, and America (Cooper-Hewitt Museum, New York, 1988, cat. no. 205), and in Blanc de Chine: Divine Images in Porcelain (China Institute Gallery, New York, 2002, cat. no. 20). Another example, with European gilt metal mounts was sold at Sotheby's NYC, 18th July 1980, lot 399.
An example, from the collection of the Duke of Devonshire, is held on at Blenheim Palace.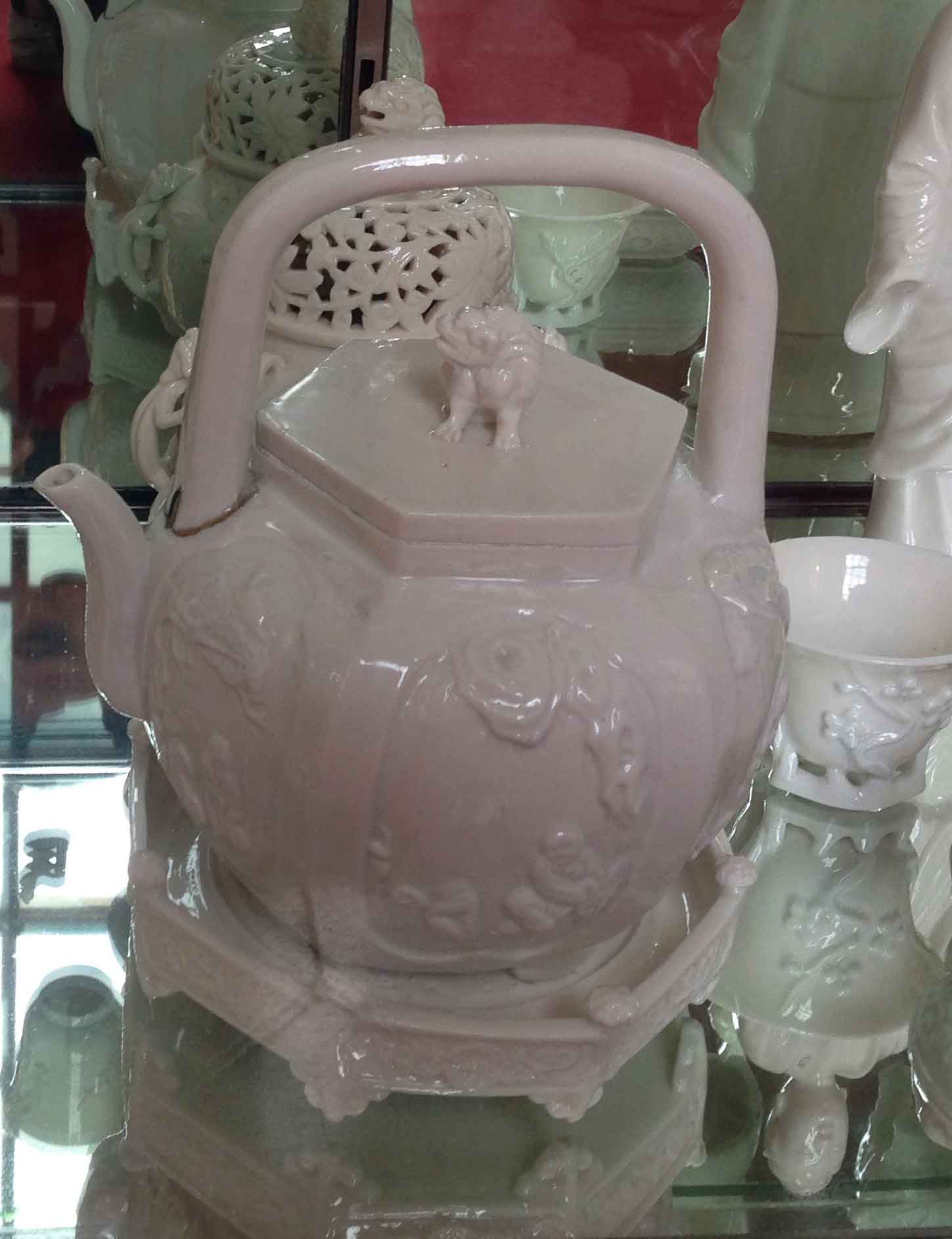 Another model, with gilt-bronze mounts, is held on at The Jean-Paul Getty Museum and published by G. Wilson in Mounted Oriental Porcelain in the J. Paul Getty Museum (2000, pp. 93-95).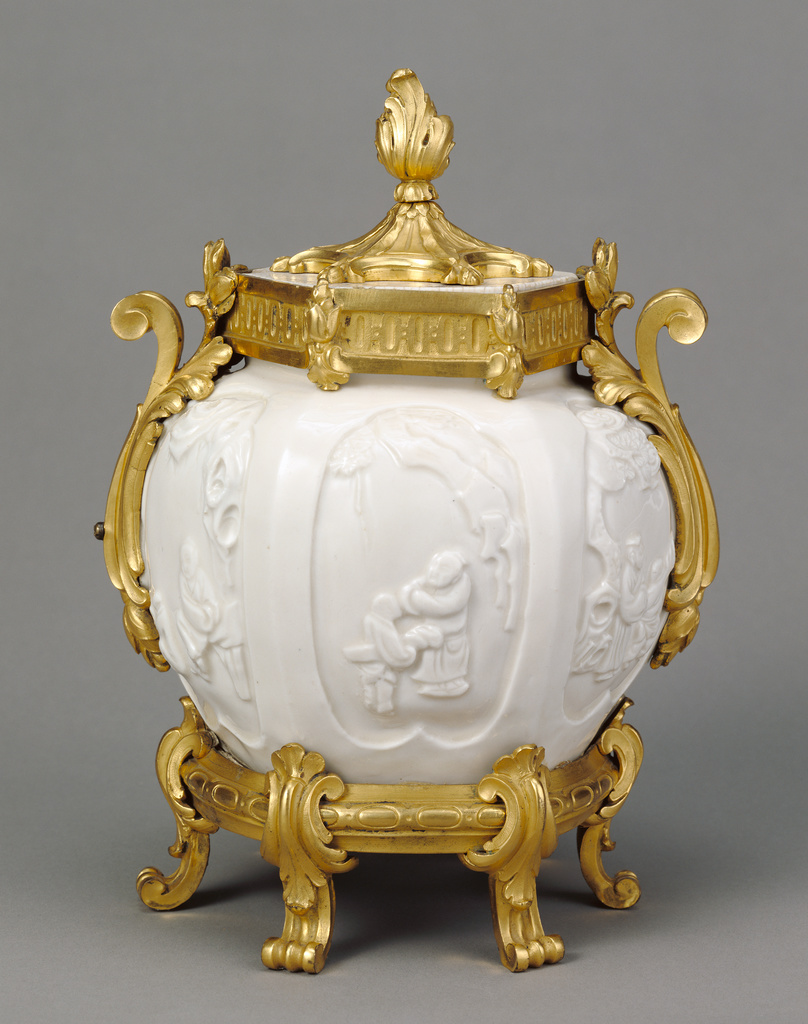 An example, formerly in the collection of King Auguste II the Strong, Elector of Saxony, is presently in the Dresden Porcelain Collection (E., Strober, La Maladie de Porcelaine … East Asian Porcelain From The Collection of Augustus the Strong, 2001, pp. 112-113, no. 48).
A last example, from the Hickley Collection (Singapour), is published by Kerr and Ayers in Blanc de Chine : Porcelain from Dehua (2002, p. 20, fig. 2).
Notice
These hexagonal wine pot, decorated with figures on six side panels, represents one of the two versions of this teapot (the others with flowers). By the early eighteenth century, Staffordshire potters had begun to copy this form. A closely model, with angular exists (Porzellansammlung).