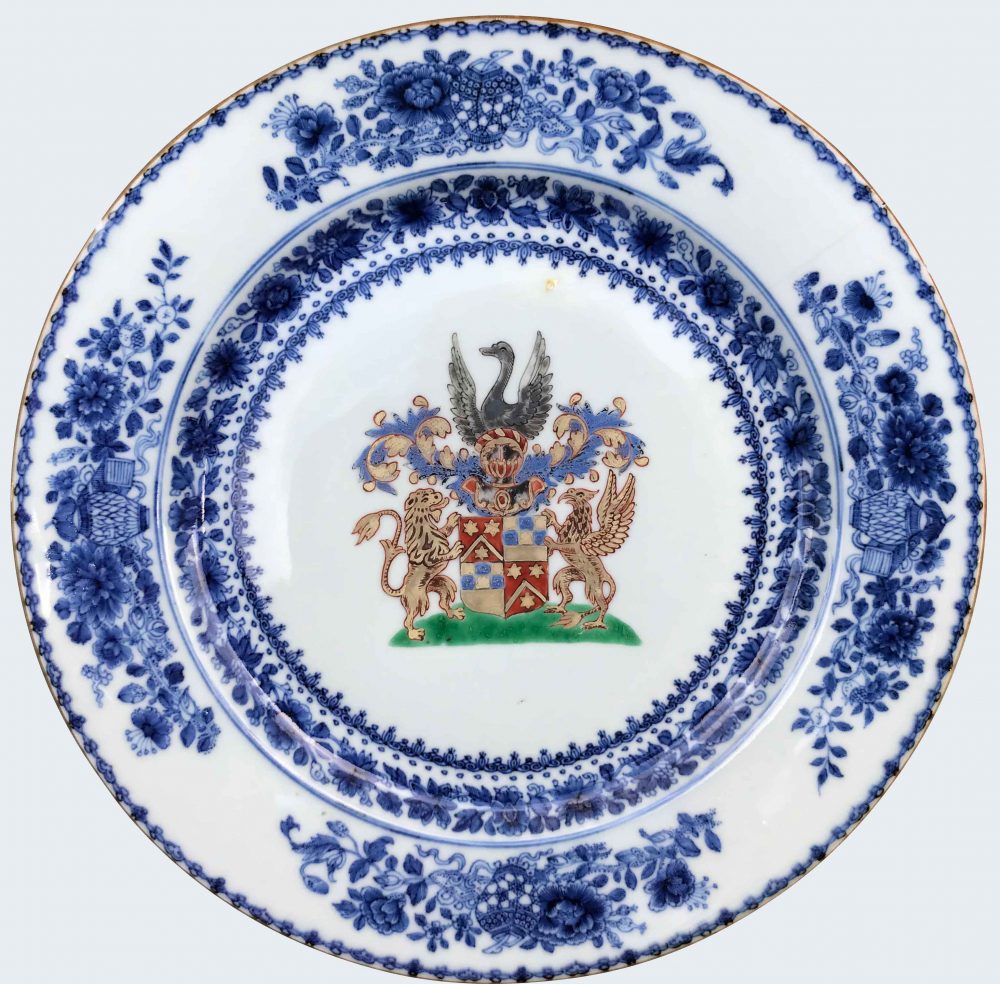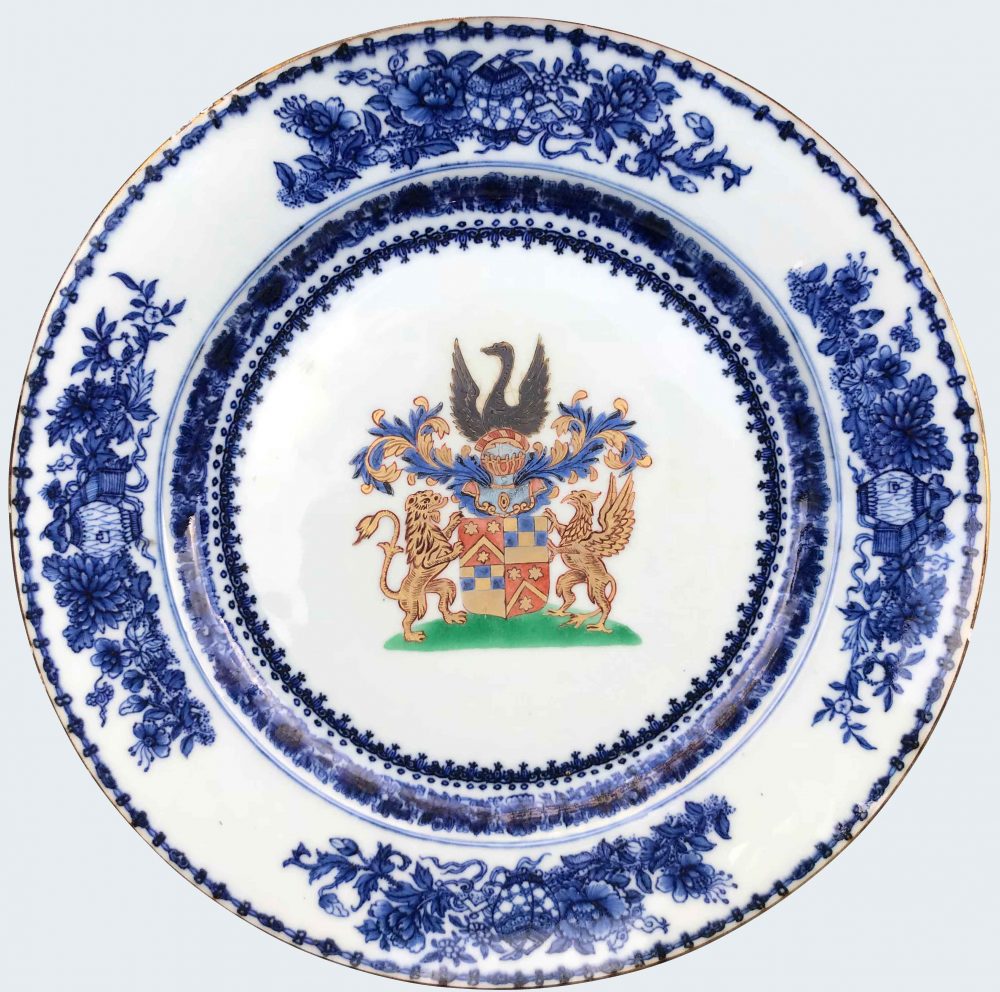 A pair of Chinese export armorial plates for the dutch market (Jonge). Qianlong period.
Painted in the centre with the dutch arms of de Jonge (or de Jongh), heightened in blue and green enamel, iron-red, gilt and silver encircled in the cavetto by an underglaze-blue floral, bead and scroll band, the rim with four precious objects and flower sprays encircled by a chain linked border, the underside with underglaze-blue butterflies and flower sprays after a design by Cornelis Pronk (1691-1759).
Country:

China

Period :

Qianlong (1735-1795), after 1770

Material:

Porcelain

Dimension:

8.66 in. (23 cm)

Reference :

B654

Status:

sold
Related works
A plate from this service, from the collection of François Hervouët (16 boulevard Guist'hau, Nantes), was sold at Sotheby's Monaco, 22 june 1987, lot 738 and is held on at the Musée de la Compagnie des Indes in Lorient (Inv. ML351 C229), published in Cargaison de Chine (no. 130, p. 159), another plate is held on at the Musée Dubouché in Limoges.
Another plate, bequest of J. G. A. N. de Vries (The Hague, 1925) is illustrated by Christiaan J. A. Jörg in Chinese Ceramics in the Collection of Rijksmuseum, Amsterdam (no. 356, p. 304).
Another plate, from the Klatte-De Waal Collection (Overveen, Holland), is illustrated by D. F. Lunsingh Scheurleer in Chinese Export Porcelain, Chine de Commande (p. 263).
Another plate, from the Royal Museum of Art and History of Brussels is published by Christiaan Jörg in Chinese export porcelain. Chine de commande from the Royal Museum of Art and History (Brussels, Hong Kong, The Urban Council et The Hong Kong Museum of art, 1989, n°100) and by Chantal Kozyreff & Henry Maertens de Noordhout in Porcelaines armoriées du Pavillon chinois (Bulletin des Musées royaux d'art et d'histoire de Bruxelles, 1998, t.69, cat.13).
Another plate is illustrated by Arlene M. Palmer in A Winterthur guide to Chinese export porcelain. Catalogue of the Henry Francis du Pont Winterthur Museum, New-York (Crown Publishers, 1976, pl. 2).
A plate, from the private collection of Elinor Gordon, was sold at Sotheby's New-York (23 january 2010, lot 214).
A plate, from the collection of the Doctor Hardouin (Nantes), was sold at the Sotheby's Paris (17 december 2014, lot 466)
Notice
These are the arms of de Jonge (or de Jongh/Yonge), from Middelbourg in Zelande, and come from a large dinner service. This city was, with Amsterdam, Rotterdam, Delft, Hoor and Enkhuisen, the head office of one of the six houses who formed, by their union, the powerful V.O.C. The arms have also been attributed to Chastelein but Jochem Kroes corrects this (Chinese armorial Porcelain for Dutch Market, 2007). The service was made for Cornelis de Yonge (1687-1743) of Middelburg, son of Pieter de Jonge (1644-1709) and Johanna Stevense. His godmother was Henriette Chastelein who bore similar arms. The families were close which explains the confusion. 
Cornelis was a VOC official in Bengal. He sailed east in 1710 in the Schonewal and settled in Bengal where he eventually rose to be senior merchant and first administrator in 1732. He was appointed director of Bengal in August 1743 succeeding Jan Albert Sichterman (who also ordered a service with identical border design to this one). He never married but had three children by two different women who were legitimized in Zeeland in 1744. His son Cornelis was a lawyer in Middelburg and his other son Christiaan was a doctor in Schoonhoven.