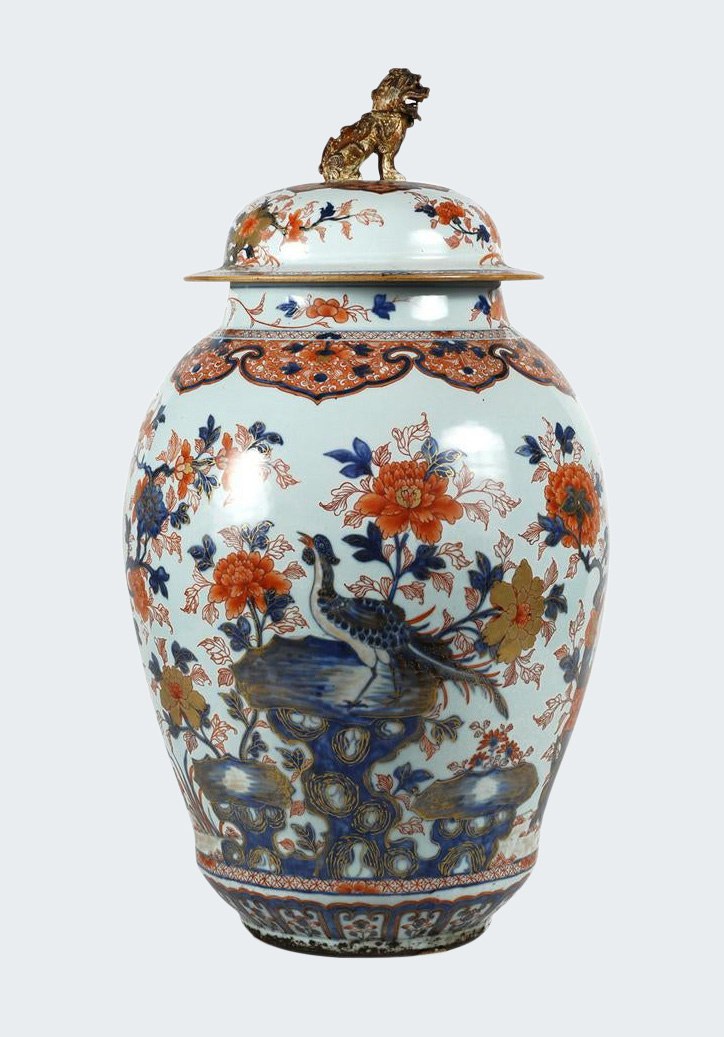 A massive Chinese Imari ovoid jar and cover decorated with pheasants. Early 18th century
Of baluster form, enameled in the imari palette and gilt around the exterior with a continuous scene of a pair of pheasants perched on elaborate pierced rock work issuing branches heavy with flowering peony, pomegranate blossom, chrysanthemum, and peach blossoms between a lappet border around the base and the shoulder with a deep band of pattern-filled, ruyi-head lappets, further flowering plants on the short neck. The domed cover similar decorated is surmounted by a gilded figure of a seated buddhistic-lion.
Country:

China

Period :

Early 18th century

Material:

Porcelain

Dimension:

25.19 in. (64 cm)

Reference :

C342

Status:

sold
Provenance
From a European collection
Related works
For an identical pair of vases and covers (same form, decoration and lion), see Christie's NYC, Fine Chinese Ceramics and Works of Art, 18 september 1997, lot 375.
For an example of this type of jar, without finial lion, and decorated with a phoenix and a quilin, see Regina Krahl and John Ayers, Chinese Ceramics in the Topkapi Saray Museum, vol. III, Qing Dynasty Porcelains, London, 1986, p. 937, no. 2968.
For a very similar pair (with different seated lions), see Christie's London, Export Art of China and Japan – The China Trade Sale, 7 april 1997, lot 86
For another similar pair (with a different seated lions, dated Kangxi ), see Christie's London, Chinese Ceramics, Works of Art and Textiles Part I, 9 november 2016, lot 407 (property of a gentleman).
A pair of (smaller) jar and covers, of bulbous form but with the same decoration, from the collection of August The Strong, are illustrated by Deutscher Kunstverlag in The Dresden Porcelain Collection – Masterpieces – China/Japan/Meissen, 2007, p. 38. (Inv. no. P.O. 5430).
For a very similar pair of vases, from the Benjamin F. Edwards III Collection, see Christie's NYC (20 January 2004, lot 137).