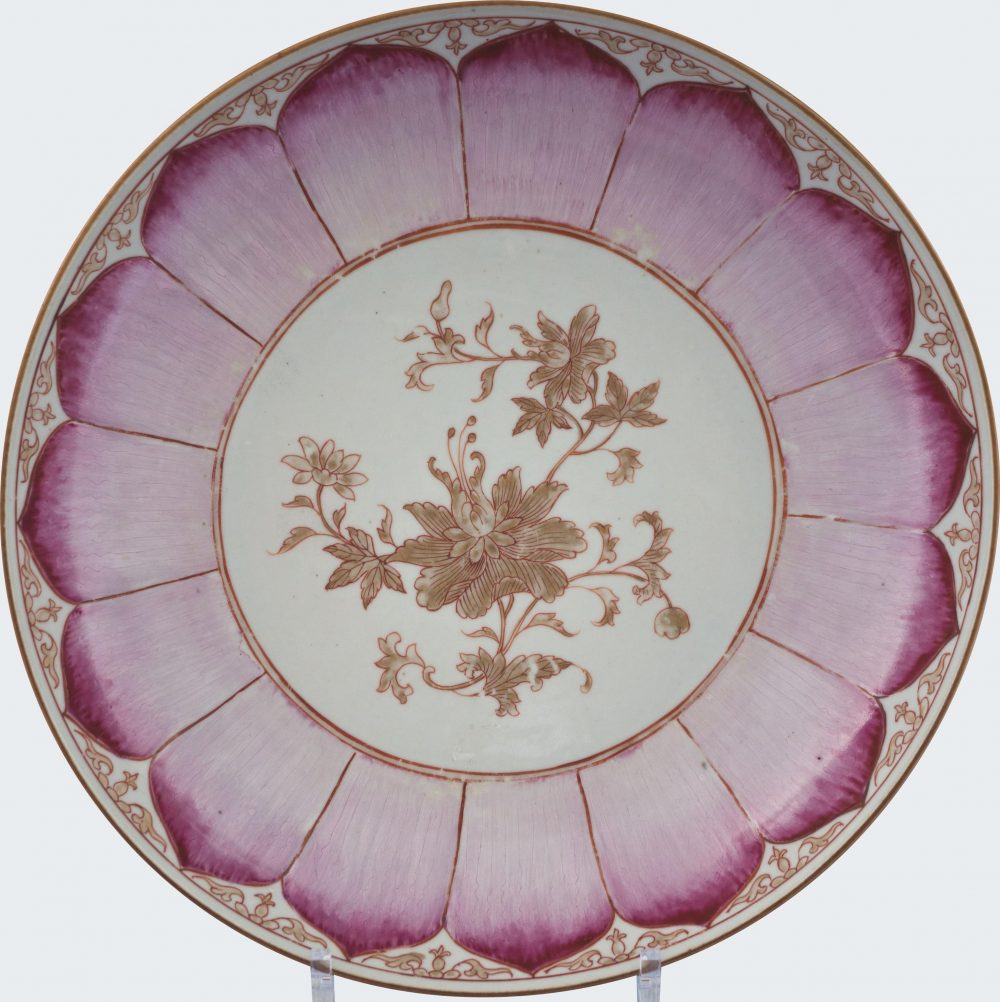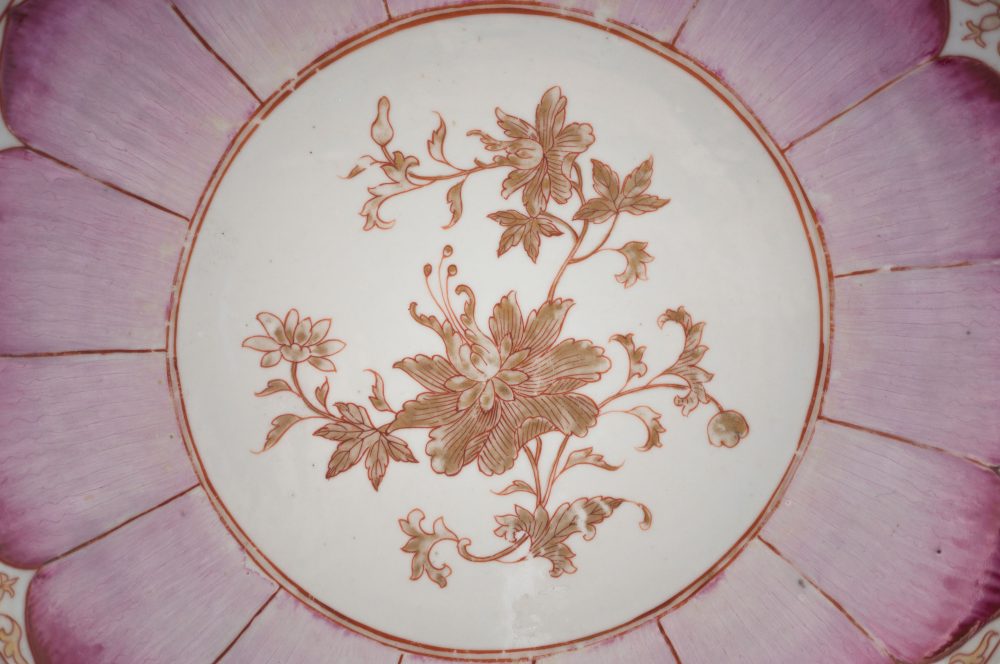 A large Chinese famille rose "lotus" dish. Qianlong period.
Decorated famille rose enamels, with ruby-pink and gold, with narrow band and stylized leaf springs at the rim, hibiscus spray within a central roundel encircled by radiating lotus petals.
Country:

China

Period :

Qianlong (1735-1795)

Material:

Porcelain

Dimension:

30 cm

Reference :

B189

Status:

sold
Provenance
Bonte-Sidden, Vellingen Brugge
Related works
A smaller dish with the same design is at the Reeves Center Collection at Washington and Lee University (USA), illustrated by Thomas V. Litzenburg, Jr in Chinese Export Porcelain in the Reeves Center Collection at Washington and Lee University (2003, p. 68, no. 51).
A teapot is illustrated in The Choice of the Private Trader, The Private Market in Chinese Export Porcelain illustrated from the Hodroff Collection (David S. Howard, 1994, p. 151, no. 163).
A cream jug, a teabowl, one cup and saucer and one teapot with this design are illustrated in Collectiong Chinese Export Porcelain by Elinor Gordon (1984, p. 50, pl. VII).
Another model in Chinese Export Porcelain from the Ethel (Mrs. Julius) Liebman and Arthur L. Liebman Porcelain Collection by Catherine Brawer (1992, no. 119).
A model in China-Trade Porcelain : an Account of its Historical background, Manufacture, and Decoration and a Study of the Helena Woolworth McCann Collection (John Phillips, 1956, pl. 78).
For a large lotus punch bowl, see Christie's London, 4 September 2012, lot 64.
Chocolate and tea services are held on at Melford Hall in Suffolk, captured by the Captain Hyde Parker from the spanish treasure ship Santissima Trinidad off Manila in October 1762.
Two bowls are held on at the Dolmabahçe Palace in Istanbul.
Notice
A symbol for purity in Chinese culture, the lotus flower was a popular feature on export ware by the middle of the eighteenth century. Known in several variations, lotus-petal designs sometimes reflect a Near Eastern influence with the addition of intricate scrollwork.
Note on this particularly fine dish the graduated shading on the lotus petals from the pale pink to the ruby-red.
The lotus petal was used on a similar manner to decorate ware from the « Six Dynasties » period (220-587 A.D.).
This design was always popular during the end of the Qing period (see Christie's NYC, 16 march 2016, lot 1643 for a bowl with the six character seal-mark, or « Imperial Porcelain of late Qing from the Kwan Collection, Art Gallery, The Chinese University of Hong Kong, 13 August – 25 september 1983, p. 131, no. 137).