A very large Chinese blue and white dish decorated with a central medallion. Kangxi period, ca. 1680
Decorated in underglaze blue and a central medallion.
Country:

China

Period :

Kangxi (1662-1722), ca. 1680

Material:

Porcelain

Dimension:

14.96 in. (38 cm)

Reference :

C457

Status:

sold
Related works
An identical dish is in the collection of the Musée Adrien Dubouché (Limoges, gift Dubouché 1870). it was exhibited and published at "L'odyssée De La Porcelaine Chinoise – Collections Du Musée National De Céramique et du Musée National Adrien Dubouché, Limoges, RMN, 2003, no. 54, p. 122.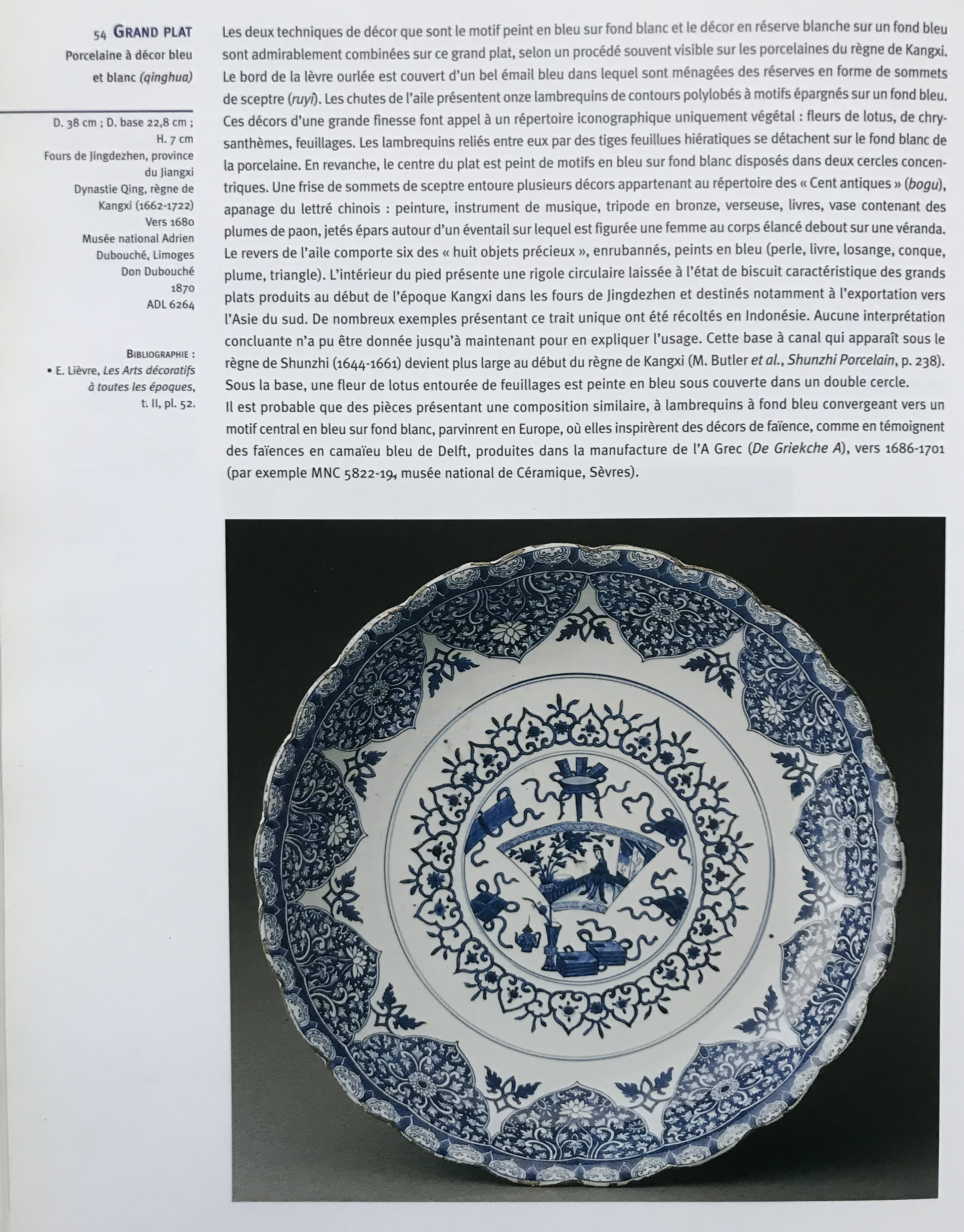 Notice
Both decorative techniques, namely blue painting on a white background and white reserve decor on a blue background, are beautifully combined on this very large dish. They are associated on this dish according to a process often seen on Kangxi porcelain.
The edge of the rim is decorated with underglazed blue in which ruyi scepter's heads are left in reserve. The edge is decorated with eleven pelmets (lambrequins) embellished with motifs left in reserve white-on-blue.
Those highly delicate decorations employ an iconography based on a vegetal vocabulary only: lotus flower, chrysanthemum, foliage. The pelmets are attached together by hieratic deciduous stems and set against the porcelain's white background. However, the center of the dish is painted with blue motifs concentrically organized. A frieze made of ruyi scepter's heads surrounds several decorative motifs belonging to the "hundred antiquities" (bogu), prerogatives of the Chinese scholar : painting, musical instrument, bronze tripod censer, jug, books, vase holding a peacock feather are arranged around a fan on which a woman standing in a veranda is depicted. An elongated female figure is standing in a veranda.
The back of the dish shows six of the eight precious objects wrapped in blue color (pearl, book, diamond shape, conch, feather, triangle). The internal face of the foot presents a circular gutter left as biscuit, which is a characteristic feature of the large dishes made at the beginning of the Kangxi period (1662-1722) in the kiln of Jingdzehen which produced objects made for exportation towards South Asia.
This decorative type, namely pelmets (lambrequins) on a blue background converging toward a central blue motif on a white background (this dish is one of the most glossy one ever seen) inspired the famous decors of Delft, Rouen or Paris faience when they reached Europe.