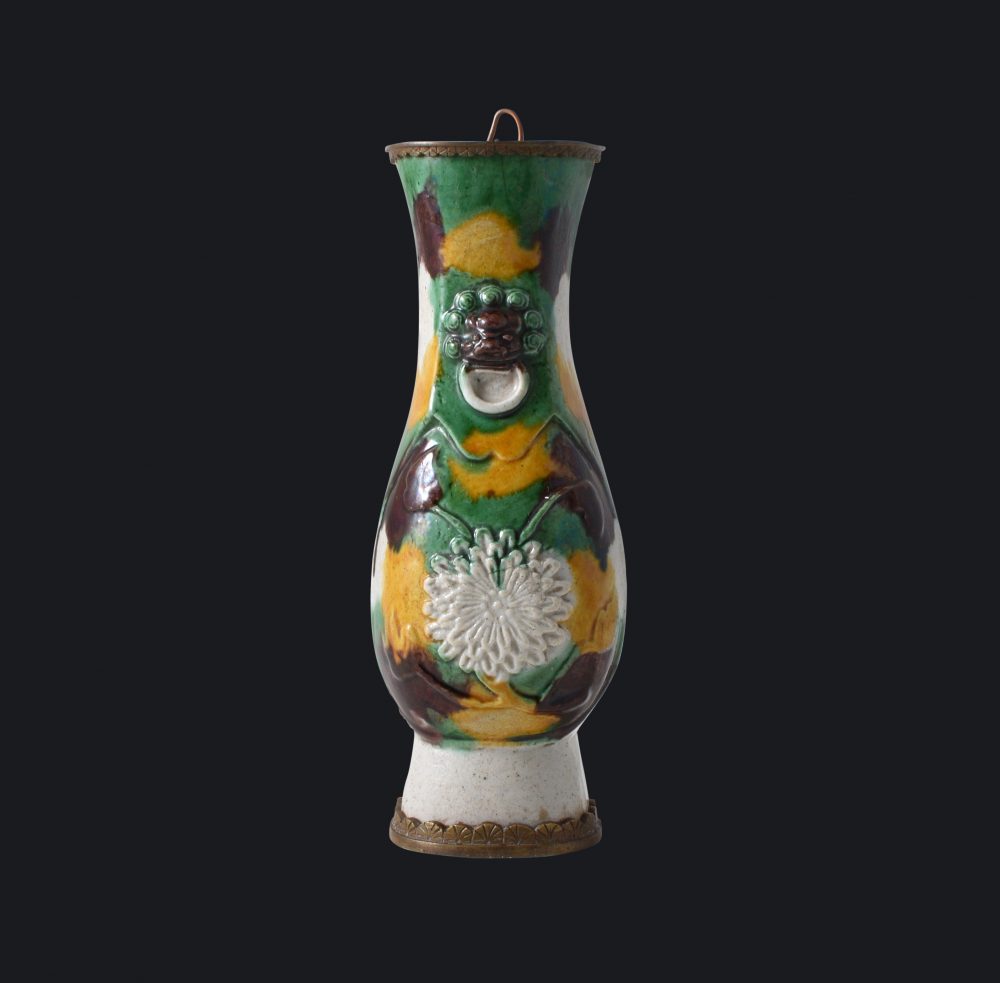 A Chinese wall vase decorated with famille verte enamels on the biscuit. Kangxi period
A hollow, baluster-shaped wall vase, with a rounded body, a tall foot ring, a flat back and small hole at the top for hanging. It has been decorated with an applied chrysanthemum flower in the center and applied monster mask at the neck. The front painted with yellow, green, and aubergine-purple enamels in the "egg-and-spinach" pattern, while some areas of the front, the flat back and foot ring are painted with a thin, clear glaze. The mounts signed "Appay Paris".
Country:

China

Period :

Kangxi (1662-1722)

Material:

Porcelain

Dimension:

6.10 in. (15.5 cm)

Reference :

C573

Status:

sold
Related works
For a very similar pair of wall vases, see Jorge Welsh, Biscuit: Refined Chinese Famille Verte Wares, 2012, pp. 110-111, no. 23.
For a similar pair of wall vases, see Vanderven Oriental Art, Enamel on Biscuit Porcelains, 2015, pp. 54/55, no. 20.
Several similar vases are also in the Burrell Collection (Glasgow, 38.1003 – 38.1007).
Notice
Wall vases were usually made in pairs, often in a baluster or gourd shape. They were designed to hang on the wall and hold flowers. The Chinese word for vase is ping. which is a pun for peace. Vases were often given as gifts. Several large wall vases can be seen hanging on the wall of a studio in the Palace Museum in Beijing.
This distinctive decoration is created using splashed sancai (three color) glazes – yellow, green, and aubergine-purple. – often referred to in the West as "Egg & Spinach". This name probably came about because of the typical and recognizable color combination. In China this decoration is known as the hupiban (tiger-skin) pattern.
Flower appreciation and arrangement, were typical pastimes amongst the educated classes in China. Small sophisticated arrangements would have been common in the scholars studio, as miniature representations of nature. Wall vases such as this one, were considered practical as they could be hung on the wall, therefore taking up less space on the scholar's desk.