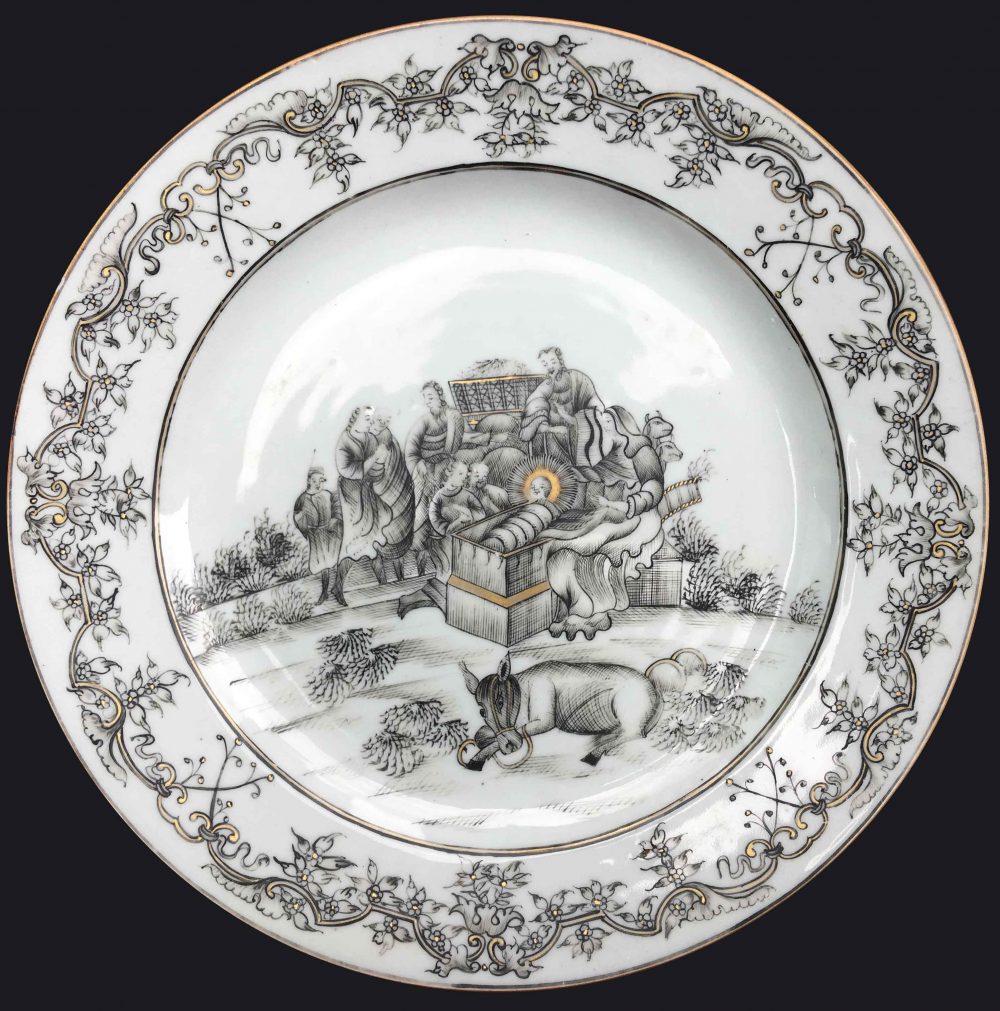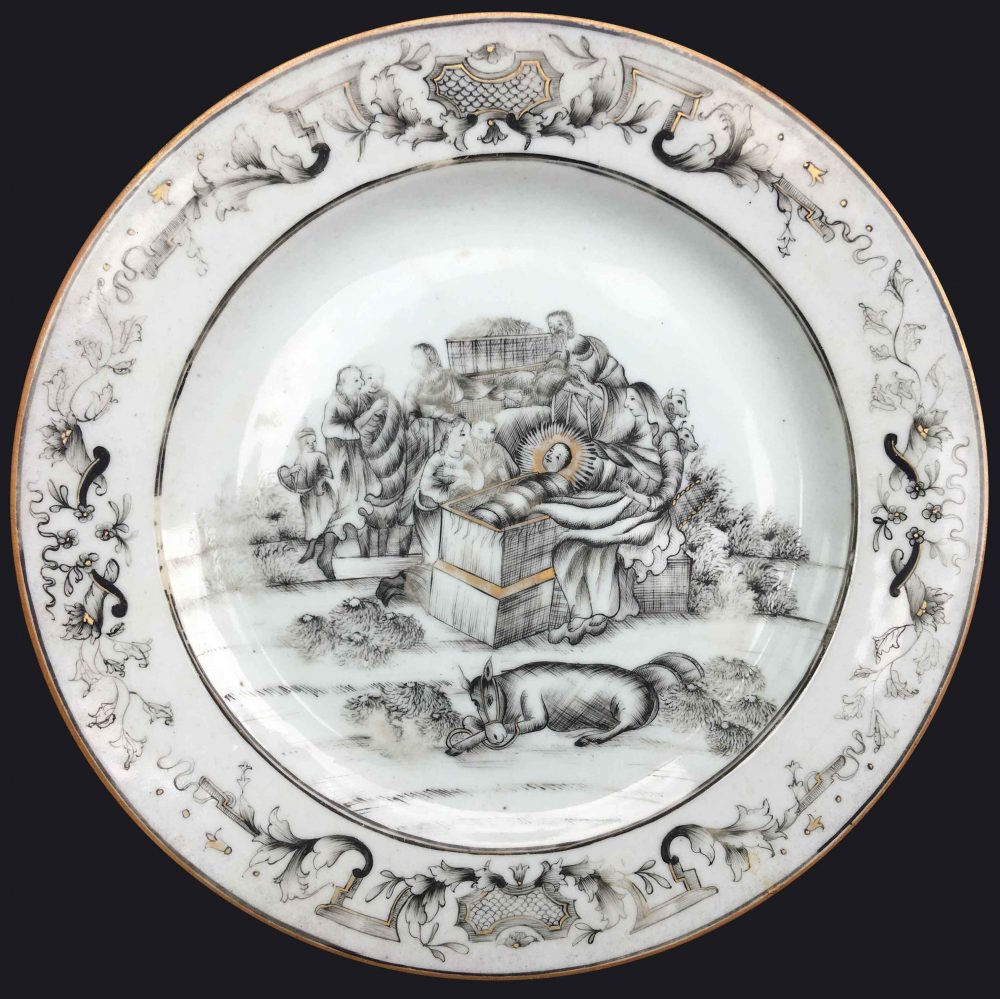 A Chinese pair of "en grisaille" plates decorated with the adoration of the shepherds. Qianlong period.
Decorated in Chinese ink (en grisaille) and with gold highlights on some details, at the centre with Mary, Joseph and the Three Shepherds surrounding the baby Jesus in a crib, a donkey asleep in the foreground. Two differents borders are painted with tendrils, flowers, leaves berries and floral garlands, typical of Viennese Du Paquier porcelain style.
Country:

China

Period :

Qianlong (1735-1795), circa 1740

Material:

Porcelain

Dimension:

8.66 in. (22.5 cm)

Reference :

A56

Status:

sold
Related works
Pieces with this decoration are known in severals museums and private collections as : the Metropolitan Museum of Art (NYC), the British Museum (London), the Rijkmuseum (Amsterdam), the Nogueira da Silva Museum (Braga), the Musée de la Compagnie des Indes (Lorient), the Musée Adrien Dubouché (Limoges), The RA Collection (Brazil), The J.Louis Binder Collection (Christie's London, 17 June 2003, lot 87), the Minneapolis Institute of Art (USA), the Reeves Center Collection (USA), the Sao Roque Museum (Lisbon) and the Alexandre Fernandes Collection (Lisbon).
Notice
This scene of Christ's birth comes from a New Testament illustration (Luke 2: 16-17) by Dutch artist Jan Luyken (1649-1712), identified by Jörg. Most likely an engraving of the design was sent by ship to China, where this plate was made for the Dutch market.
In addition to the Nativity, Chinese painters adapted Luyken's illustrations of the Crucifixion, Resurrection, and Ascension for various export goods. As Hervouët and Bruneau note, the curious object in the center background is probably a large harvest basket filled with fruits.The presence of the slumbering donkey, while the adoration is taking place, is a clear anti-semitic reference. The subject is known surrounded by a variety of borders, and also with polychrome enamels (see Quinta das Cruzes Museum, Funchal).
Bibliography :
Beurdeley, M., Chinese Trade Porcelain, 1962, cat. 225.
Brawer, C., Chinese Export Porcelain from the Ethel Liebman and Arthur L. Liebman Porcelain Collection, 1992, no. 108.
Gordon, E., Collecting Chinese Export Porcelain, 1997, pl. X.
Hervouët F. & N.; Bruneau, Y., La porcelaine des Compagnie des Indes à décor Occidental, 1986, no. 11.12.
Howard, D., Ayers, J., China for the West : Chinese Porcelain and others Decorative Arts for Export illustrated from the Mottahedeh Collection, 1978, vol. I, nos. 305.
Jörg, C, Chinese Ceramics in the Collection of the Rijkmuseum, Amsterdam: the Ming and Qing Dynasties, 1997, no. 322.
Le Corbeiller, C., China Trade Porcelain : Patterns of Exchange, 1974, fig. 29.