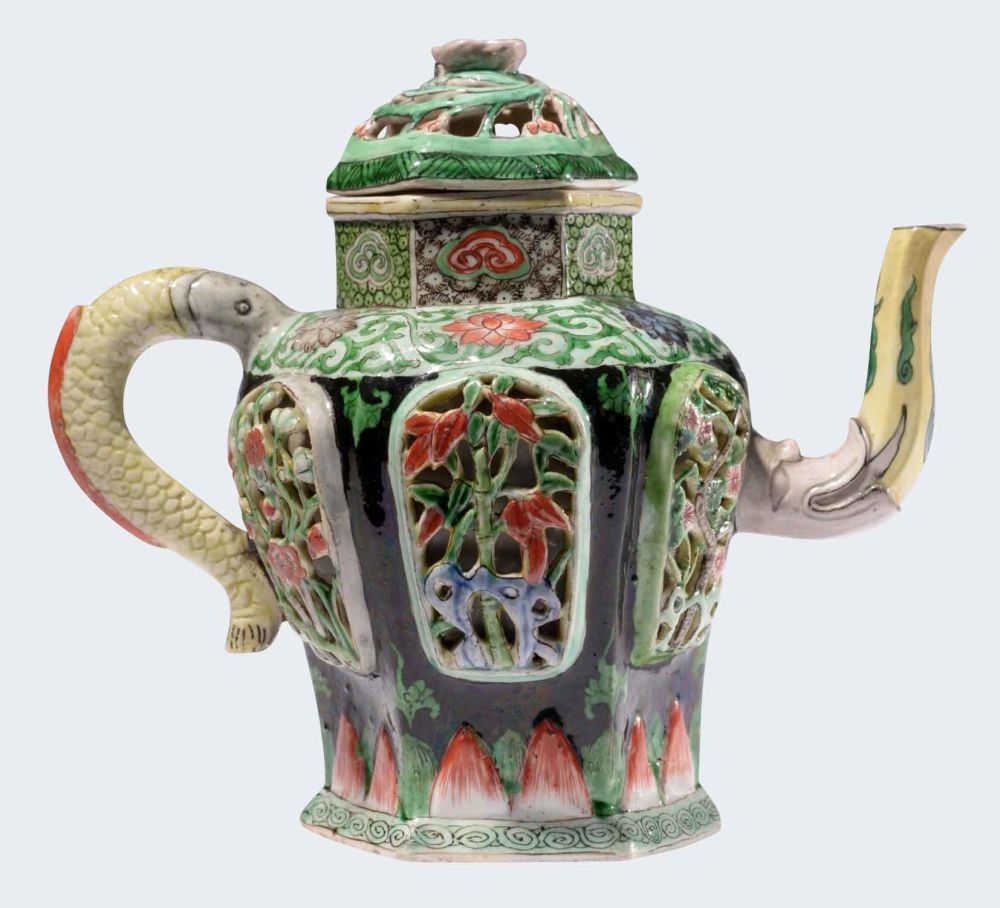 A Chinese linglong famille verte biscuit black-ground wine ewer. Kangxi period.
Each side has three molded and reticulated panels containing prunus, pine, and bamboo (The Three Friends of Winter), reserved on a black-enameled ground, between lappets below and lotus scroll on the shoulder, all between the fish-form handle and upturned spout. The molded and reticulated cover is decorated with further prunus blossoms.
Country:

China

Period :

Kangxi (1662-1722)

Material:

Porcelain

Dimension:

6.29 in. (16.5 cm)

Reference :

B672

Status:

sold
Related works
For a very similar wine ewer, from the collection of the Metropolitan Museum of Art of New-York (formerly in the Mary Clark Thompson (1835-1923) Collection, accessioned in 1923), see Christie's NYC, Collected in America: Chinese Ceramics from The Metropolitan Museum of Art, 15 September 2016, New York,  lot 882 (sold 10.000 USD).
Another model is publihed by Thomas V. Litzenburg, Jr in Chinese Export Porcelain in the Reeves Center Collection at Washington and Lee University (2003, p. 59, no. 42).
Another model, from the Ex. C. L. Paget Collection is illustrated by Soame Jenyns in Later Chinese Porcelain. 
Another model, from the Peabody Essex Museum, is illustrated in Chinese Export in North America, p. 119, no. 177.
Another model is published in The Clare van Beusekom-Hamburger Donation: earthenware and porcelain from the 16th-18th centuries.