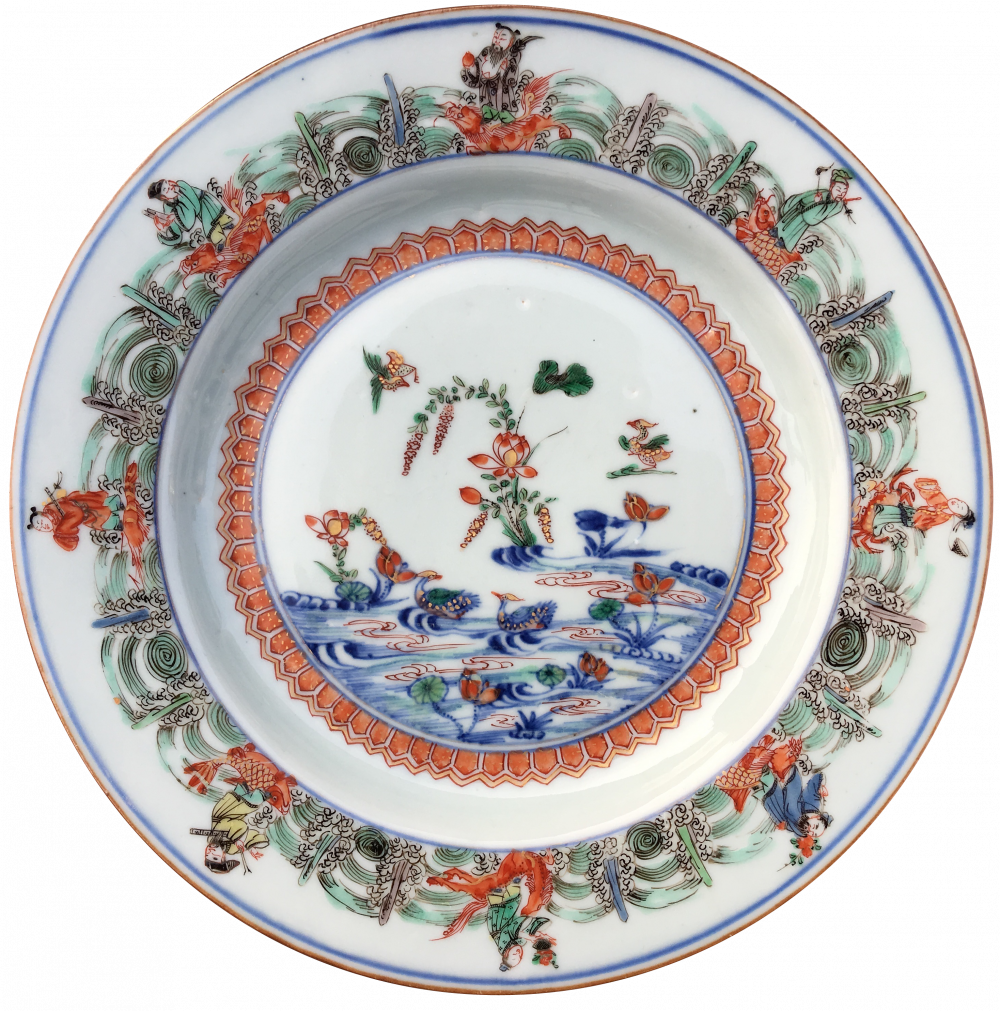 A Chinese famille verte "mandarin ducks" dish. Kangxi period
Painted and gilt with a central medallion depicting mandarin ducks in a lotus pond, within a border of the Eight Daoist Immortals riding upon mythical beasts amongst foaming waves.
Country:

China

Period :

Kangxi (1662-1722), circa 1720

Material:

Porcelain

Dimension:

9.84 (25.5 cm)

Reference :

B338

Status:

sold
Related works
An identical dish, from the collection of Samuel Putnam Avery Sr., purchase by subscription in 1879, is in the collection of the Metropolitan Museum of New-York (accession number 79.2.1288).
Another one, from the collection of the China Trade Museum (Milton, USA), is illustrated in the catalogue of the exhibition Yang-ts'ai, the foreign colors : Rose porcelains of the Ch'ing dynasty (February 12 through June 27, 1982).
A plate is illustrated in Yamanaka & Company – Collection of Chinese and Other Far Eastern Art Assembled by Yamanaka & Company, Inc. Now in Process of Liquidation Under the Supervision of the Alien Property Custodian of the United States of America, New York : John B. Watkins, Co., 1943, no. 997.
For an identical plate, see Christie's London, Chinese Ceramics and Works of Art, 14 november 2003 lot 299.
For a pair of plates, see Christie's London, 7 november 2012, lot 650.
Notice
The Kangxi green palette plate follows upon the tradition of Ming five-color ware (wuçai). However, to the tradition Ming colors, including underglaze blue, overglaze blue enamel was added – a discovery made in the last decades of the  Kangxi reign -on the border of this plate. A very similar pattern was painted during the Yongzheng period (1723-1735).