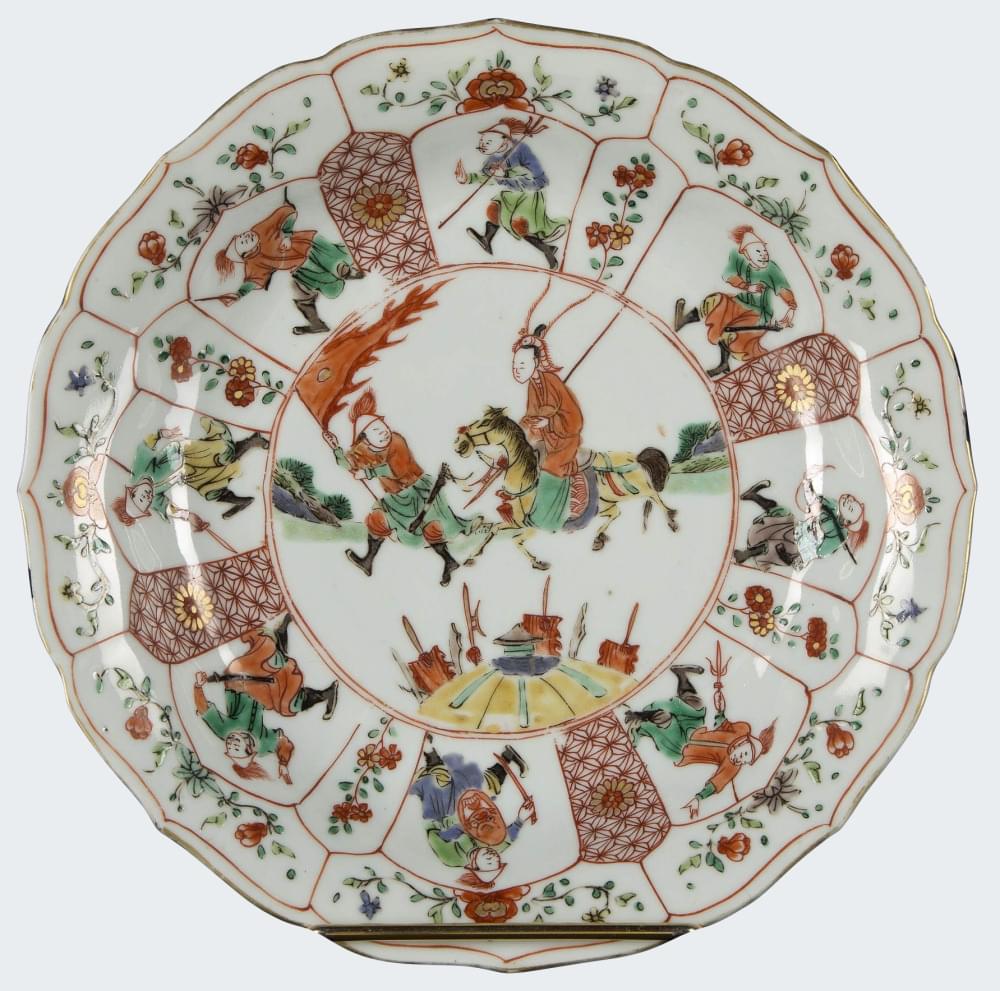 A Chinese famille verte dish with the figure of Mu Guyiying. Kangxi period.
Painted in the famille verte palette, with wide and narrow lotus-shaped panels in low relief on the sides, and an everted scalloped rim, with a woman with long feathers in her hair on horseback, a soldier with a flag on foot and the upper half of a tent in the foreground. The panels filled with a running soldier, a flower sprig or a flowerhead on a crackled-ice ground. On the revers two flower sprays.
Country:

China

Period :

Kangxi (1662-1722)

Material:

Porcelain

Dimension:

21,5 cm

Reference :

A104

Status:

sold
Related works
Six dishes with this design are in the collection of the Groninger Museum in The Netherlands (inv. no. 1945-159). Another dish is in the collection of the Rijksmuseum in Amsterdam (illustrated in the catalog of the collection).
Notice
The woman is Mu Guyiying, wearing the long feathers of a military commander ; the soldier with the large flag and the military tent are further indications that the scene is taken from the Yang-jia-jiang Yanji (The command troops of the Yang Ye Family) attribued to the Ming author Yong Damu. The story tells how Mu Guiying, of low birth, is determined to marry the sixth son of Yang Ye, one of the Song's Emperor's most esteemed generals who was betrayed by court officials and died while fighting the invading Khitan tribes. The girl was denied her wish, but she captures the son, Yang Zhongbao, and will not let him go unless he agrees to marriage. Her martial skills earn her much respect and eventually, when the men of the Yang Family have been defeated in battle, she successfully leads an army of female warriors against the Khitan Liao invasion in the north.