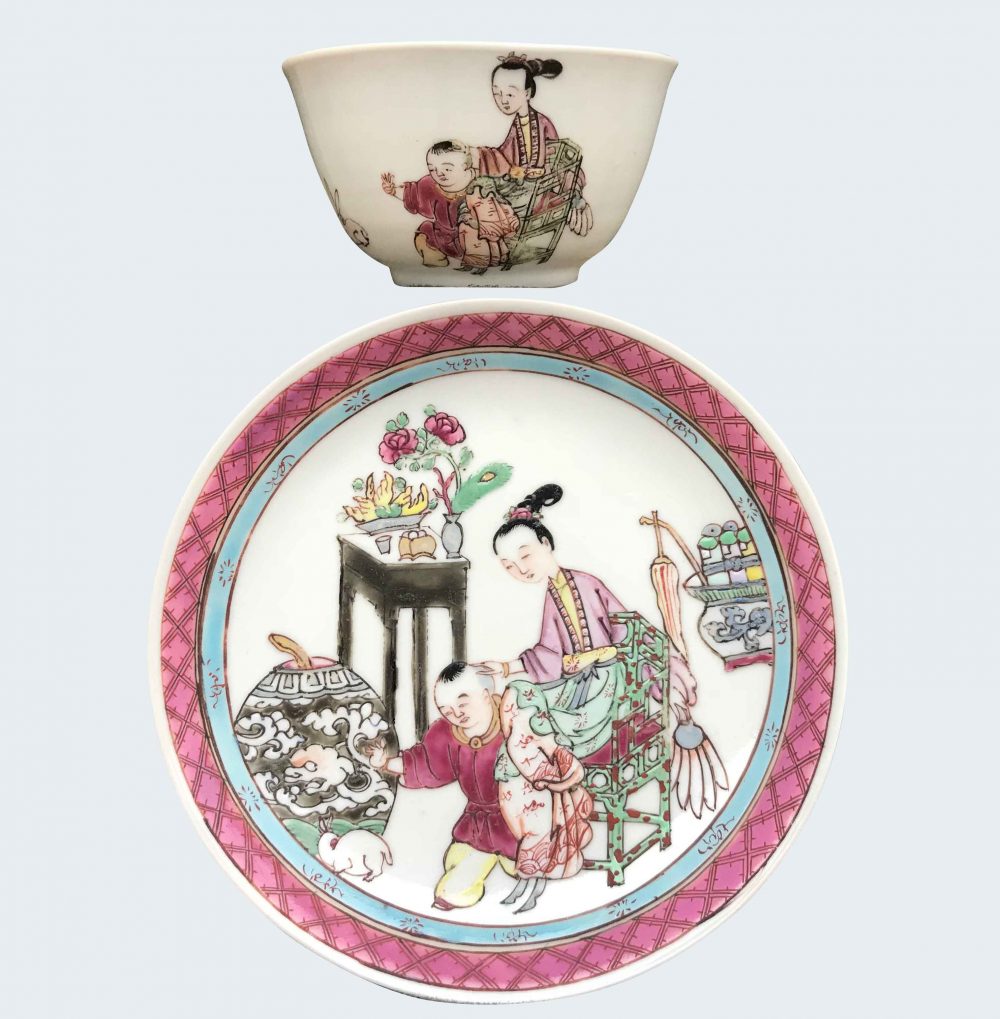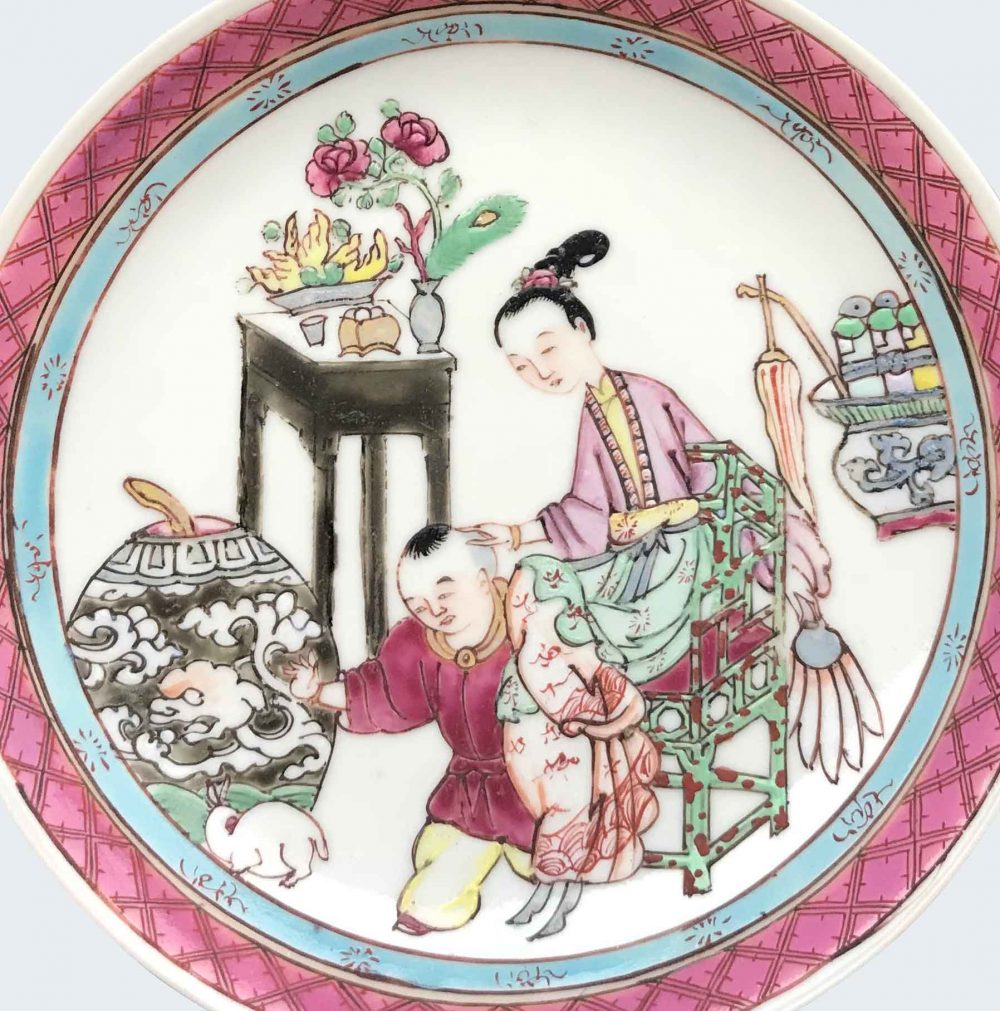 A Chinese famille rose tea bowl and saucer from the Anton Dreesmann Collection. Yongzhzeng period
Enamelled in the famille rose palette on the semi-eggshell porcelain with an elegant lady seated on a chair and a young boy who is reaching out for his pet rabbit, beside a tall table with a bowl of finger citrus and a vase of flowers, the rabbit crouching beside a large dragon jar, all within a pale blue narrow band and a band of pink diaper at the rim.
Country:

China

Period :

Yongzheng (1723-1735)

Material:

Porcelain

Dimension:

4.92 in.

Reference :

C131a

Status:

sold
Provenance
Christie's London, The Anton Dreesmann Collection, 10 April 2002, lot 406
Related works
For a very similar tea bowl, see Ausstellung Chinesischer Kunst, 1929 (exhibition catalogue in Berlin).
Notice
A national figure in Holland, Dr Dreesmann (1923-2000) uniquely combined a business career, an Economics professorship and a passion for collecting. Dr Anton C.R. Dreesmann left a remarkable legacy in Holland that is still influential throughout the country. On his 75th birthday he founded the Anton Dreesmann Instituut voor Infopreneurship at the University of Amsterdam's Economics Faculty. Like his earlier generous gift to the Mauritshuis in The Hague, this aptly expressed his approach to life. The grandson of the co-founder of the department stores Vroom and Dreesmann, he was a true polymath: a tycoon who created Vendex International, an international business empire; an extremely well-read scholar who taught economics at the University of Amsterdam; and a passionate, wide-ranging collector of pictures and drawings, furniture, glass, silver, Chinese export porcelain and works of art. This distinguished tycoon had a secret weapon: an unerring, almost photographic memory. He read maddeningly fast and retained what he learnt (at university he read law and then economics). He swiftly acquired deep knowledge in the different fields of his interests. He brought fresh energy and insight to a tradition established by his grandfather, who collected on a modest scale, and his father, Willem, whose splendid collection of works of art, including a whole section particularly related to the city of Amsterdam, was dispersed in 1960.Nowhere was this more evident than in his home hidden in the woods in Amsterdam's residential suburb of Laren. Each work of art had its place. The dining room, for instance, was surrounded by cabinets displaying his magnificent glass, silver and Chinese porcelain. He could recall precisely how and when he acquired each object. A man not given to unnecessary words, he could be an inspiring conversationalist for those who shared his interests. Possessing strong principles, he had a weakness for beautiful works of art. He considered expensive clothes and conspicuous consumption a waste of money – but for a rare object he was prepared to pay. The library was full of books on art, literature, philosophy and World War II – a reference library of some 10,000 volumes which provides a telling insight into his passion for information and for background detail about everything he collected. In parallel, he assembled a choice collection of antiquarian books, starting with topographical works on Holland or archetypal Dutch publications of the 17th and 18th centuries, then developing into travel (a complete set of Cook's Voyages), science (a fine 2nd Basel edition of Copernicus and several editions of Euclid's Geometrica, 1482 and 1594) and economics (Malthus, Ricardo and Smith).