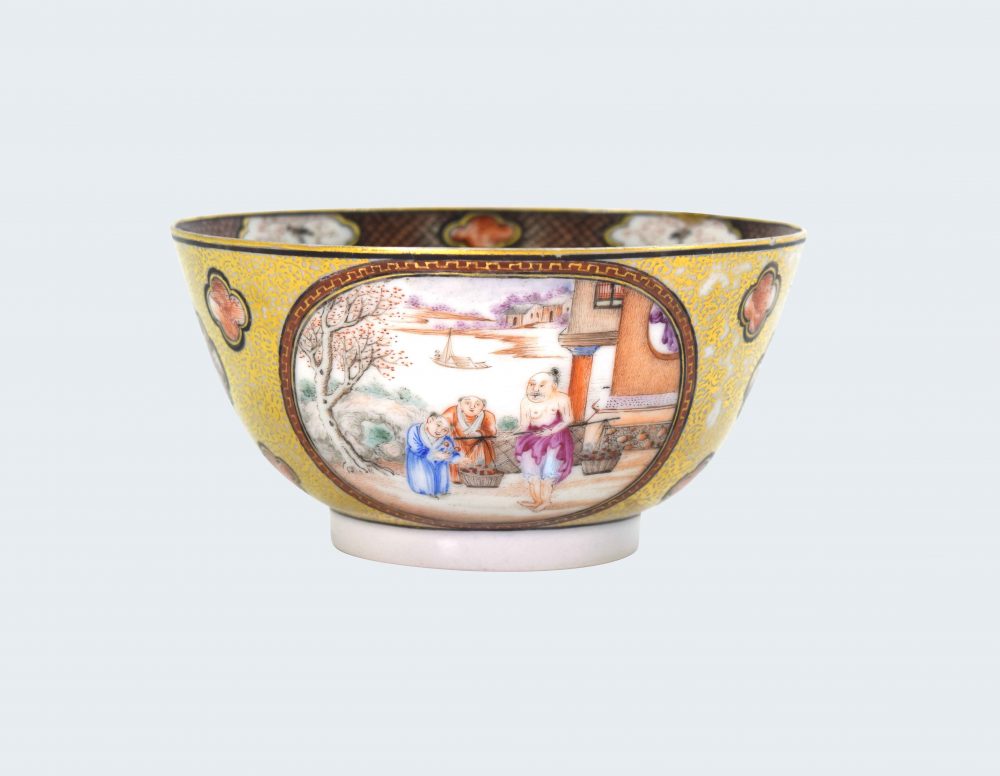 A Chinese famille rose "Rockefeller" bowl (Palace ware). Late Qianlong/early Jiaqing period
Decorated in the "Rockefeller Pattern", with a Mandarin scene – each one always unique – a diapered border, with a band of finely detailed gilded scrollwork with landscape reserves.
Country:

China

Period :

Late Qianlong (1736-1795), circa 1790-1800

Material:

Porcelain

Dimension:

4.33 in. (11 cm)

Reference :

B910a

Status:

sold
Related works
For a large part dinner, property of Mr. and Mrs. David Rockefeller, see Sotheby's NYC, Chinese Export Porcelain, 14 october 1993, lot 79 and next lots.
A tea service is in the Reeves Collection at the Washington and Lee University.
For another dinner service, from the descendant of John Roberts of Bonington, Hertford (1739-1810), who served as a Director of the Honourable East India Company for four terms from 1764 to 1808), see Sotheby's, 26 january 1984, lot 126.
Notice
During the last decades of the 18th century, a new taste emerged in Europe among the newly-rich commissioning and buying Chinese export porcelain to decorate their houses and accompany entertaining their guests. This reflected the revolutionary effect on European society of the new fascination for Neo-Classical art, following the publication of immensely influential archaeological reports of excavations in the mid-18th century on the early Italian sites at Herculaneum and Pompeii.
This was an interesting late development in the history of the effect of the China Trade on European design and social behaviour. It marked the way in which it was by then completely standard procedure to send out designs for patterns to be painted onto porcelain in China, whether using an owner's own watercolour or bookplate (invariably used for armorial porcelain commissions) ; and in the actual use and form of the shaped pieces which came back on the East India Company ships each year. It was now specific Western demands which very much drove the forms of porcelain returning to Europe from China; potted in Jingdezhen, Jiangxi Province, and mostly enamelled there but apparently with an increasing amount enamelled in Canton on the plain white 'blanks' sent overland from the kilns.
The present service reflects this spirit of innovation at the end of the 18th century, before the vicissitudes of war would interrupt the China Trade. From about 1790, silver specie (the preferred currency medium of the China trade) arrived in Canton in far smaller quantities from Europe, because anti-Napoleon war campaigns would draw much of it for military needs. In Europe, many potters seized the opportunity afforded by increased demand without Asian supply. They ramped up production of novel ceramics, featuring improved bodies and transfer printing techniques generated by decades of ceramic experimentation during the 18th century Industrial Revolution. A dinner service like the present handsome and impressive lot is the last fling of a splendid industry in China. The Export trade could still provide higher-quality and better value porcelain dining wares to someone living in London than any English 'fine porcelain' factory.
The present service was extraordinarily expensive to order in its day. It features a design loosely known as "Palace ware" (a term used by the generation of collectors in New York, Boston and Philadelphia in the 1930's because of the quality of the gilding), or "Rockefeller pattern". This is not an 18th century name, but it reflects the fact that a very handsome and extensive service of this pattern was once owned by the distinguished American collector John D. Rockefeller Jnr. The sobriquet became accepted terminology when approximately forty pieces from the estate of his son, Nelson A. Rockefeller, were sold at Sotheby's (20 november 1980, lot 565-582). The meticulous painting-each piece has its own unique scene-and its elaborate gilded scrolling borders, these wares were from special order services and represent the best quality of the China Trade of the period. The essence of the design is large central panels of standardised Chinese families disporting themselves on fenced terraces, often clearly family groups. These cartouches are reserved on rich backgrounds elaborately gilt with trellis and other complicated repeating patterns.
A small number of very fine services were ordered between 1790 and 1800 by the families of Drummond, Bonington or Stirling of Keir, in particular by Andrew John Drummond, who was a General in the East India Company and visited Canton in the 1790's.
Bibliography :
Lloyd-Hyde, J.A., Oriental Lowestoft, Newport, 1964, pl IX no 16.
Howard, David S. ; Ayers, John, China for the West, Vol. II, 1978, pp.188-189.
Fuchs, Ronald, Export Porcelain from the Leo and Doris Hodroff Collection at Winterthur, Winterthur, 2005, p.99, no.57.
Burdeley, Forbes & Godden had also illustrated pieces with this pattern.
Howard, David S., The Choice of the Private Trader, p. 139, no. 147.