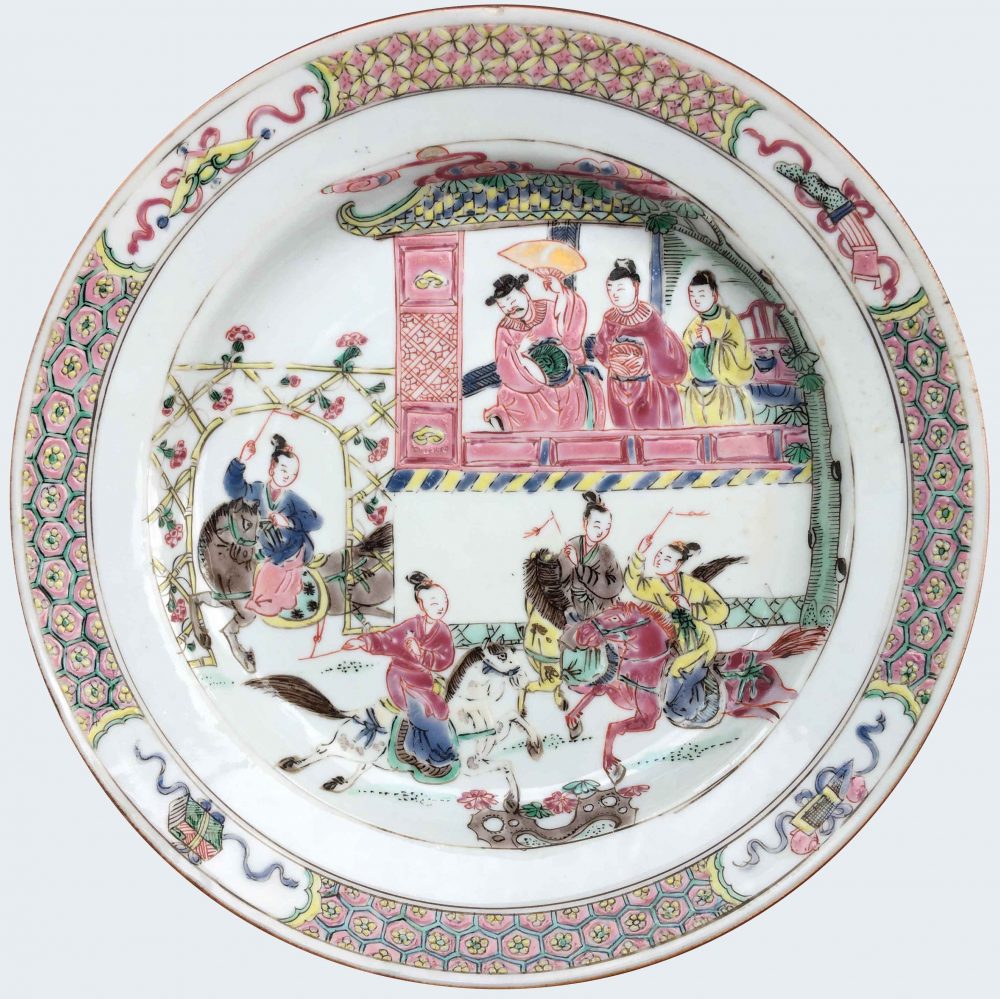 A Chinese famille rose plate decorated with The Generals of the Yang family. Yongzheng period.
Enamelled in the famille rose palette and gilt, with a scene of the Yang Jia Jiang Yanyi (The Generals of the Yang Family), with six female warriors on horseback in a garden being watched by a dignitary and attendants on a pavilion balcony, the rim with a band of cell and trellis-pattern and reserved with six ribboned emblems in cartouches.
Country:

China

Period :

Yongzheng (1723-1735)

Material:

Porcelaine

Dimension:

8.66 in. (22 cm)

Reference :

B483

Status:

sold
Related works
A dish from the collection of the Metropolitan Museum of Art of New York (gift of Samuel Putnam Avery Sr., New York, accessioned in 1879), was recently sold by Christie's (Collected in America : Chinese Ceramics from The Metropolitan Museum of Art, 13-22 september 2016, lot 1917, lot 1917).
Notice
The center of this dish bears a design known as « The generals of the Yang family ». The center appears to show Mu Guying and five others of the Yang widows preparing for battle.
The Yang family was celebrated in the Northern Song dynasty (AD 960-1127) for their military prowess and loyalty to the Emperor, and for many years they were successful in protecting China from northern invaders. Eventually, however, the majority of the male members of the Yang family were killed by the invading Khitan Tartars. In order to avenge their husband's deaths and in defense of their country, the women of the family took up arms and are shown here practicing their equestrian skills prior to riding out to meet the enemy.
This design appears to have been popular from about 1715-1735, at a time when extremely fine quality porcelain was produced. Dishes with this design and from this period are found decorated in the famille verte, famille rose-verte or famille rose palette. Famille rose-verte dishes with this design were known to have been amongst those in the vast collection of August the Strong (see F. Reichel, Die Porzellansammlung Augusts des Starken, Dresden, 1993, no. 21).