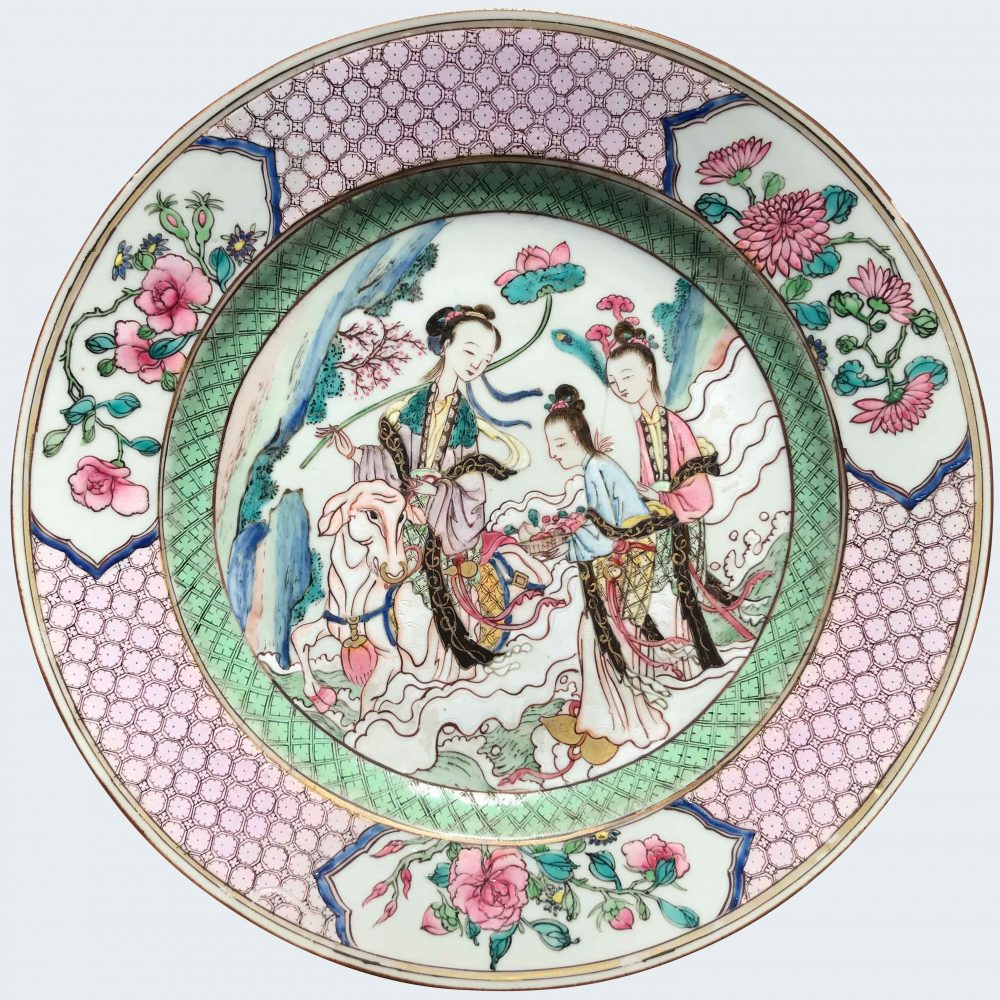 A Chinese famille rose plate decorated with a lady riding a buffalo. Yongzheng period
Enamelled in the famille rose palette and gilt with a lady carrying a lotus stem and riding a buffalo over turbulent wares accompanied by two ladies attendants, one bearing a basket of peaches, all within a pale pink cell-pattern border with floral cartouches.
Country:

China

Period :

Yongzheng (1723-1735), circa 1735

Material:

Porcelain

Dimension:

8.66 in. (23 cm)

Reference :

B900

Status:

sold
Related works
An identical plate, from the Martin-Hurst Collection, is illustrated by C. Williamson in The book of famille rose, London, 1927, pl. XLIX.
A plate, from the Hodroff collection is illustrated by David S. Howard in The Choice of the Private Trader, The Private Market in Chinese Export Porcelain illustrated from the Hodroff Collection (1994, p. 69, no. 48).
Another plate is illustrated by J. P. van Goidsenhoven in La Céramique Chinoise Sous les Ts'ing, 1936, cat. 133.
Notice
The meaning of this purely decorative plate is open to speculation, but for Howard, this subject is sufficiently similar to the wholly European fable of Europa and the bull to admit comparison. There is no legend of a Chinese lady riding away on a white bull, and it is possible that it was an early suggestion of a supercargo to a Chinese merchant to have this scene painted in Chinese taste.
Williamson describe this scene as Hsi-Wang Mu (Royal Mother or the West), riding a creature of bovine type on her yearly visit to Tung Wang Kung.