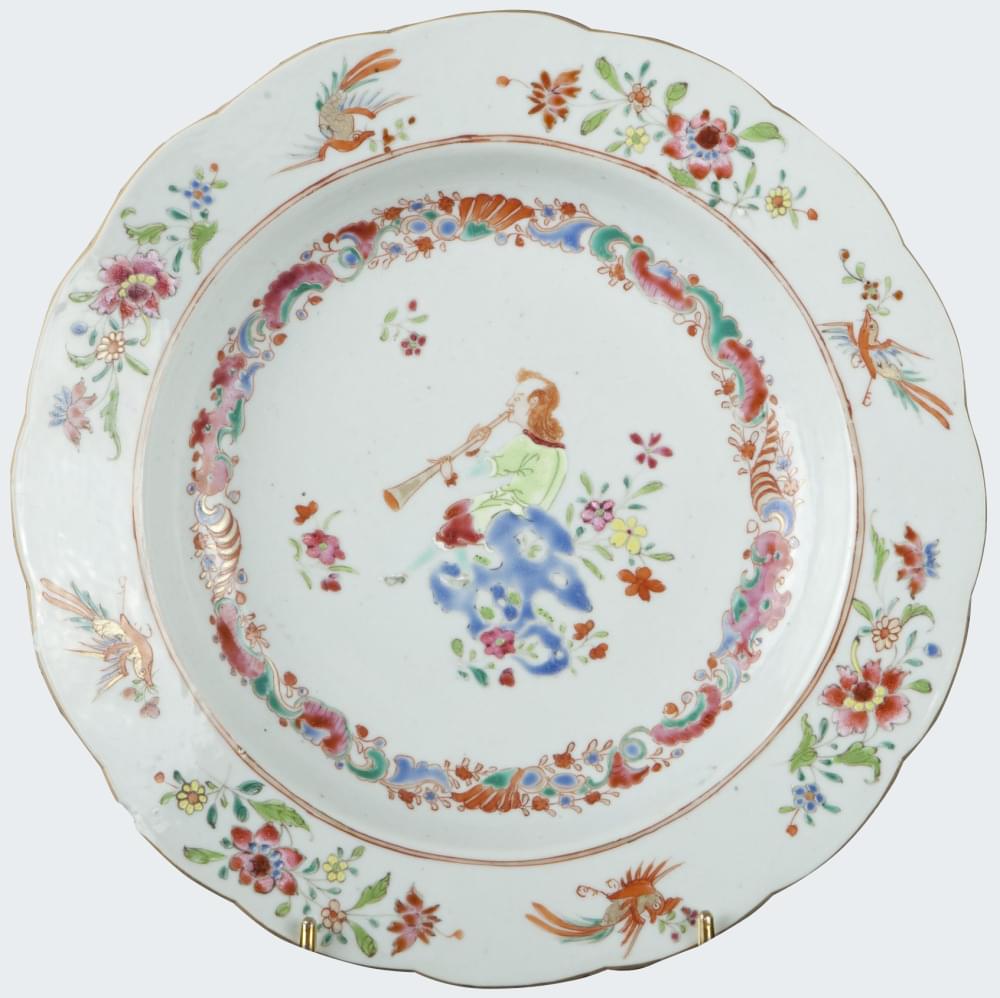 A Chinese famille rose plate decorated with a musician. Qianlong period.
Decorated in the famille rose palette with gilt foliate rims, painted in the centre with a European gentleman seated on a pierced rock playing a fanfare trumpet amongst flower sprays, encircled by an elaborate border with stylised archaic phoenix birds amongst shells, flowers and scrolls, the flat everted rim with four double-tailed birds in flight between flowering branches.
Country:

China

Period :

Qianlong (1736-1795)

Material:

Porcelain

Dimension:

8.85 in. (22.5 cm)

Reference :

A110

Status:

sold
Related works
A plate of this pattern from the collection of L. Vigneau, Paris, is illustrated by François & Nicole Hervouët & Yves Bruneau in La Porcelaine des Compagnies des Indes, no. 8.3, p. 184.
A plate with a similar figure seated playing a flute, encircled by the same border in the well, with a different border on the rim is illustrated by David S. Howard & John Ayers in China for the West, vol. 2, no. 348, p. 359, where the authors note 'There is a series of such plates with different musicians, but the meaning is obscure, and because there is little realism, it seems probable the Chinese painters were copying a series of sketches which may have originated in the East rather than from any Western scene. Such porcelain may well have been as popular within China as it was for export.'
A further related dish from the collection of a French Viscount was sold by Philippe Fournier at the Palais des Cousuls, Rouen, France, 3rd March 1970, lot 99; and an oval meat dish with a gentleman seated playing a mandolin is illustrated by Conor Mahony & Khalil Rizk in The Chinese Porcelain Company exhibition of Important Chinese Export Porcelain, 1995, no. 19, p.28.