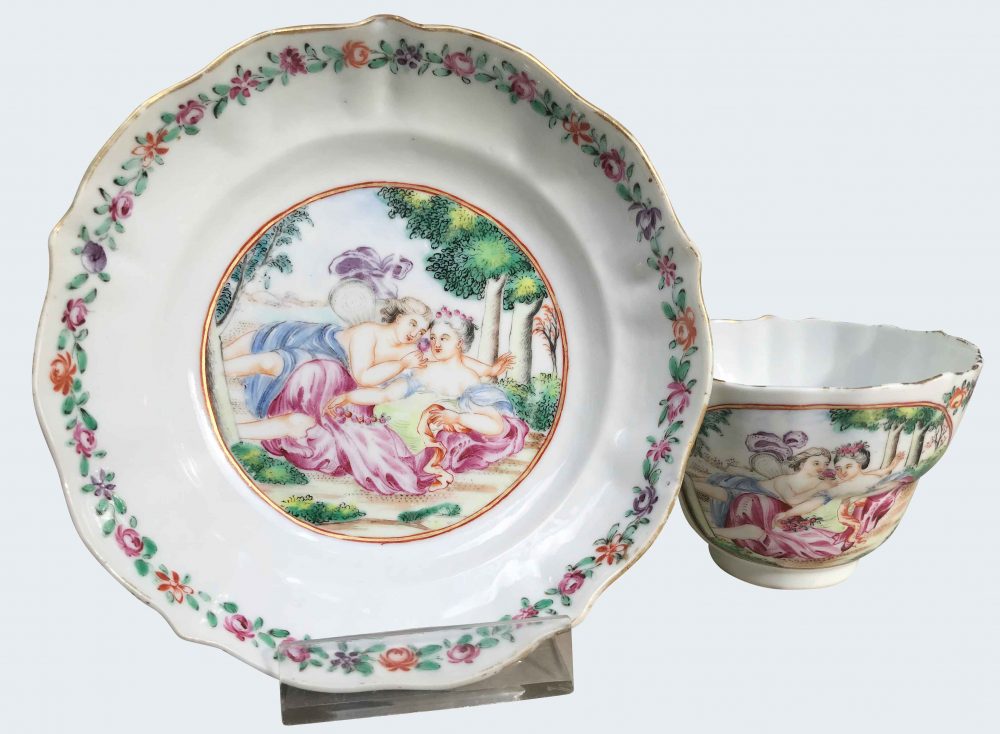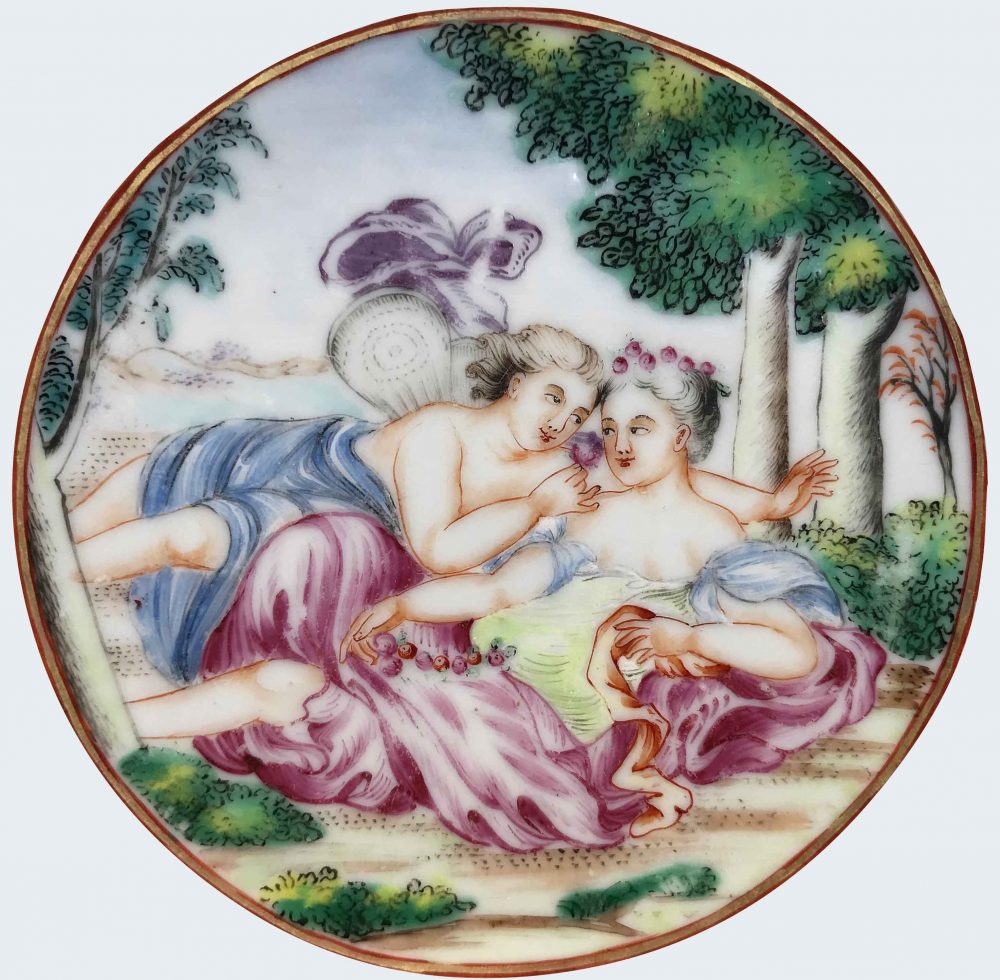 A Chinese famille rose mythological teacup and saucer. Qianlong period.
Each of ogee shape and painted with Zephyr offering a posy to Flora reclining in a glade, the scalloped and barbed rim with a flowering vine border.
Country:

China

Period :

Qianlong (1735-1795), circa 1785

Material:

Porcelain

Dimension:

2 3/8 in.; diameters 3 9/16 and 5 1/2 in. 6 cm; 9.1 and 14 cm

Reference :

B586

Status:

sold
Provenance
Private French collection
Related works
An identical teacup and saucer was in the collection of Khalil Rizk (Sotheby's NYC, The Collection of Khalil Rizk, 25 april 2008, lot 169). It was formerly in The collection of J. Campling (Sotheby's, London, 21 june 1977, lot 88) and in The Property of a Gentleman (Christie's London, 10 november 1983, lot 726).
Another identical teacup and saucer are illustrated by Veiga, p. 130, pl. 103, and was in the collection of Jorge Getulio Veiga (sold at Sotheby's London, 31 october 1989, lot 252) and sold subsequently at Sotheby's Monte Carlo (29 February 1992, lot 506).
A lobed oval dish with this decoration is illustrated by Hervouët and Bruneau, La Porcelaine des Compagnies des Indes à Décor Occidental (p. 306, no. 13.58), who suggest that the scene represents Zephyr and Flora, rather than Cupid and Psyche or Venus, and who also illustrate as no. 13.59, a plate of circa 1755, with a slightly simplified version of this scene.
A milk jug of circa 1745 with this decoration is illustrated by Howard and Ayers in China for the West, Vol. I, p. 330, no. 326, who on p. 331 comment that in the British Museum (London), there is a Meissen Hausmaler bowl, circa 1745, painted by Johann Friedrich Metzsch (d. 1766) of Bayreuth (illustrated by Phillips, p. 150, fig. 47 and by W. B. Honey, Dresden China [Troy, New York, 1946], pl. XXVI (c)) with 'Venus and Cupid' in mirror image, but inspired possibly by the same print.
A teabowl with a slightly debased version of the subject en grisaille is illustrated by Litzenburg and Bailey in Chinese Export Porcelain in the Reeves Center Collection at Washington and Lee University, who suggest that it "could be after an engraving by Benoît Audran I (1661-1721) copying Antoine Coypel (1661-1722)."